Lawyer Raul Lambino said he is expecting Mrs Arroyo to enjoy her 'temporary freedom' for at least 2 weeks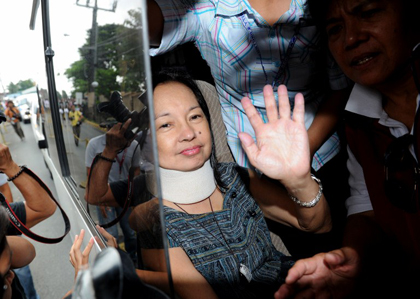 MANILA, Philippines – Welcomed by a few dozen supporters, former President Gloria Macapagal-Arroyo arrived home  at 3:21 p.m. on Wednesday, July 25, at the posh La Vista village in Quezon City.
Before entering La Vista, Mrs Arroyo opened the door of the white coaster that brought her home and waved to her supporters, who arrived in jeepneys shortly before she arrived in La Vista.
"Nabunutan siya ng isang tinik. Nakita naman natin noong binuksan niya yung pintuan kanina sa coaster at ngumiti sya, kumaway sa well wishers at sa media," said Arroyo's lawyer Raul Lambino, who was at the gate to answer questions from the media.
The Pasay city court hearing the electoral sabotage case against Mrs Arroyo granted her petition for bail on Wednesday morning, July 25. It ends her 8-month detention.
"Tiniis niya ito at napatunayan nya na wala siyang kasalanan," said Lambino.
Lambino said the children of Mrs Arroyo are happy.
"Nakita ko si Congressman Mikey at si Luli. Kahit papaano masaya sila. Matagal na panahon din nating nakita ang mga ganoong ngiti na naglabasan sa kanilang mukha. Kahit paano napatunayan nila na walang basehan ito."
Treatment in Tagaytay
But it could be a temporary freedom. There is a pending plunder case against Mrs Arroyo before the Sandiganbayan in connection to the alleged misuse of PCSO funds during her administration. 
The Sandiganbayan issued a hold departure order against her on Tuesday, July 24. But no warrant of arrest has been issued.
A hearing on this has been set on Thursday, July 26.
After the Thursday hearing at the Sandiganbayan, Lambino said Mrs Arroyo is scheduled to go to Tagaytay to seek "alternative medical treatment."
Lambino said Mrs Arroyo will also have to return to the Veteran's Memorial Medical Center (VMMC) next week for her "continuing medical therapy." Lambino said she has to go to VMMC for about an hour 4 times a week.
Lambino said they are hoping that the Sandiganbayan would dismiss the plunder case based on absence of probable cause. "We have to hope for the best. Hope springs eternal," said Lambino.
But Lambino also said there are "pressures" on the Sandiganbayan to issue a warrant of arrest against Mrs Arroyo. He however is expecting Mrs Arroyo to enjoy her "temporary freedom" for at least two weeks.
"Hindi bababa ng dalawang linggo," he said.
"Meron kaming mga nakahain na motion sa Sandiganbayan. Umaasa kami na ang Sandiganbyan ay hindi muna maglabas ng judicial determination at warrant of arrest," said Lambino. – Rappler.com
More in #ArroyoWatch: