Senator Miriam Defensor Santiago marks her 70th birthday by releasing the sequel to her best-selling joke book 'Stupid is Forever'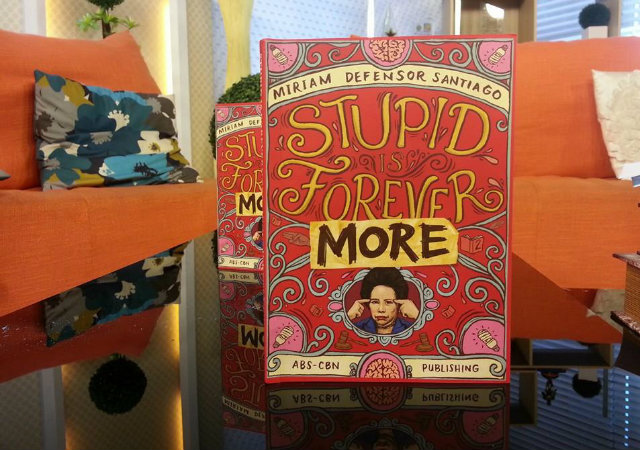 MANILA, Philippines (UPDATED) – On her 70th birthday, Senator Miriam Defensor Santiago wants you to know: "May forever!" (There's such a thing as forever.) Forever stupid, that is. 
The media and social media darling marked her birthday on Monday, June 15, by releasing the sequel to her best-selling book Stupid is Forever. Titled Stupid is Forevermore, the new book contains more witticisms, pick-up lines, and punch lines that made the senator a favorite speaker in commencement exercises and youth fora. (See the excerpts below.) 
"We should never underestimate the power of humor, especially among Filipinos, and most especially in politics. When the debates turn ugly or the legalese is too hifalutin, humor is a way for us all to see eye to eye," Santiago said.
Kim Arveen Patria, Santiago's media relations officer, said that the reception to Santiago's first book encouraged the senator to release a sequel.  
"Like Stupid is Forever, it's a collection of jokes and witty quotes. [Senator Miriam] promised a second book during her January meet-and-greet for Stupid is Forever," Patria told Rappler.
The longest chapter in the second book, "Overheard at the Senate," is culled from Santiago's privilege speeches and press conference transcripts.
As in Stupid is Forever, the new joke book features illustrations from Filipino artists like Cj de Silva-Ong known as the "Promil Kid" for the nineties ads, Andrew Drilon, Apol Sta Maria, Julius Villanueva, and "a who's who of the Philippines' best young illustrators."  
Santiago's staff said that the feisty senator might schedule a meet-and-greet session with readers, depending on her doctors' advice. She is suffering from stage 4 lung cancer.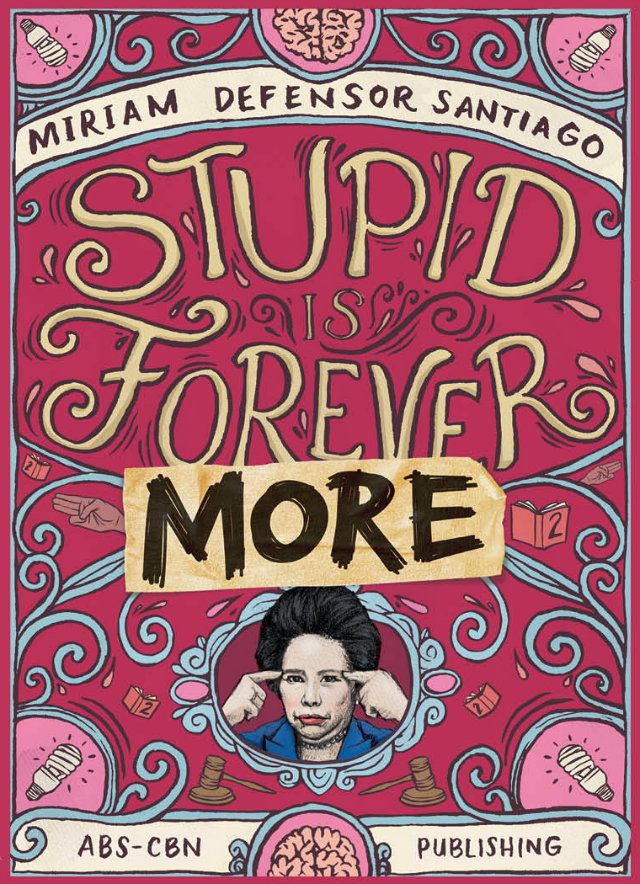 Stupid is Forevermore joins Stupid is Forever on the shelves of National Book Store outlets. Each copy sells for P175 ($3.86). 
The bookstore's website lists Stupid is Forever as its 6th best-selling book, with over 350,000 copies sold. The first book was often sold out since it was released in December 2014.
"Forevermore" is also a nod to the popular ABS-CBN romantic comedy TV series of the same name. Both Santiago books are under ABS-CBN Publishing. 
During a meet and greet with readers in January, Santiago said that she wanted to come out with a book and a sequel because Filipinos are too serious about the issues the country faces. She said they must learn to "laugh more."
"This one was Stupid is Forever. Maybe the next one will be about morons. There's a difference, you know," Santiago quipped. 
"This shows any one of the following things: (1) there is a dearth of humor and people appreciate humor; (2) they want politics to lighten up; or (3) they just want pictures to post on Facebook or anywhere else on social media, which is the best way of communicating these days," said the self-proclaimed "most influential senator on social media." 
Santiago said that the popularity of her first book revealed many things about Philippine society. Dearth of humor?
Santiago has 1.55 million followers on Twitter, and 2.8 million "likes" on Facebook. 
True to form, Santiago released her book with the hashtags #StupidIsForeverMore and #MiriamAt70.  
Thank you for your greetings! As promised, I am releasing #StupidIsForeverMore today. Hugs and kisses! #MiriamAt70 https://t.co/xhCpWNeN8g

— Miriam Santiago (@senmiriam) June 15, 2015
Every time she delivers a speech or holds a press conference, the legal eagle sets social media on fire not just with her opinions on politics and the law, but also with her trademark sense of humor. (READ: Miriam's water pick-up lines and leadership tips)
Even when Santiago announced in July 2014 that she has cancer, the senator turned humorous.
"My husband said, 'Go to the United States' and I said, 'Are you thinking you're lucky?' Ano ka sinuswerte?'"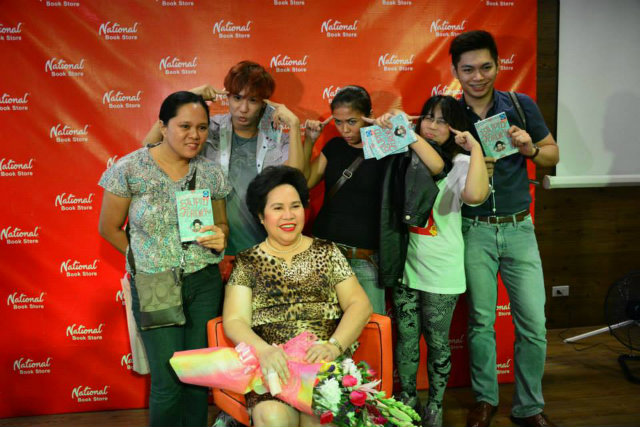 'Jokes better than lectures' 
National Book Store described Stupid is Forevermore as a "sequel to the phenomenal hit that has been read by people of all ages, genders and classes."

"Can you follow up a bestseller that has sold more than 350,000 copies with a better book?"

"You, literally, can't. So, you just give more. MORE of the gut-busting jokes that draw people in and MORE of the witty one-liners that keep people reading. MORE of the silly pickup lines that spark romance and MORE of the moving speeches that inspire generations. MORE of the magic that only Senator Miriam Defensor Santiago can deliver," the book's description went. 
Santiago said that her books showed that jokes are much better than lectures or orations. 
"Kung minsan, kung masyadong seryoso ang tao at akala niya siya lang ang nakakaalam ng lahat ng bagay na kailangang malaman sa debate. Mas mabuti pa kung hindi niya masyado pinapataas ang sarili niya, kundi nagpapakumbaba siya doon sa madla para magkaintindihan tayo lahat sa sarili nating kultura," she said in January. 
(Sometimes, when a person is too serious, he or she thinks that he or she knows everything in a debate. It's better if the person humbles himself or herself before the people so that we all understand each other in our own culture.) 
Santiago has an advice to Filipinos: keep reading. 
"There are studies about the gains of reading from print and reading from e-books, and it appears that the gains from reading are all to be gained from print instead of e-books," she said. "I don't know if that's correct or if there's just some propaganda war going on, but all people should always be encouraged to read."
Here are excerpts from Stupid is Forevermore:
Tanong: Anong kalalabasan kapag pinagsama mo ang baboy at ang pulitiko?
Sagot: Imposible 'yon. Kahit ang baboy, may mga bagay na hindi kayang tiisin.
*****
I don't think I'll succumb to lung cancer.
Tongue cancer pa siguro.
*****
There is no substitute for a reputation.
It is like virginity: once lost, it can never be recovered.
*****
Hindi naman kailangan 24 kaming senador.
 Why do we need to be 24? It's a question I ask myself very often.
We can work with twelve. We can work with six.
(Reporter: But you will not be able to ratify treaties because you need 16 senators.)
Then we can jail eight.
*****
Kapag wala ka nang maisagot sa exam,
ilagay ninyo "Red Horse" dahil ito ang tama.
Pero kung gusto niyo mas sigurado,
isulat ninyo "Magmahal,"
dahil kailanman, hindi mali ang magmahal.
 – Rappler.com