(2nd UPDATE) 'We also ring the bells to prick the conscience of those who kill, those who plot these sinister crimes against their fellow Filipinos,' says Bishop Gerardo Alminaza
San Carlos Bishop Gerardo Alminaza led a chorus of human rights defenders in demanding justice for slain human rights worker Zara Alvarez a year after she was gunned down near her lodging quarters here.
Bells tolled in Alminaza's diocese on the eve of Alvarez's first death anniversary and on the day of her murder by suspected state agents on the night of August 17, 2020, in Eroreco, a residential, middle-class village near the city's exclusive schools.
Alminaza, whose sprawling diocese across the borders of Negros Occidental and Negros Oriental has been rocked by extrajudicial killings under President Rodrigo Duterte, said Alvarez's qualities – selfless, generous, compassionate, hard-working and courageous – were shared by "the list of those extrajudicially killed on our island."
The Young Negrosanon Artists painted a tribute mural for Alvarez on this city's main road with permission from the city government. The Bacolod Diocese's Social Action Center also launched on August 16 a Human Rights Educational Package in her name to help other rights defenders with their work.
Bacolod activists are scheduled to hold a candle-lighting and noise barrage protest on August 17 in front of San Sebastian Church, seat of the Bacolod Diocese.
The Negros office of human rights group Karapatan said Alvarez was was the 90th victim of extrajudicial killing in Negros Island under President Rodrigo Duterte.
Alminaza said 40 human rights workers across the country were slain between January 2020 to June 2021, spanning the COVID-19 pandemic.
Colonel Manuel Placido, Bacolod City police director, said a special investigation task group was created to look into the case of Alvarez. The case, he added, is now in the process of being transferred to the Criminal Investigation and Detection Group, whose primary mandate is to investigate criminal cases.
But he stressed that the Bacolod police will still be part of the investigation since any updates will come from the local police force.
"It has been a challenge to talk to potential witnesses in the area," Placido told Rappler. Aside from the COVID-19 pandemic situation, he said some witnesses could have already transferred residence while others don't to be involved, and "we could not force them."
Vincent Parra of the Commission on Human Rights in Negros Occidental investigator of the incident, said that no case was filed by the police because there were no witnesses.
He said he had gone to the area to get testimonies from potential witnesses and the residents there, but no one would speak, "daw wala sila labot (it's like they didn't care). They don't want to be involved in the case. Indi ka man ka pilit (we can't force them to cooperate)," he added.
He said he also went to the barangay hall to check if there were any recorded complaints against Alvarez, but there were none.
He said the result of their moto propio investigation was already forwarded to the Department of Justice in line with the agency's Administrative Order No. 35, which created the Inter-Agency Committee on extra-legal killings, enforced disappearances, torture, and other grave violations of the right to life, liberty and security of persons.
Parra said they are waiting to get a copy of Alvarez's death certificate so they could process financial assistance from the CHR national office.
Quiet inspiration
Alvarez, 39, was a teacher, a single mother,a former campaign and education director, a paralegal of Karapatan, and an advocacy officer of the Negros Island Health Integrated Program. Her daughter, who is now 12 years old, was left to the care of Alvarez's septuagenarian father.
Alvarez wasn't a protest firebrand, not a well-known mass leader. She was a dogged researcher and a skilled negotiator whenever fact-finding missions found their way blocked, said Clarizza Singson, Karapatan-Negros secretary-general.
Narrating a video released by the Promotion of Church People's Response, fellow human rights worker Rebecca Lawson called Alvarez "a source of accurate information, a quiet, steady hand of consolation, and an indomitable example of courage."
Lawson said Alvarez slipped in and out of communities not because she was mischievous, but because she dared to thwart danger so that she could help the most exploited.
Alminaza noted that the killings of social activists and environment defenders in Negros "include both the rural and the urban poor."
"Each life taken was a precious gift from God, leaving parents, children, siblings, and communities to grieve their deaths," the said.
"When we ring the bells to stop the killings, we ring them to remember the dead and console their loved ones," the bishop added. "We also ring the bells to prick the conscience of those who kill, those who plot these sinister crimes against their fellow Filipinos."
Alminaza said the bells also represent hope, for more people to join efforts to bring peace in the island.
"We are a hopeful people. We must reflect on these despotic killings and become the defenders of human rights. We must not be afraid to continue doing what is right," the bishop said.
He urged Catholics and other religious groups to "expand our ministries to build peace" and stand with the poor to "change structural and historic injustices that have caused great economic disparity in the Philippines."
Bacolod Councilor Al Espino, chair of the city council committee on police matters, said that the council is relegating the murder cases in the city, including Alvarez, to the police to resolve this matter.
However, he stressed that killings are not only unique to Bacolod but in other localities as well.
Call to end killings
In a unity statement released on Tuesday, over 300 rights groups have demanded to "end all the bloody campaigns and policies that have facilitated" killings in the country. The groups also called for the prosecution of President Rodrigo Duterte for his supposed crimes against the Filipinos. 
The groups were composed of religious leaders, artists, cultural workers, women's rights organizations, youth activists, civil libertarians, lawyers, and peace advocates. Indigeous rights defenders also joined the call. 
The groups added that even with the pronouncement of former International Criminal Court (ICC) Prosecutor Fatou Bensouda that the ICC would probe the killings in the country, Duterte seemed "undaunted and remorseless." They also encouraged the ICC and the United Nations Human Rights Council to probe the killings. 
"We call on international bodies, such as the ICC and the UN Human Rights Council, to conduct impartial and independent investigations into the human rights crisis in the country and to prosecute President Duterte and his allies for their cruel crimes against the Filipino people," the groups said.
Local military officials and anonymous groups had tagged Alvarez as a member of the underground communist movement. Her face appeared in pamphlets and posters, although she had been acquitted of murder charges after two years in jail and a two-decade wait for vindication.
The killings in Negros have targetted lawyers, doctors, teachers, elected officials, church workers, religious ministers, and sugarworkers.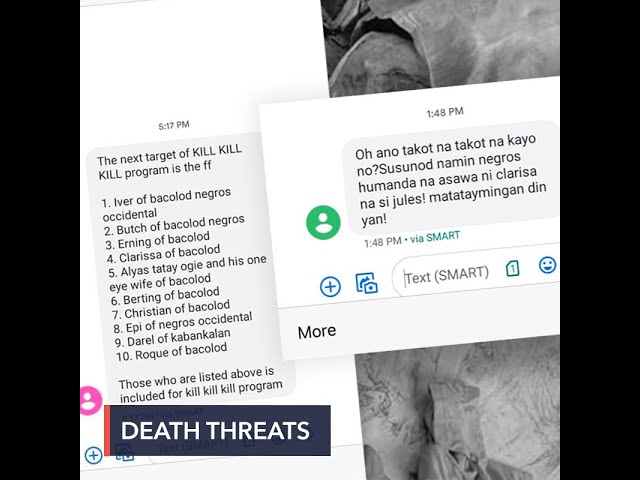 Among the victims were Guihulngan city's lone government doctor, Dr. Mary Rose Sancelan and husband Edwin. Despite her efforts to stem the effects of the COVID-19 in their community, she found herself number one on a list of 15 people tagged as terrorists by a local anti-communist vigilante group Kagubak short for Kawsa Guihulnganon Batok Kumunista (Guihulngan Against Communists).
Others slain were lawyers Ben Ramos and Anthony Trinidad, church worker and councilor Toto Patigas, and Iglesia Filipina Independiente lay ministers Briccio Nuevo and Salvador Romano. In 2018, two years after President Rodrigo Duterte assumed office, nine sugarcane workers – including four women and two children – were killed in Sagay, Negros Occidental.
In March 2019, 14 farmers who were suspected members of the Communist Party of the Philippines-New People's Army were killed during the implementation of different search warrants in Negros Oriental. The operations were carried out mostly between midnight and dawn. The farmers were shot as they were said to have fought police or "nanlaban."
Under Duterte's Oplan Sauron, there are 106 cases of unsolved extrajudicial killings recorded in Negros Island as of 2020 and since then, at least 17 more were added between January to May 2021, Alminaza said. – with reports from Jairo Bolledo/Rappler.com