This is AI generated summarization, which may have errors. For context, always refer to the full article.
'We will trace that, we will coordinate with the other offices,' says Chief Justice Diosdado Peralta only after 7 months in lockdown and hundred of thousands already arrested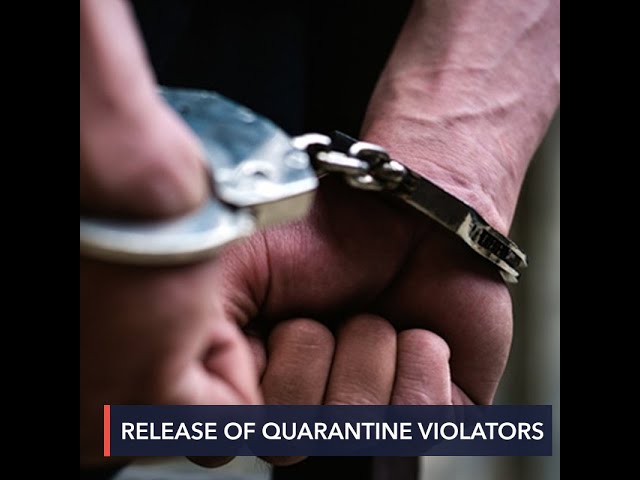 Thousands of Filipinos who were arrested for violating lockdown rules were stuck in jail in several periods during the 7-month quarantine, but the Supreme Court is only getting around to "trace" where the delay in their release was coming from.
"We will trace (where that's coming from), we will coordinate with the other offices….we will try to look," said Chief Justice Diosdado Peralta during a press conference on Friday, October 23.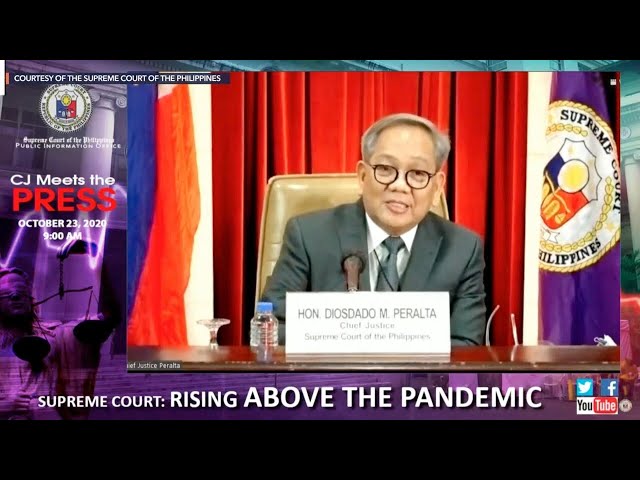 Peralta said it was his first time to hear of the situation. A reporter had asked the chief justice what the Supreme Court could do to address the delays in releasing quarantine violators from jail. The violations were considered light offenses and bailable.
"I think we have to do something about that if these are already pending before the court….I will take note of that," said the chief justice.
As of October 21, there were still 1,728 Filipinos detained for the light offense of violating quarantine laws. Data analyzed by Rappler showed that the police were arresting by the hundreds daily, but the number of inquests and court filings could not match this haste, creating a bottleneck.
It has resulted in thousands of quarantine violators stuck in jail – a trend that has not slowed down in 7 months. The number peaked in July with around 3,000 in jail for violating quarantine regulations.
Where is the problem?
Peralta said he would have to review first if the delay was coming from the courts, which are under his jurisdiction. If the problem was the posting of bail, Peralta said he would "call judges immediately" and tell them to release violators "on their own recognizance."
Self-recognizance means the detainee does not have to pay an amount, but there was a mechanism to follow to set a condition and assurance that he would show up in court for hearings.
"I'm now telling the Court Administrator who's present here that if the cases are filed there and they're still pending, or bailable, and can be released on their own recognizance, they have to do something. Ayaw ko yun (I don't like that), for every day of imprisonment, ano yun e, masama yan eh (that is bad)," said Peralta.
The data from the Joint Task Force (JTF) Covid Shield would show that while police have released 89,262 violators upon referral of the complaint to prosecutors, there have also been 34,088 inquested by prosecutors.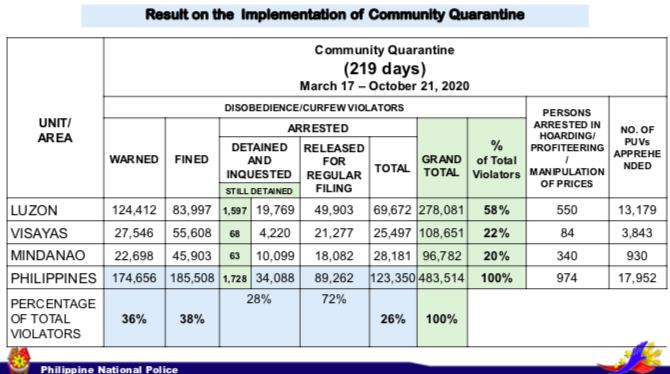 "Released for regular filing" in the JTF's data means the violator was released immediately but he would have to face investigation by the prosecutor, and be charged in court if ever. But the violator is free. Those who were "inquested" meant those held in custody until they were either released by prosecutors, or have posted bail.
That there are still 1,728 in jail although they have been inquested could mean that either some cases have not reached the court yet, and therefore they could not post bail yet, or some could not afford to post bail.
It raises the question on how strictly law enforcement followed Article 125 of the Revised Penal Code which requires that for warrantless arrests, suspects have to be charged in court within a specific period of time. For light offenses, it's 12 to 18 hours.
"In other words meron silang period eh (they have to follow a period), now if there's delay in inquest, I think we have to remind them because they're not under our jurisdiction ," said Peralta referring to the Department of Justice (DOJ) which handles prosecutors, and the Department of the Interior and Local Government (DILG) which handles policemen.
In an earlier press conference, DILG Secretary Eduardo Año said they have also not yet identified what was causing the delays.
Coordination
Peralta said he would coordinate with DOJ and the DILG through the justice zone.
This coordination was precisely what the Free Legal Assistance Group (FLAG) asked for way back in April when the number of arrests started to escalate.
FLAG wrote a letter to Peralta to convene the Justice Sector Coordinating Council (JSCC), which was composed of the Supreme Court, DOJ and DILG, "to come up with a clear and coordinated plan and a strategic approach towards jail decongestion and humanitarian treatment during this pandemic."
In his response to FLAG on April 17, Peralta told the group that "the JSCC does not serve as a venue to develop plans and strategies."
But on Friday, Peralta said: "This is what we will do, we will coordinate with, anyway meron naman kaming ano eh, a group, yung tinatawag namin (anyway we have a group, what we call the ) justice zone among the DOJ, DILG and SC, we will try to look."
Peralta said that through the efforts of the Supreme Court to digitize court processes, and to reduce bail for poor prisoners, there have been 81,888 detainees freed in the pandemic period or from March 17 to October 16. – Rappler.com