Baby River Nasino's death follows the story of a massive crackdown on activists that jailed her 23-year-old mother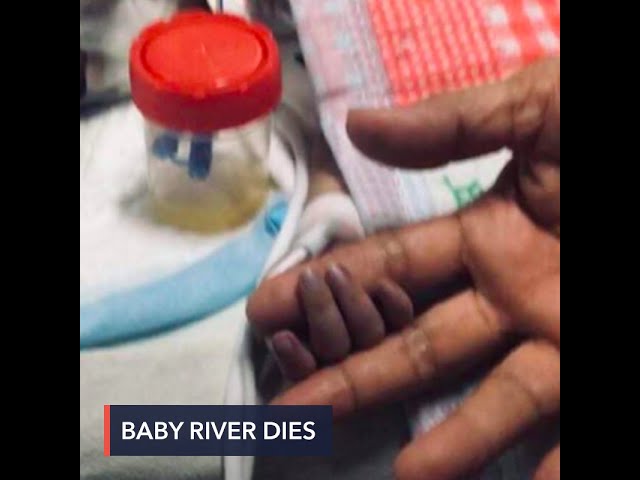 Infant River Nasino, carried in the womb by mother activist Reina Mae Nasino while in jail but separated from her at birth, has died at 3 months old Friday evening, October 9.
The National Union of Peoples' Lawyers (NUPL), counsels for Reina Mae, confirmed that River died before 9 pm Friday – before her mother's court request for a furlough could even go through the motions.
Reina Mae, through NUPL, beat the court's closing hour Friday to file an urgent motion for furlough because River's doctor at the Philippine General Hospital said the "baby's lungs have succumbed to bacterial infection and are quickly deteriorating."
"(River) is no longer responding to medications and may expire any moment now," said the urgent motion electronically filed Friday late afternoon.
Progressive groups launched a social media campaign that urged individuals to e-mail Manila Regional Trial Court (RTC) Branch 37 Judge Virgilio Macaraig for immediate action. The original handling judge had inhibited, forcing NUPL to resort to filing the motion with Branch 37 of Executive Judge Macaraig.
Separated at birth
River was first brought to the hospital on September 24 because of diarrhea. The infant was later diagnosed with acute respiratory distress syndrome.
Reina Mae carried River almost her entire pregnancy while jailed at the Manila City Jail for the non-bailable charges of illegal possession of firearms and explosives, the usual charges against activists.
River was born on July 1 underweight at 2,435 grams or about 5.5 lbs. The NUPL pleaded the court to either let Reina Mae and her baby stay longer at the Fabella Memorial Hospital, or let Reina Mae keep her baby inside the jail but be provided with natal care facilities.
These pleadings failed.
"The movant likewise prayed that she be allowed to express breastmilk and be given access to clean lactation facilities inside the Manila City Jail Female Dormitory," said the NUPL.
"In its Orders dated July 20, 2020, and July 30, 2020, the RTC of Manila, Branch 20 (Judge Marivic Balisi-Umali) denied the movant's pleas and directed that the baby be turned over to her relatives. On August 23, 2020, the baby was given to the movant's mother Marites Asis," the NUPL added.
Part of a crackdown
Reina Mae, 23, was among the activists arrested in late 2019 in a massive crackdown on the Left in President Rodrigo Duterte's war on dissent.
She was arrested during an implementation of a search warrant issued by Quezon City Judge Cecilyn Burgos Villavert.
Villavert's search warrants yielded at least 60 arrests of activists, including Reina Mae who would later find out she was already pregnant.
The conduct by which Villavert issued the search warrants, including a prior meeting with Metro Manila Police Chief Debold Sinas, was questioned by progressive groups. The Supreme Court, however, stood by the judge's actions.
Chief Justice Diosdado Peralta had said Villavert "followed all the rules."
The NUPL also tried the route of the Supreme Court when they filed a petition seeking temporary release of political prisoners, including Reina Mae, on humanitarian grounds because of the coronavirus pandemic.
The Supreme Court took 5 months to act on the petition, but only to remand the cases back to their respective lower courts which shall hear each prisoner's motion for bail.
"What kind of justice system, nay, society do we have to let this inhumanity and injustice to mother and child happen?" said NUPL president Edre Olalia.
"We have not only lost our hearts, we have lost our souls if we do not feel the pain and the rage. We will lose our humanity if we see more Baby Rivers again," Olalia added.
Prisoners' rights group Kapatid once again called for Reina Mae's temporary release.
"Reina Mae is not a flight risk. Neither does she have any intention of fleeing. Free her. This is the least that the courts and this government can do for her and her child," Kapatid said in a statement. – Rappler.com