Human rights lawyer Edre Olalia says it is not for those who will be made accountable to choose which venue they would face the music
Senator Ronald "Bato" dela Rosa, the chief implementor of President Rodrigo Duterte's violent war on drugs, said he'd rather be prosecuted in the Philippines than face the International Criminal Court (ICC).
"Being a Filipino, I'd rather be tried, convicted, and hanged before a Filipino court rather than being tried, convicted, and hanged before a foreign court," Dela Rosa said during the Senate budget hearing of the Commission on Human Rights (CHR).
"Being a Filipino, siguro naman (maybe) it's also my human right to be tried before a Filipino court as much as we want to," he added.
The Philippines and the ICC both do not have capital punishment.
The ICC's pre-trial chamber on September 15 announced it had authorized the opening of a full investigation into drug war killings between November 1, 2011 and March 16, 2019, adding that "crime against humanity appears to have been committed."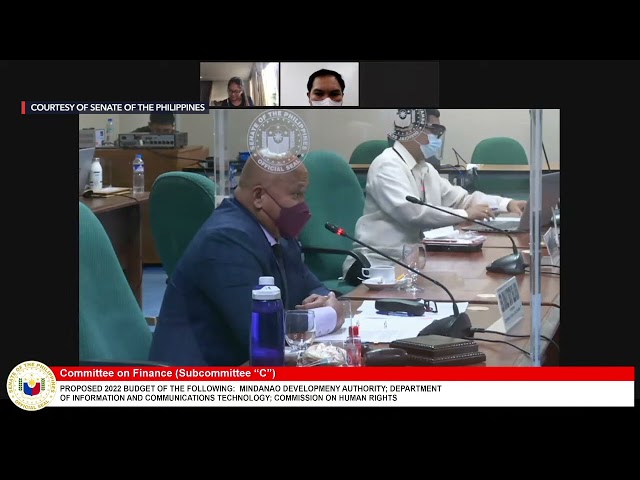 Bato and the drug war
Dela Rosa was mentioned in the ICC pre-trial chamber's 41-page decision, alongside Duterte, regarding his statements "declaring that killing those involved in drugs was the intention" in the anti-illegal drugs campaign.
The ICC also highlighted the use of the word "neutralization" in the "significant" Philippine National Police (PNP) Command Memorandum Circular No. 16-2016 which operationalized the drug war.
Citing the ICC Prosecutor, the chamber said the word was being used "in its euphemistic meaning of killing."
Dela Rosa signed and issued the circular as Duterte's first PNP chief. He spearheaded the first few years of the bloody war on drugs, which also led to thousands of deaths.
At least 3,968 suspected drug personalities were killed in police operations alone between July 1, 2016 until December 27, 2017 – or roughly four months before Dela Rosa officially stepped down from his post in April 2018.
Dela Rosa also served as Davao City police chief from January 2012 to October 2013 where he led Oplan Tokhang. (READ: Duterte's 'Bato': Who is Ronald dela Rosa?)
The ICC said similarities between nationwide killings and those in Davao City between 2011 and 2016 merit an investigation. Among others, the pre-trial chamber said there's "systematic involvement of security forces" and that the "similarities in the modus operandi are also discernible."
Then-prosecutor Fatou Bensouda also mentioned Dela Rosa in the same manner in her June 2021 report. (READ: Besides Duterte, ICC prosecutor report names Dela Rosa, Aguirre, 'DDS')
Not for him to choose
National Union of Peoples' Lawyers president Edre Olalia tagged Dela Rosa's statement against a possible ICC prosecution as "jingoistic romanticism playing to emotion and fishing for cynical sympathy." (READ: Duterte gov't insists there is working justice in drug war but can't show proof)
"It sidesteps the argument that domestic remedies for legal accountability for such particular kinds of violations in the context of the bloody war on drugs… are in fact inadequate, ineffective, skewed and even illusory to give justice at this juncture in time and under the prevailing circumstances and conditions," he told Rappler.
Olalia is part of the legal team of Rise Up for Life and for Rights, a group of families whose members were killed in the drug war. The organization filed several communications before the ICC calling for Duterte and his officials to be held accountable.
Duterte's war on drugs has killed at least 6,181 suspected drug personalities in police operations alone, as of July 31. Human rights groups estimate the deaths to be between 27,000 and 30,000 to include victims of extrajudicial killings. (READ: In Duterte's drug war, justice is 'nearly impossible')
Dela Rosa's appeal to be prosecuted in the Philippines instead of abroad echoes Duterte's efforts to deflect international scrutiny.
"It is not for those who will be made to account or charged or eventually accused to choose which venue or platform they would face the music in the grotesque way they chose arbitrarily and unilaterally to deny due process those killed summarily anywhere, anytime," Olalia said. – Rappler.com