'There have to be pretty compelling reasons for the pre-trial chamber not to [open an investigation],' says international law expert Param Preet-Singh of Human Rights Watch
President Rodrigo Duterte could be looking at a rough timeline of three months before the International Criminal Court pre-trial chamber (ICC PTC) decides whether or not to open an investigation into killings committed under his war on drugs and when he was vice mayor and mayor of Davao City.
"The timeline for the judges to come back with a decision, generally, it's around 3 months, it could be longer, it could be shorter," international law expert Param Preet Singh, associate director of Human Rights Watch (HRW) international justice program, told Rappler.
Retired ICC prosecutor Fatou Bensouda filed her request with the PTC on May 24, and publicized a redacted version of the request on the eve of her retirement on June 14. British counsel Karim Khan took over on June 16, and will be the one to shepherd the case if ever.
Another statistical prospect that hangs over Duterte's head is the fact that Bensouda has a perfect 6 out of 6 record for authorizations granted by the PTC, "with the caveat of Afghanistan," said Singh.
Afghanistan, a case that presidential spokesperson Harry Roque likes to cite, is a case where the PTC initially denied authorization, citing the lack of government cooperation which would doom the probe to failure. The Rome Statute requires that an investigation should serve the interest of justice.
But the ICC's appeals chamber reversed the PTC, prompting an ongoing Afghanistan investigation.
"It's a pretty low threshold so again I don't want to say with certainty that the judges will move ahead and allow the investigation but there have to be pretty compelling reasons for them not to [open a Philippine investigation]," said Singh.
Roque has downplayed as hearsay the evidence cited in the request, as they were mostly publicly available information like media reports.
"We're not talking about pinpointing specific individuals accused where I think the question of hearsay is relevant, here we're just thinking about establishing the context and factual basis to justify the court's intervention," said Singh.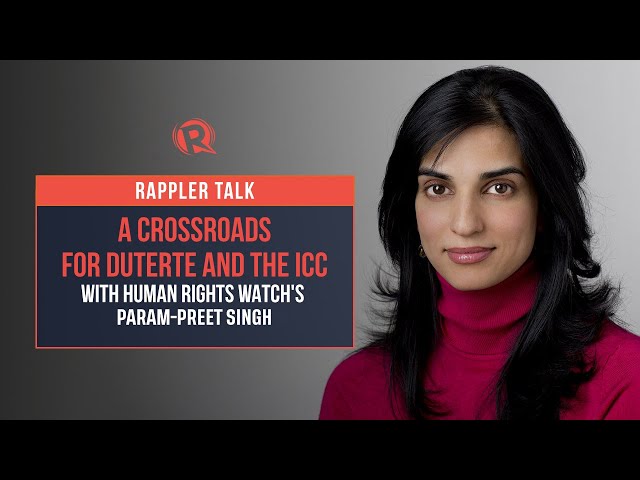 Signaling
Roque said he is "confident" that the PTC will deny the request, saying it's a violation of complementarity and the Rome Statute's requirement that an investigation should serve the interest of justice.
Could it be signaling from Roque to discourage the PTC from moving ahead?
"The government can signal as much as it wants to and that's not new information and not a new tactic," said Singh.
Saying that the Afghanistan case has been "pretty definitively" ruled on by the appeals chamber, "pre-trial chambers have confirmed [investigations] because the threshold is low," said Singh.
While complementarity, or reinforcing our domestic systems, is honored in the Rome Statute, an investigation can only be opened when it passes the admissibility test, which is proving that the Philippines is unable and unwilling to investigate the killings on its own.
It's what Roque keeps raising, and he even told Bensouda: "How dare you say that the Philippine legal system is not working?"
How could there be complementarity and admissibility at the same time?
"It's helpful to think of the ICC's approach to complementarity as not an audit of the entire justice system of the Philippines. It may be that certain parts work really well, but it's almost beside the point, what the ICC is looking at is whether or not the Philippine government [is] looking at the same individuals on the same conduct," said Singh.
Will Duterte ever be tried?
At this stage, Duterte is not yet named as a respondent although Bensouda's request for investigation attributes to his policies what she referred to as a "grand modus" of a crime against humanity by murder.
"Although in practical terms, given that these are governmental policies I would assume that the Philippine government is scrambling to think about how it will engage with this and how it will defend itself should an investigation be opened," said Singh.
If ever an investigation is opened, this is the stage where Bensouda's successor Khan can apply for summons or an arrest warrant potentially against Duterte. This is a process that varies in length.
The enforcement of such orders has also invited a lot of cynicism over the years as it depends on the cooperation of law enforcers of member states. The Philippines is no longer with the ICC after Duterte unilaterally withdrew its membership as a reaction to its decision to begin preliminary examination. 
If Duterte is never arrested, he can never be tried as the ICC does not hold trials in absentia, said Singh.
A notorious case is former Sudanese president Omar al-Bashir who was ordered arrested in 2009 and again in 2010. He remains in government custody and has not been surrendered to the ICC, so trial cannot proceed. The ICC considers him to be at large.
In the past, Al-Bashir had also been able to travel internationally without being arrested and turned over to the ICC.
"In the abstract it can seem impossible but that's also the role of journalists, civil society groups and governments to keep asking questions and putting pressure on those who have the power to arrest and hand over suspects," said Singh.
Bensouda said it herself: The ICC is at a "crossroads" in making its mechanisms work to serve justice and accountability. The Philippines happens to be at that crossroads, too.
"The fact that she sought authorization and made it public on the eve of her departure says that she doesn't want the Philippines to fall between the cracks because of the gravity of the situation there," said Singh.
– Rappler.com