The city emphasizes that it is 'near impossible' to effectively ensure the legibility of beneficiaries
The Commission on Audit (COA) has flagged Mandaue City for its P34.9M-worth of Social Amelioration Program (SAP) disbursements to 5,827 ineligible beneficiaries.
"Distribution of Emergency Subsidy Program (ESP) through Social Amelioration Program to the barangays totaling P334,650,000.00 includes payment to 5,827 ineligible beneficiaries amounting to P34,962,000.00 contrary to the provisions of Department of Social Welfare and Development (DSWD) Memorandum Circular (MC) No. 09 series of 2020 resulting in irregular disbursements and maybe depriving other eligible and deserving indigent family of the most needed financial assistance,"  read the 2020 audit report.
At the beginning of the pandemic, the government mandated an emergency subsidy program (ESP) in its Bayanihan to Heal As One Act. LGUs were directed to provide a list of families that were eligible to be recipients and to do so within the given deadlines. 
At that time, the city government of Mandaue created their list of beneficiaries from existing databases that were used for different purposes (i.e. SSS beneficiaries), while also taking into consideration DSWD's omnibus guidelines for SAP.
In a phone interview on Friday, July 17, City Administrator Jamaal James Calipayan told Rappler that during the first tranche of SAP distributions, there were numerous conflicting advisories from DSWD.
"Ang first ato kay indigent beneficiaries, later napud ang pwede mareleasan kay ang job order employees and irregular workers and then informal economy workers. Kani tanan kay nakapalisud sa barangay pag list down and verify,"  he said. 
(At first, it was the indigent beneficiaries, and then later, releases were allowed for job order employees, and then informal economy workers. All of these made it difficult for the barangay to list down and verify [beneficiaries].)
"We were made to believe at the onset, in fact we already had meetings, that all our submissions of our lists will be approved by DSWD unya sila na ang maoy mudisqualify sa ineligible (and then it will be on them to disqualify those ineligible)," he added. 
In a comment from city management, they emphasized that it was "near impossible" to effectively ensure the legibility of beneficiaries.
The comment went, "The barangay and in turn the City of Mandaue have no way of ensuring that the beneficiaries do not belong in the excluded list other than the word of the beneficiary."
"And during the pandemic that has factually and gravely affected the constituents, the City was inclined to rely on supporting documents available to it," it added.
According to Calipayan, because there wasn't any clear way for barangays to accurately determine beneficiaries, a grievance machinery was presided over and set up with DSWD.
This was to ensure that any person could raise complaints to the barangay officials if they found out that there were those who received SAP and were ineligible.
Under guidelines set for SAP, DSWD would conduct validation within 15 days from the receipt of documents required during the payout. In cases of ineligible beneficiaries who received SAP, DSWD would immediately inform the LGU within 72 hours of discovery.
"Actually, naa tay nadawat nga reports and it goes to barangays ang katong ineligibility and the barangay would confirm. Maong naa tay napauli nga funds," he said. 
(Actually, we received reports on the ineligibility and it goes to barangays and the barangay would confirm. This is why we were able to return some funds.)
The audit report disclosed that a total of P3,402,000 was returned by ineligible SAP recipients.
To reiterate, the city justified that the ineligible families included in the first list was "bound to happen" because a) their list was made from scratch, b) they mainly used information supplied to them by the beneficiaries themselves, c) there was no clear mechanism for the barangays to ensure whether certain families fall under the exclusions, and d) because they had a deadline to beat.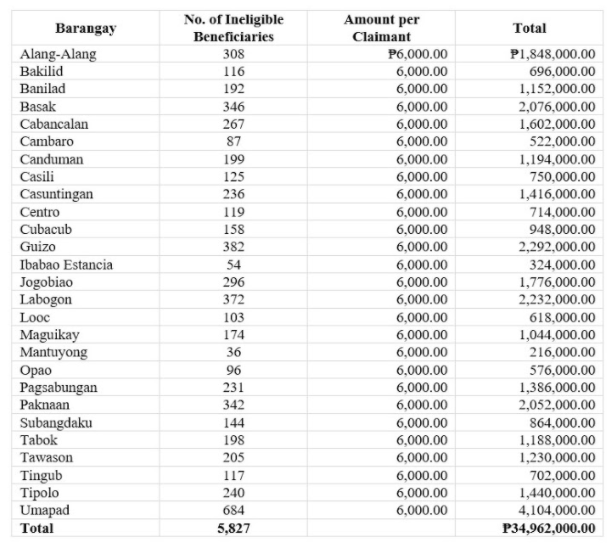 Calipayan said that the city plans to investigate where the remaining ineligible SAP releases went and have already refined their list of beneficiaries after recently communicating with DSWD.
As of this writing, COA has also flagged other municipalities and cities in Cebu over a total of P120.61M in SAP releases to around 20,000 ineligible beneficiaries. 
These include Talisay City, which has P15,774,000 worth of ineligible SAP payouts, and Cebu City at P3,792,000 worth of ineligible SAP payouts. 
Rappler reached out to DSWD Central Visayas Regional Director Rebecca Geamala for further comments on the issue but was unable to get a response as of posting. – Rappler.com