WHAT YOU NEED TO KNOW
How many people have tested positive for COVID-19 in the Philippines? How many have recovered, and how many have died? What is President Rodrigo Duterte doing about it?
What are the latest updates from the World Health Organization regarding the vaccines? How is the Department of Health addressing the variants? What should the public expect in terms of the economy, quarantine classifications, and the vaccine rollout?
Bookmark and refresh this page for the latest news updates, opinion articles, and analysis pieces about the COVID-19 pandemic in the Philippines.
LATEST UPDATES
PH records over 8,000 COVID-19 cases for 2nd straight day
DOH bulletin: COVID-19 cases as of July 31, 2021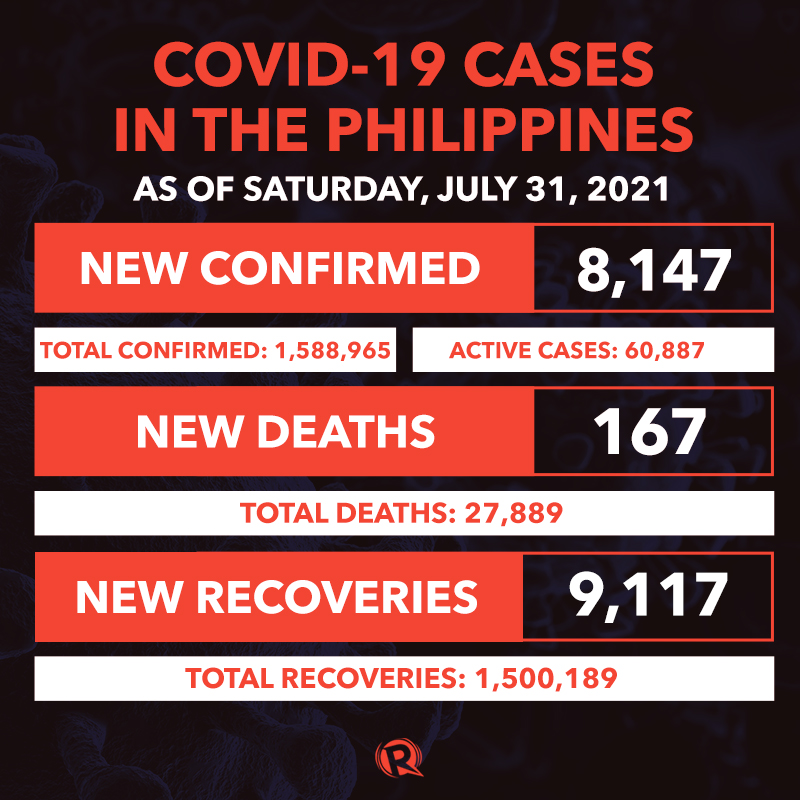 Why some cities in Metro Manila trail others in COVID-19 vaccinations
COVID-19 active cases in Ilocos Norte now 2,948, 128 recoveries tallied
The province of Ilocos Norte recorded 292 new individuals who tested positive for COVID-19, putting the currently active cases at 2,948.
This is according to the data released by the provincial government's Task Force Salun-at. The data is refreshed every 11 in the evening.
Aside from the fresh cases, the province also recorded 128 new recoveries, while two have died. This brings the province to 7,843 total cases, 4,774 total recoveries, and 121 total deaths since the pandemic hit.
Laoag City is the most affected area in the province, with 1,045 active cases, followed by Batac City with 308, Bangui with 221 cases, Bacarra with 220 cases, Sarrat with 184 cases, and Dingras with 171 cases. Only the towns of Adams and Nueva Era have no active case yet.
Meanwhile, the province is set to be placed under Enhanced Community Quarantine on August 1.
The PNP Regional Office deployed 40 policemen in the province for augmentation and implementation of safety protocols.
Over 200 isolation tents were also distributed to high-risk municipalities and cities to further accommodate new cases.
PH logs 8,562 COVID-19 cases as threat of Delta variant looms
DOH bulletin: COVID-19 cases as of July 30, 2021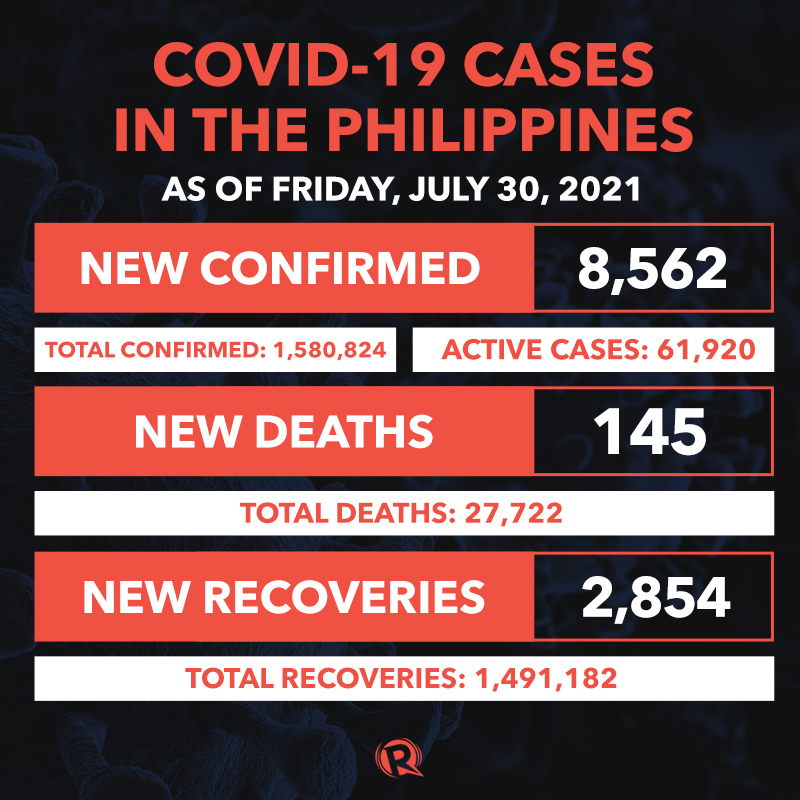 Travel ban on 10 countries extended to August 15
The Philippine government has extended travel restrictions for travelers coming from 10 countries:
● India
● Pakistan
● Nepal
● Sri Lanka
● Bangladesh
● Oman
● United Arab Emirates
● Indonesia
● Malaysia
● Thailand
This means that any person coming from these countries or who was in these countries 14 days before their expected arrival in the Philippines cannot enter the country. If a person transited through one of these countries going to the Philippines, they are not considered as having been in those countries and would still be allowed to enter the country.
The restrictions are part of the government's measures to prevent further spread of the feared Delta variant.
Cebu City, Cebu province under MECQ from August 1 to 15
The escalation comes after the health department confirmed 32 more cases of the Delta variant in Central Visayas.
ECQ to cost Philippine economy to P105B per week
Socioeconomic Planning Secretary Karl Chua says cash aid will mitigate the lockdown's impact on poor families but there is no announcement from the government yet on this assistance.
COVID-19 vaccinations to continue during ECQ period – Roque
COVID-19 vaccinations in virus epicenter Metro Manila will remain unhampered during the lockdown period from August 6 to 20, Malacañang said on Friday, July 30.
Read more here.