(1st UPDATE) Some city governments in the capital region point to nuances that affect the progress of their vaccination drive
Metro Manila has received the lion's share of COVID-19 vaccines, in line with the Philippine government's policy to concentrate the allocations in areas with high infection rates and significant economic stakes.
Because of this, over 4.6 million people in the National Capital Region (NCR) have already received at least one shot of the vaccine, accounting for around one-third of the population.
Data, however, reveal a disparity in the pace of rollout among local government units (LGUs). For example, as of late July, San Juan, the region's smallest city, has administered first-dose jabs to 97 out of every 100 people. But, in Makati, the last on the list, it's only 24 out of every 100 people.
The contrast in such figures raises the question: what are the factors that the numbers don't tell?
Rappler talked to four LGUs which trail other city governments in terms of vaccination numbers to provide a clearer picture of the nuances that affect their immunization drives.
1. Bigger cities, bigger problems
Quezon City and Caloocan, two of the most populous localities in the region, are among those which have administered the most number of vaccine doses. But, as of late July, they were third and fourth to the last in Metro Manila in terms of number of vaccinated per 100 people in their areas.
"The problem always with development is in terms of scale. The bigger the population, the larger the resources you will need," Dr. Rachel Basa pointed out to Rappler on July 21. She oversees the vaccination drive of Caloocan.
With a population of around 1.6 million, Caloocan needs to establish enough vaccination sites to accommodate constituents willing to receive the life-saving jab. Every day, the city activates around two dozen inoculation hubs.
In Quezon City, there were already over 50 active vaccination sites as of late July, the highest in the entire country.
"This is way, way higher than the original 24 sites planned. We're trying to accommodate as many people as possible," Joseph Juico told Rappler on July 28. He is the officer tasked to oversee the vaccination drive of the Philippines' most populous city.
2. Target populations
Cities in Metro Manila have different ways of setting a target population for vaccinations.
For many LGUs, it's 70% of the entire population. In Quezon City, Pasig, and Marikina, they first subtracted the part of the population that could not get the vaccine – that is, the minors). What remained was the adult population, against which they computed the 70% to 80% to determine their vaccination targets.
Cities also have different references for their population, such as the 2015 census, the 2020 census, projected 2021 midyear population, and even voter data from the Commission on Elections.
Rappler has reached out to the Department of Health for clarity about how LGUs should set their targets, but has yet to receive a reply. The agency, however, appeared to have approved San Juan's calculation, which is 70% of the entire population. That's after DOH Secretary Francisco Duque III graced a celebratory event in the city in mid-July to mark its milestone of having administered first-dose vaccines to 7 in every 10 of its people.
Rappler has acknowledged the differences in how LGUs set their targets, so our vaccination tracker for Metro Manila allotted a separate table for COVID-19 vaccinations per 100 people. The tracker used the mid-2021 population as reference for all localities.
3. Unstable vaccine supply from the national government
LGUs are mostly dependent on the vaccine supply from the national government, which in turn decides how vaccine jabs are distributed. Data on the allocation of doses are not readily available, so it is difficult to compare the vaccine stockpile of LGUs.
What we do know is that certain areas – including NCR – are prioritized for the vaccination drive due to "increasing cases, being highly urbanized, and having a dense environment, and their contribution to regional and national economy," Malacañang has said.
Some rich LGUs have made efforts to order vaccines for themselves, but delivery has been delayed.
"It's unfortunate that out of one million doses that I ordered from AstraZeneca, only less than 1% have arrived," Makati Mayor Abby Binay told a select group of reporters in a mix of English and Filipino on July 28.
"It's very frustrating when we are ready, the people are ready to be vaccinated, but [the problem is] the supply," she added.
Malabon Public Information Officer Bong Padua claimed that their share of doses was more or less the same as that of cities that were less populous.
"Our six vaccine sites were open, but in five of those, the vaccine supply was very limited," Padua told Rappler on July 15. He, however, expressed confidence they could vaccinate more if only there were more supply from the national government.
Vaccination officers of large cities said unsteady deliveries further complicate their planning.
"If there is a steady supply, it is easier for us to communicate with our constituents and give them a schedule," Quezon City's Juico said, as he pointed out that Quezon City did not allow walk-in vaccine applicants.
"We need to have a clear visibility on the vaccine allocation for us to plan better and roll out more," he added.
The momentum of some cities and the morale of their workers were also affected.
"[People] would be disappointed when they find out there were no first doses available for them, or second doses for their relatives. They doubt whether they will complete their vaccination," Caloocan's Basa said in a mix of English and Filipino.
"If the health frontline workers in vaccination sites are tired, and they receive complaints [about the lack of vaccines], it's a bit demoralizing," she added.
Replenishing Metro Manila's vaccine stockpile is crucial as the city faces the threat of the COVID-19 Delta variant, resulting in the region's return to hard lockdown in August. NCR mayors have sought an additional 4 million vaccine doses from the national government to further protect the mobile population against the highly transmissible virus.
Before the publication of this article on July 31, Rappler reached out four times to the Pasig LGU, which at the time also had less impressive vaccination numbers. We were only able to get its reply during a virtual presser by Mayor Vico Sotto on Monday, August 9.
Sotto also pointed out that vaccine supply remained unstable, but not before calling Rappler's tracker unfair and inaccurate.
"Kahit sabihin mong isang libong vaccination sites ang buksan namin, hindi pa rin namin talaga mabibilisan nang husto kasi hindi naman milyon-milyon ang bakuna na hawak namin. Ang importante, kapag nabibigyan tayo ng nasyonal ng bakuna, inuubos natin," he told Rappler after he was asked about factors that affected the pace of the city's vaccination rollout.
(Even if we open 1,000 vaccination sites, we cannot speed up vaccinations because we don't have millions of jabs. The important thing is, when the national government delivers vaccines, we exhaust the supply.)
"Nakita ko iyong infographic 'nyo. To be honest, hindi naman talaga fair or accurate iyong pinost 'nyo." he added. "Kung ige-grade 'nyo kami o ige-gauge 'nyo kami o ira-rank 'nyo kami based on something we can control, that is fair game."
(I saw your infographic. To be honest, what you posted was not accurate or fair. If you will grade, gauge, or rank us based on something we can control, that is fair game.)
Rappler's tracker is based on vaccination numbers that the LGUs themselves provide. It also does not "grade" LGUs, as the tracker only shows how many have been vaccinated per 100 people in a locality. Other outlets like Our World in Data also use the likes of the per-100-people measurement, so that areas with different populations can be fairly compared with each other.
Sotto, however, said his city had no complaints about the amount of vaccines delivered to his LGU.
"[The national government] sees the big picture, so we trust their judgement. From what I've seen, they've been very fair," he said.
4. Vaccine hesitancy, brand preference
The unwillingness of some people to get vaccinated is not unique to one LGU, but some cities pinpoint certain nuances that could complicate their efforts.
In Caloocan, Basa believes that attitudes toward the vaccine differ between their two districts due to implications caused by the geographical divide.
"The north, rural area, which is District 1, used to lag behind the south, urban area, which is District 2. Vaccine doses are always exhausted in the south due to high demand from adults and seniors," Basa said in Filipino. She guessed it's because senior citizens in rural areas were more conservative.
"But District 1 has caught up in the past couple of months," she added, attributing the development to the mayor's efforts to follow up with barangays on their promised targets.
In Malabon, brand preference by vaccine recipients stemmed from factors that were not black and white.
"Seamen and other overseas workers plead to be vaccinated using Western brands like Pfizer and Moderna because they need it to be able to work," Padua said.
Some countries do not recognize China's Sinovac jabs, which comprise the bulk of the country's vaccine stockpile.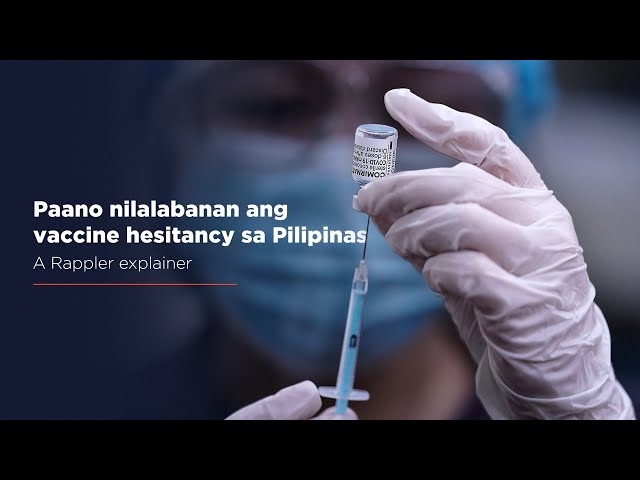 5. Quality of service above all
Binay admitted having seen Rappler's tracker, which showed that Makati was trailing other cities in terms of percentage of people vaccinated against their target populations.
But the Makati mayor said the local government is strict in complying with their prioritization list, and vaccinating only their residents.
"If you are already vaccinating people under the general population, it defeats the purpose of the prioritization," she said. "Because we are not going to meet our herd immunity if the persons we are vaccinating are not our residents."
Binay added that she's not worried about the numbers, asserting she would rather focus on the quality of her city's service.
"Marami man akong mabakunahan, pero mas marami naman ang reklamo dahil anim na oras silang naghintay, pumila sa baha, naulanan sila, naarawan sila, nahilo sila kakahintay, I would rather be slow," Binay said.
(I would rather be slow than vaccinate a high number of people, who would then complain that they waited for six hours, that they fell in line in flooded areas, or under the heat of the sun, or fainted because it took them so long to receive their jab.)
In the third week of July, Manila Mayor Isko Moreno's vaccination drive raised some eyebrows after eager residents braved floodwaters before they received their vaccines..
Photos of vaccination in flooded areas resulted in a comment from President Rodrigo Duterte, who criticized the process without naming Moreno or Manila.
Binay asserted that she would rather ensure that her residents come out of vaccination hubs relieved that the process was smooth-sailing.
"If they have a bad experience, they won't be able to encourage other people to get vaccinated, or they won't come back [for their second dose] because they were traumatized the first time," Binay said in a mix of English and Filipino. "I am not conscious about the number, I am more conscious about the feedback on the ground." – Rappler.com