WHAT YOU NEED TO KNOW
How many people have tested positive for COVID-19 in the Philippines? How many have recovered, and how many have died? What is President Rodrigo Duterte doing about it? What should the public expect in terms of the economy and the vaccine rollout?
Bookmark and refresh this page for the latest news updates, opinion articles, and analysis pieces about the COVID-19 pandemic in the Philippines.
LATEST UPDATES
As ECQ revived, Aboitiz to release 13th, 14th month pay in advance
The Aboitiz Group will be releasing the 13th- or 14th-month pay of regular employees in the first week of April, ahead of scheduled payouts, after Metro Manila and nearby provinces were placed under enhanced community quarantine (ECQ) again.
"We understand that financial security is critical for all, especially during these challenging times. And our A-People who are at the center of our organizational resilience, whose hard work, agility, and commitment are unparalleled, remains our top priority," said Sabin Aboitiz, Aboitiz Group president and chief executive officer.
In 2020, similar measures were done by big companies to cushion the financial impact of lockdowns on employees.
The Philippine government is giving only P1,000 per person for cash assistance, which will arrive weeks after the ECQ period, as funds for aid were not included in the 2021 budget.
DOH bulletin: COVID-19 cases as of March 31, 2021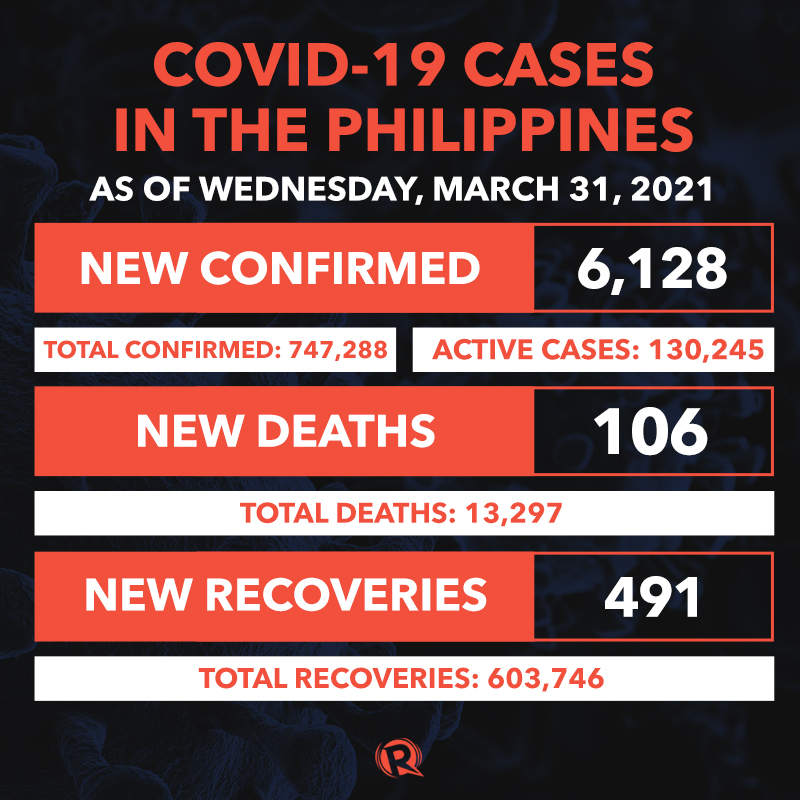 Full story here.
COVID-19 surge hits DFA
The Department of Foreign Affairs (DFA) announced on Wednesday, March 31, that it will be maintaining a reduced workforce "until further notice," after 88 of its personnel tested positive for COVID-19 in March. 
The staff infected with the coronavirus in recent weeks were mostly frontline personnel.
"The department seeks the public's understanding on the recent closures and delays in services that they may have experienced due to the plight of its frontliners," the DFA said.
For assistance-to-nationals concerns, the DFA can be contacted through its 24/7 cellphone hotlines:
Globe – 0967-442-1825
Smart – 0908-344-2070
For consular concerns and schedules of consular offices, check https://consular.dfa.gov.ph.
DOH appeals to COVID-19 testing hubs: Continue operations during Holy Week
Health Undersecretary Maria Rosario Vergeire says the DOH has already sent a memorandum to all of its regional units to make sure that there is a "continuity of operations of all our laboratories."
Read more.
Ateneo: 9 members of Jesuit Residence get COVID-19
Nine members of Ateneo de Manila University's Jesuit Residence tested positive for COVID-19, the school announced on Wednesday, March 31.
"Strict protocols, which includes isolation and quarantine, are currently in place and being implemented at the residence. Contact tracing is also being done," said the Jesuit-run university in a statement Wednesday.
"We request everyone to respect the individuals' wish for privacy. We continue to call on everyone to pray for the infected for their speedy recovery, for the safety of those living inside the university campus and to grant all of us the strength, courage, and perfect trust in the Lord to see these challenges through," Ateneo said.
Report 'epal' officials using ECQ aid for premature campaigning – DILG
The Department of the Interior and Local Government (DILG) advised the public to inform them about local officials who take advantage of social amelioration funds from the government as a form of premature campaigning.
Read the full story here.

Delayed test results 'aggravated' COVID-19 fight in Quirino – governor
Quirino Governor Dakila Cua said that some laboratories in the province release COVID-19 test results after 10 days or more.
Read more.
Underreporting? DOH to start counting antigen tests in national tally
The Department of Health is working with the World Health Organization to draft the guidelines.
Read more.
DOH bulletin: COVID-19 cases as of March 30, 2021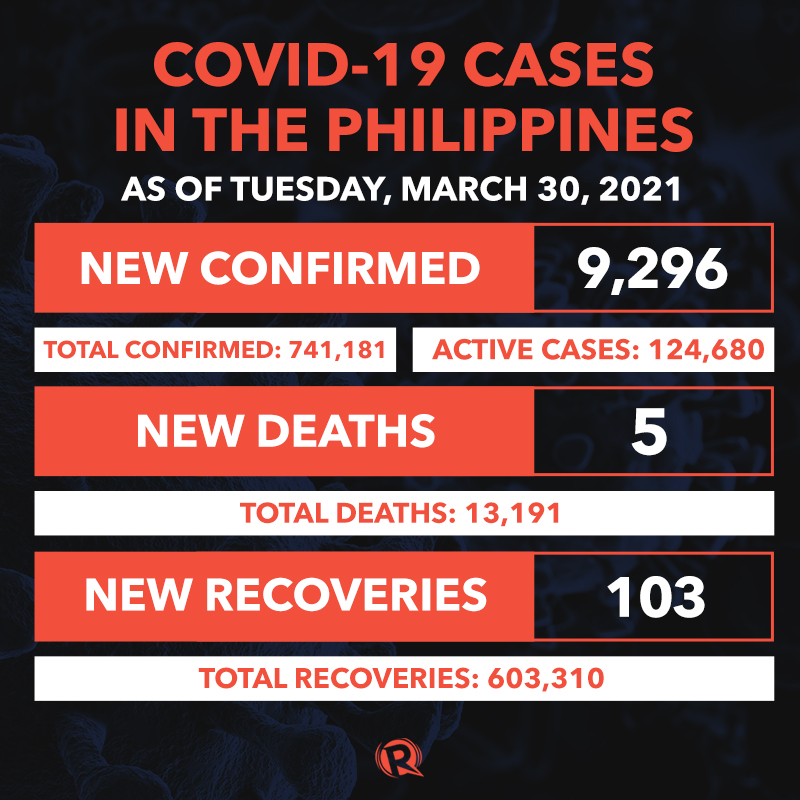 FDA: No registered anti-parasitic drug Ivermectin for human use in PH
FDA Director General Eric Domingo warns that using the animal drug Ivermectin for humans "can cause serious harm."
Read more.