Senator Leila de Lima wishes for vindication and freedom both for herself and the Filipino people
Philippine Senator Leila de Lima, President Rodrigo Duterte's feistiest critic, was sad but defiant as she turned 62 – the fifth birthday she is spending in jail.
Writing from her cell on Friday, August 27, De Lima said she longs for the company of her family, friends, and staff, whom pandemic protocols bar from being with her physically at Camp Crame's reception room. 
But while the opposition senator is saddened by this, De Lima still has no regrets for standing up against Duterte.
De Lima was arrested on February 24, 2017, over what she has described as trumped-up drug charges against her. She is the most prominent detainee of the Duterte regime. 
"What is there to regret when you are on the side of truth and justice? I said it on the day I was arrested and I will say it again: Karangalan ko po na ako'y makulong dahil sa mga ipinaglalaban ko po (It is my honor to be jailed for the things I am fighting for)," De Lima said.
"And I wish to add to that line today: Karangalan kong maging tinig ng mga pinatatahimik, maging tambuli ng sambayanang gumigising, at maging taga-hawak ng sulo sa landas ng pag-asa at pagkakaisa para sa lahat," she added.
(And I wish to add to that line today: I am honored to be a voice for the silenced, a symbol for a country now opening its eyes, and a torchbearer to the path of hope and unity for all.)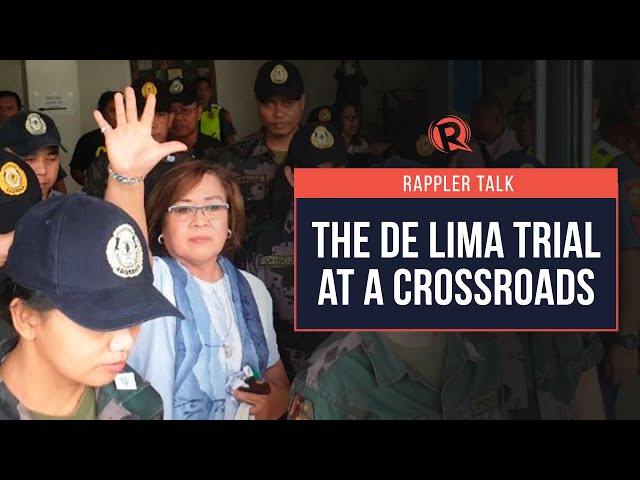 De Lima said she reflects on the past five years with "nothing but gratitude," noting the undying support of her family, colleagues, friends, and supporters.
She continues to wish for freedom.
"Since my arrest in 2017, I have always hoped that each birthday will be the last in detention, and I have never stopped hoping. Hoping for vindication and freedom, not only for me but for the rest of the Filipino people. Sana ay tuluyan na nating makamit ang buhay na malaya at may dignidad (May we finally achieve a life that is free and with dignity)," De Lima said. 
De Lima said she was sent to jail due to political persecution. She has already been acquitted of one of these charges, but she is still on trial for the two other conspiracy to commit drug trading charges. 
Her detention did not diminish De Lima's resolve, however, as she continued to lambast Duterte's abusive policies through dispatches she would write from her Camp Crame cell. 
De Lima is seeking reelection in the 2022 senatorial polls. – Rappler.com