In the new DBM circular, a government Nurse II regains its slot a step above the entry level position. Those at the Nurse II level fall under salary grade 16 which receives a monthly pay of P36,628.
The Department of Budget and Management (DBM) on Wednesday, August 25, issued a circular retaining the seven-level position for government nurses, reversing a previous circular it issued.
DBM Officer-in-Charge and Undersecretary Tina Canda signed Budget Circular (BC) No. 2021-2 on Tuesday, which raised a Nurse II salary grade (SG) to SG 16 (P36,628).
The previous circular, BC 2020-4 signed in July 2020, upgraded Nurse I from SG 11 (P23,877) to SG 15 (P33,575), but effectively demoted non-entry level nurses one rank lower while retaining their salaries.
Because of this, Nurse II was demoted to Nurse I while still earning SG 15 at the time. Nurse III with SG 17 (P39,986) was demoted to Nurse II while still earning the same salary, and so on until Nurse VII was demoted to Nurse VI.
With the new circular, the seven-level rank for nurses was reinstated. Nurse I will still get SG 15, while Nurse II will get a higher wage at SG 16.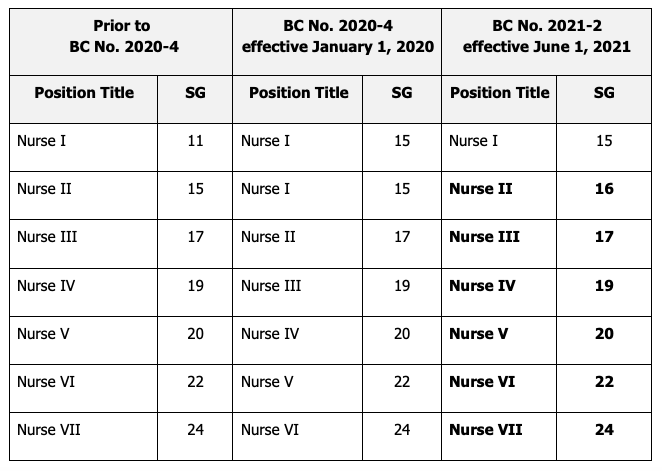 The circular is retroactively effective on June 1.
"The DBM would like to emphasize that the modification of the position attributes will not result in the reduction in the salary of the incumbent nurses," it said.
Earlier, nurses slammed the DBM as the 2020 budget circular "demoralized" them. – Rappler.com