An arrest warrant is out for Peter Joemel Advincula, who was last known to be back in Albay. The perjury charge is bailable.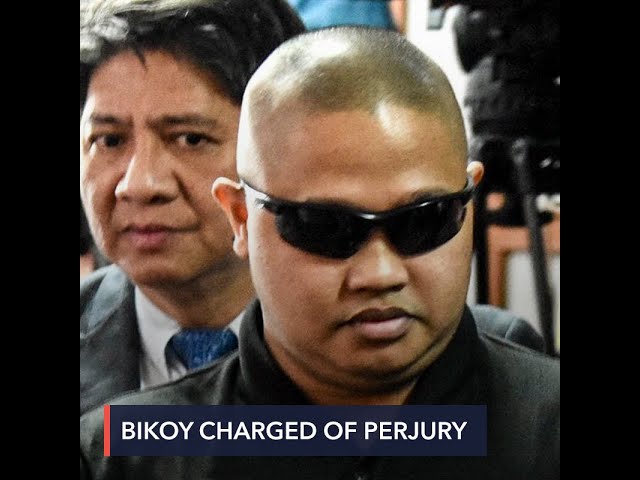 The Department of Justice (DOJ) charged Peter Joemel Advincula, alias Bikoy, of perjury over his false accusation that human rights lawyers participated in a supposed plot to oust President Rodrigo Duterte.
The resolution was signed back in February 2020, but the charge was only filed in court on January 11, 2021. Manila Metropolitan Trial Court Branch 17 Pairing Judge Immaculada Concepcion Ylagan-Galang issued a warrant of arrest for Advincula on January 18, with a bail of P18,000.
Advincula was last known to be back in his home province of Albay. (READ: Bikoy vs Bikoy: The biggest flip-flops of the government's star witness)
The DOJ said there is probable cause that Advincula made false statements when he wrote in his affidavit that lawyers Chel Diokno, Erin Tañada, and Ted Te – all members of the Free Legal Assistance Group – were involved in a plot to oust Duterte through the release of the narcolist videos.
Diokno, Tañada and Te had all been earlier cleared by the DOJ in the inciting to sedition complaint. The sedition complaint was filed by the Police Criminal Investigative and Detection Group (CIDG) using Advincula's affidavit.
DOJ resolution
In the resolution, the DOJ noted how Diokno and Tañada were proven to have participated in a senatorial forum held at the Ateneo de Manila University on March 4, 2019. (That forum was organized by Rappler.) The DOJ resolution also noted that the presence of the two lawyers in the forum was contrary to Advincula's allegation that they attended a meeting held in the university on the same day to plot Duterte's ouster, which was supposedly code-named Project Sodoma.
Advincula said he met Te on May 2, 2019, but the lawyer said the meeting actually happened on May 4, 2019, after he received a message that someone needed legal assistance.
The resolution revealed that FLAG as an organization decided not to assisst Advincula, who initially threatened to file complaints against Senator Bong Go and presidential son Paolo Duterte for alleged drug links – the premise of his controversial narcolist videos.
But only two days later, Advincula appeared in a Camp Crame press conference to turn the tables on the opposition, accusing them all of planning to oust the President.
"Respondent Advincula's statement against the complainants cannot be believed considering that there was no clear-cut involvement of the complainants in 'Project Sodoma,'" said Assistant State Prosecutor Ferdinand Fernandez, with approvals from Senior Deputy State Prosecutor Richard Anthony Fadullon and Prosecutor General Ben Malcontento.
FLAG is demanding P5 million in actual and moral damages for the false accusations.
The DOJ dismissed the same perjury complaint against Police Lieutenant Colonel Arnold Thomas Ibay, the officer-in-charge of the CIDG's Regional Field unit-National Capital Region, who signed the inciting to sedition complaint.
Prosecutor Fernandez said "there is no willful and deliberate assertion of a falsehood since (Ibay) was clear and categorical when he referred the investigation records to the DO] to investigate."
Fernandez's resolution was dated February 17, 2020, or a week after a separate set of prosecutors resolved the main sedition complaint, in which they proceeded to charge Advincula, opposition leader Antonio Trillanes IV, priests Flaviano Villanueva, SVD and Albert Alejo, SJ, and 7 others for conspiracy to commit sedition.
Their trial is ongoing. – Rappler.com