This is AI generated summarization, which may have errors. For context, always refer to the full article.
'Hindi lang po kathang-isip lang ng DOTr at IATF,' says the Department of Transportation, as it draws flak for reducing the required distance between commuters
The Department of Transportation (DOTr) on Monday, September 14, defended the new policy reducing physical distancing in public transport, saying that it is based on "science."
In an interview with GMA's Unang Balita, Transportation Undersecretary Artemio Tuazon cited a survey by the International Union of Railways, the organization that sets the standards for the rail sector around the world.
"Base po ito sa siyensiya. Hindi lang po kathang-isip lang ng DOTr at IATF (Inter-Agency Task Force)…. Pinagbasehan po namin dito 'yung pag-aaral ng ibang eksperto katulad sa train ng International Union of Railways (UIC) na nakikita po na hindi naman talaga ganun kalaki [dapat] ang distansiya ng mga pasahero. Kung titignan po, ang Pilipinas na lang ang nagpapatupad ng one-meter distancing sa mga railways natin," said Tuazon.
(This is based on science. The DOTr and the IATF are not imagining things…. We based it on the studies of other experts for trains, like the International Union of Railways, which saw that the distance among passengers shouldn't be that wide. If we look at it, only the Philippines had been implementing one-meter distancing in railways.)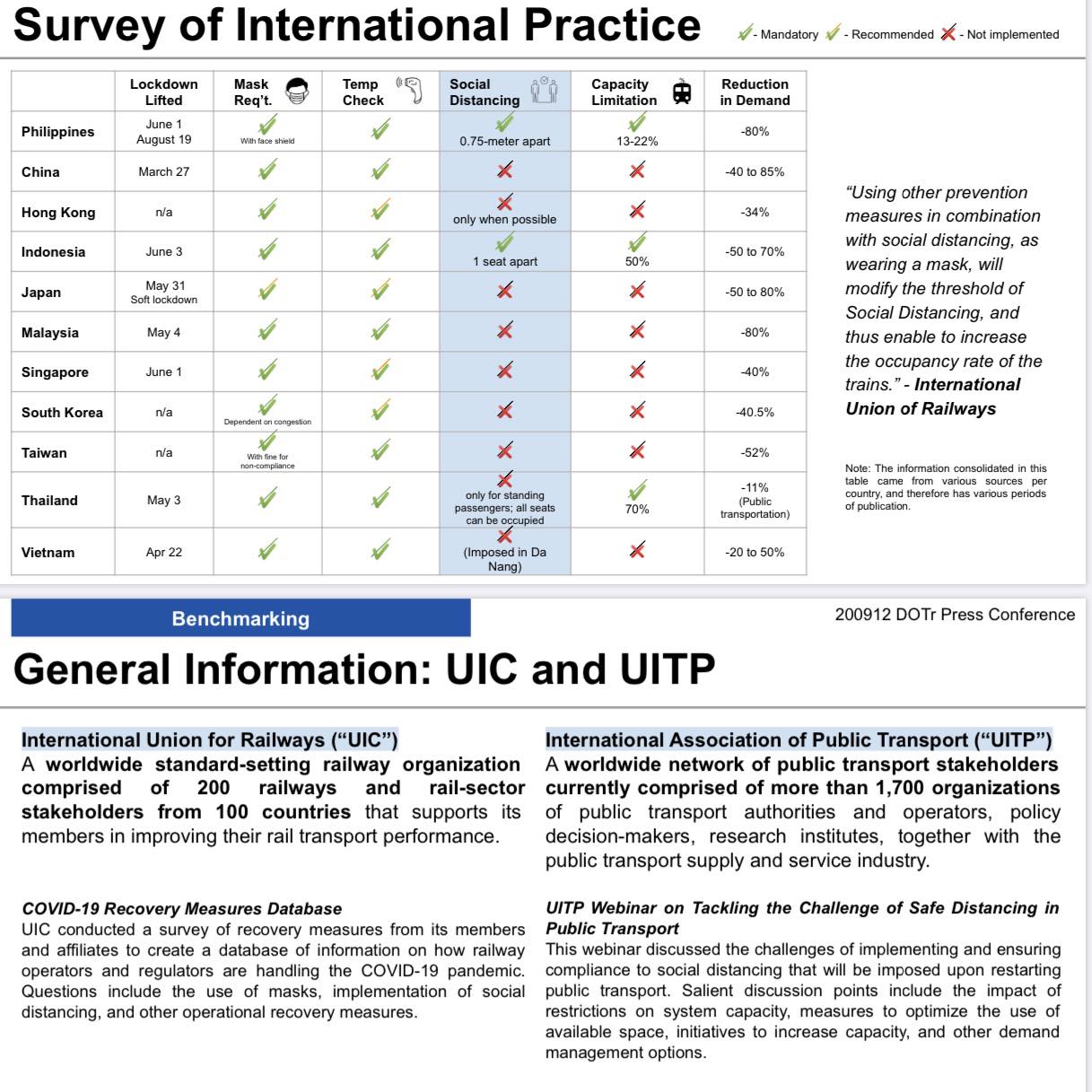 The UIC recommendations being cited by the DOTr were published in April 2020. Photo from DOTr
Tuazon added that the World Health Organization's minimum recommendation of one meter is "based on a 1980s study."
A number of recent studies showed, however, that airborne droplets could travel at a distance greater than two meters.
The new distancing policy in public transport started on Monday. The DOTr will adjust the distancing requirement every two weeks from 0.75 meters on Monday, to 0.5 meters on September 28, and to 0.3 meters on October 12.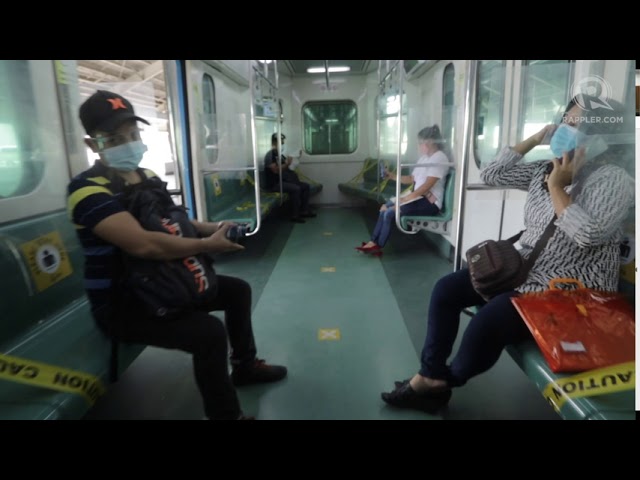 The government also banned talking, eating, and taking phone calls inside public transport. The DOTr recommended turning off air-conditioning for better ventilation as well.
In a message to Rappler, Transportation Assistant Secretary Goddes Libiran said these other measures complement physical distancing.
"It's different in public transport because you have a face mask, face shield, and you're not even allowed to talk nor answer phone calls. CAMPI (Clean Air Philippines Movement Incorporated) has said that if there's no talking etc, then there would be no droplets, no aerosol," Libiran said in a mix of English and Filipino.
Experiences in other countries
Other Southeast Asian countries such as Thailand and Malaysia eased distancing requirements after implementing lockdowns that were successful in curbing the spread of the coronavirus. Both countries had single-digit cases when these restrictions were lifted.
In South Korea, Seoul Metro introduced tech innovations to check congestion rates inside train cars. Passengers are informed, through an app, to spread out to other train cars when needed. If a train car is congested, a standby train will arrive for commuters.
In July, the Asian Development Bank released a guidance note on public transportation during the pandemic. Among its recommendations was to "improve reconfiguration of passenger flows, balancing safe distancing and efficiency" during the recovery phase.
A recent study by the Collaborative Group for Modelling COVID and Mobility in Colombia also said proper ventilation, where air renewal happens every 3 minutes, is important to reduce transmission of the coronavirus when combined with other health interventions.
However, the study also notes that the ideal trip duration should be less than 15 minutes – a scenario that can only happen in short-trip distances for railways, and during off-peak hours for public utility vehicles (PUVs).
Though the IATF said easing public transport restrictions would help the economy recover, health experts, the Department of Health, and a Cabinet member have opposed the reduced physical distancing – highlighting the clashing views in the Duterte administration.
In a webinar on Monday, leading epidemiologist Dr Antonio Dans said "it's too early" to ease public transport restrictions, as such moves could lead to more COVID-19 cases and therefore hamper the country's recovery.
While experts earlier said the coronavirus curve is starting to flatten in Metro Manila, Filipinos "can't be complacent" as the numbers can still go up.
In the past week, newly reported coronavirus cases in the country averaged at around 3,400.
Why not allow more PUVs?
Transport groups have said that the DOTr should have allowed more jeepneys to return to the streets instead.
Libiran told Rappler that the Land Transportation Franchising and Regulatory Board (LTFRB) has already authorized 206 routes to be serviced by 17,372 jeepneys in Metro Manila. Pre-lockdown, the total number of jeepneys in the capital region was estimated to be around 55,000.
"We are yet to open several more in the next few days and weeks," she added.
For the other modes of transportation, the LTFRB has already approved the following number of routes and units:
Modern jeepneys – 45 routes and 786 units
Public utility buses – 32 routes and 3,854 units
Point-to-point buses – 34 routes and 387 units
UV Express – 59 routes and 1,905 units
Taxis – 20,891 units
Transport network vehicle services – 23,968 units
In a statement on Monday, the DOTr said it is adopting the service contracting scheme for PUVs given the signing of the Bayanihan to Recover as One bill into law.
Pending the guidelines from the LTFRB, the scheme would allow the government to hire PUVs and pay them based on the kilometers traveled and other performance indicators – a departure from the boundary system in PUVs which previously pushed drivers to accommodate as many passengers as they can.
With the new scheme, hired operators must be able to provide backup units in case of vehicle breakdowns. They must also implement 50% passenger capacity, safety and health protocols, and set working hours.
The DOTr has yet to announce how many PUV units will be contracted, but the Bayanihan 2 law provided a P2.6-billion budget for critically affected transport businesses.
"The new arrangement of service contracts among public transportation will no longer just depend on the number of passengers being carried. We are ensuring that our drivers will be fully compensated for their services, despite the imposed load limitations," said LTFRB Chairman Martin Delgra III. – Rappler.com