As Typhoon Ulysses leaves a trail of destruction, the Philippine President says rich countries must lead in drastically reducing carbon emissions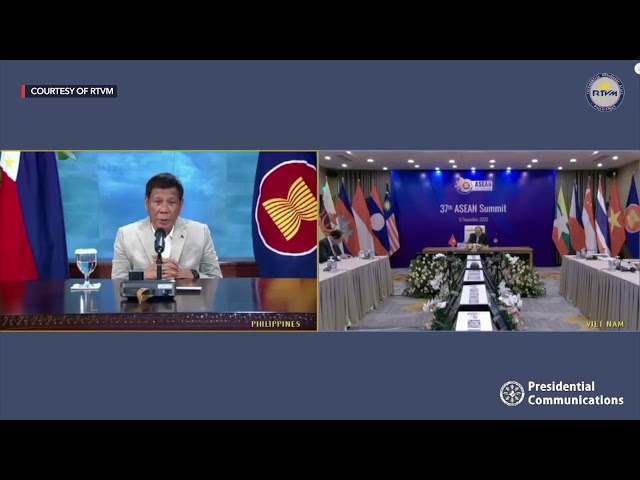 As the Philippines' 21st tropical cyclone this year battered parts of Luzon, President Rodrigo Duterte demanded that developed nations step up efforts to curb global warming, a phenomenon which scientists say fuel strong storms and erratic weather patterns.
Duterte made this call before other heads of state and government at the plenary of the 37th Association of Southeast Asian Nations (ASEAN) Summit on Thursday, November 12.
"More importantly, we must amplify our voices to demand climate justice from those most responsible for this existential challenge we face today," he told fellow Southeast Asian leaders.
"Developed countries must lead in deep and drastic cuts in carbon emissions. They must act now, or it would be too late. Or if I may say addedly, it is too late," said Duterte.
The gathering was done virtually, with leaders delivering their remarks from their office as Vietnam, summit host, led proceedings.
'Stark reminder'
As Duterte spoke, parts of Metro Manila and Luzon provinces were inundated by floods brought about by Typhoon Ulysses (Vamco).
Hundreds of Filipinos were waiting on their rooftops to be rescued from muddy floodwaters surrounding their homes as rain continued to pour.
Duterte spoke of the typhoon as proof that urgent climate action was needed, especially from developed countries whose fossil fuel-driven economies contributed the most to global warming.
"This is their moral responsibility from which there should be no escape," said the President, who leads a country visited by over 20 typhoons a year.
Inaction of developed countries, he said, would be a "great injustice" to the poorer nations "who bear the brunt of the adverse consequences of their past actions and present inactions."
Duterte also called on developed countries to make good on their commitments to invest in technology and innovations that can help poorer countries adapt to climate change.
Saying he may have to excuse himself after his speech in order to attend to typhoon rescue and relief operations, Duterte said Ulysses is "yet another stark reminder" of the urgency to curb climate change.
In his first year as President, Duterte threatened not to honor the Philippines' commitments under the historic 2015 Paris climate change agreement, believing the deal to be "unfair" to developing countries.
But in 2017, outvoted by his Cabinet, Duterte signed the "instrument of accession" formalizing the Philippines' ratification of the agreement. – Rappler.com