'Hindi akin 'yan,' says President Rodrigo Duterte about the 2019 list of 'narco-politicians' he himself read out in public which included Mayor Caesar Perez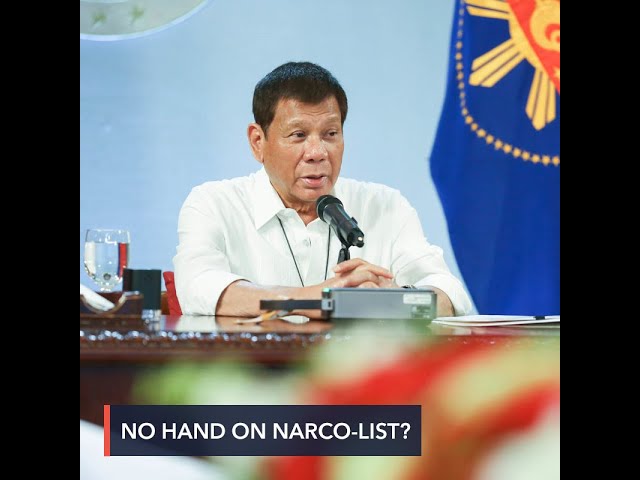 Philippine President Rodrigo Duterte tried to wash his hands clean of the inclusion of slain Los Baños, Laguna Mayor Caesar Perez in his drug list, saying it was not he but law enforcers who placed the local chief's name there.
The President distanced himself from a list he himself read out after the children of Perez appealed to him for help in solving their father's killing.
"First of all, I'm sorry that your father died in the way it happened. Pero kung sabihin mong, 'yang listahan na 'yan, hindi akin 'yan," said Duterte on Monday, December 7, during a meeting with coronavirus task force officials at the Malacañang Golf Clubhouse.
(But if you're talking about that list, it's not mine.)
"Hindi sa akin 'yan, ibinigay lang sa akin. Hindi ako gumagawa ng listahan. Hindi ako pulis, hindi ako sa intelligence," Duterte added.
(That's not mine, it was just given to me. I didn't make that list. I'm not the police, I'm not with intelligence.)
Yet it was Duterte, not the police or members of intelligence agencies, who decided to publicly accuse 44 local government officials of being involved in drug trafficking. Among them was Perez.
Duterte read out this list of "narco-politicians" on March 14, 2019. He had justified the public accusation by calling it a matter of "national security" and saying Filipinos had "the right to choose leaders who are competent, able, honest, and who are not criminals."
At the time, the country was only two months away from national and local elections, leading critics to say Duterte was using his drug war for political purposes.
And while Duterte tried to distance himself by saying the narco-politicians' list was the work of military and police, he, as President, is commander-in-chief of all law enforcers.
Duterte: 'Maybe' Perez was an 'exception'
Duterte went on to say that it's possible the list he read out in 2019 was wrong.
"I'm sorry if your father was there, but really, most of those were really into drugs. Your father might be an exception. If you believe firmly that he was not guilty or liable of anything, then that's good," said the President.
He then admitted that many of those local chiefs in his list ended up dead.
"The problem, his name, umabot doon sa listahan. Mind you, lahat namatay, natirik. You just have to look for the killers. Hindi dito sa opisina ko 'yan," said Duterte.
(The problem, his name, reached the list. Mind you, all died. You just have to look for the killers. That's not from my office.)
Perez's family insists the mayor was not involved in illegal drugs and even went to the Philippine Drug Enforcement Agency to clear his name.
Duterte, meanwhile, has released "drug lists," "drug matrices," and "ouster plot diagrams" several times during his presidency, to underline his supposedly tough stance against illegal drugs and crime.
But critics have pointed out many inaccuracies and unvalidated claims in the information he has released.
In 2019, journalists and media groups slammed Duterte's lists as a form of shaming and a violation of the rights of privacy, due process, and presumption of innocence of those he named. – Rappler.com