Following the election of Speaker Lord Allan Velasco, President Duterte calls on all his House allies to 'unite' and pass the 2021 budget on time
"All is well."
This is how longtime presidential aide and now senator Bong Go described the relationship between new House Speaker Lord Allan Velasco and rival Taguig-Pateros Representative Alan Peter Cayetano after they met with President Rodrigo Duterte on Tuesday, October 13.
"Parang tatay si Tatay Digong, kinausap mga anak niya. Pinag-payuhan na magkaisa; one majority and pass the budget para sa sambayanang Pilipino (Father Digong was like a father who spoke with his children. He advised them to unite; one majority and pass the budget for the Filipino people)," Go told reporters after the meeting.
The meeting was held early afternoon at the Malacañang Golf (Malago) Clubhouse, right after the House of Representatives ratified Velasco's election as Speaker, replacing Cayetano.
The development is the fulfillment of the term-sharing deal that Duterte had brokered between his warring allies.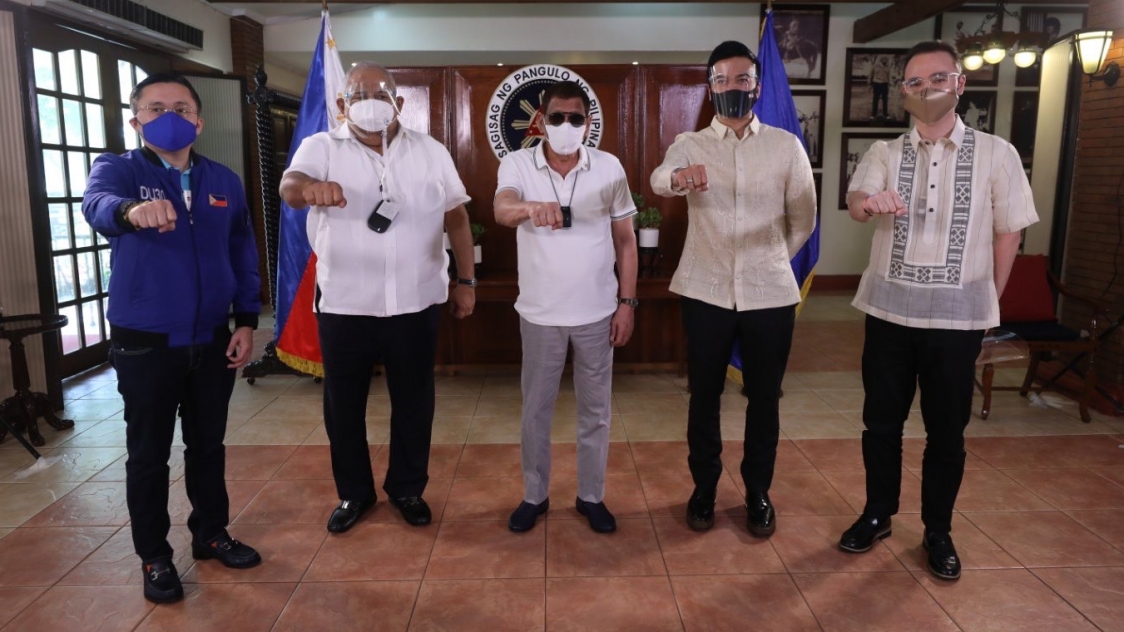 Go was present at the meeting, as he has been in other recent meetings of Duterte with Velasco and Cayetano, though he is a senator and not a member of the lower house nor a Malacañang official.
Also in attendance was Executive Secretary Salvador Medialdea.
"In the course of the meeting, the two representatives agreed to work together as one majority in order to ensure the timely passage of the 2021 budget and other priority legislation of the Duterte administration," Presidential Spokesman Harry Roque said in a statement.
Photos of the meeting showed Duterte, inexplicably wearing sunglasses, sitting down with Cayetano and Velasco.
They apparently also took their discussion outside as other photos showed the officials in front of Malago, near at least 3 big motorcycles.
Duterte, Go, and Velasco are big bike enthusiasts. Velasco is a riding buddy of Duterte's eldest daughter, Davao City Mayor Sara Duterte.
Earlier on Tuesday, Malacañang welcomed Velasco's election as Speaker, saying this means that the House can now focus on passing their 2021 national budget bill.
From the start, Duterte emphasized that speakership politics should not endanger the timely passage of the budget, which his government sorely needs for its pandemic response next year.
The 2021 budget is also crucial in another sense: it's an election budget or a budget during the months before the 2022 election season. Such a budget is often used by lawmakers and other officials to curry favor with their constituents so that they can get reelected.
Duterte had called Congress to a special session from October 13 to 16 to prevent a budget delay. The special session allowed Velasco to wrestle the speakership from Cayetano who had earlier suspended the House session in anticipation of his rival's move. – Rappler.com