President Rodrigo Duterte says he made the plea with Chinese President Xi Jinping himself 4 days ago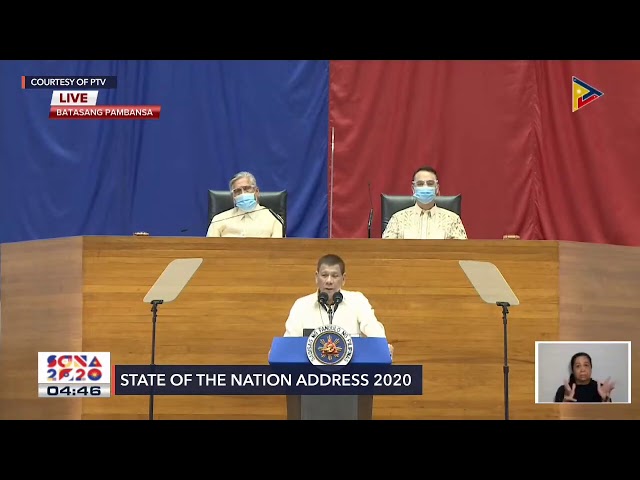 As the coronavirus pandemic continues to spread, President Rodrigo Duterte said he has pleaded with Chinese President Xi Jinping to prioritize the Philippines when providing an effective vaccine that would cure COVID-19.
Duterte disclosed this during his 5th State of the Nation Address (SONA) on Monday, July 27, saying he "made a plea" to Xi 4 days ago.
"Four days ago I made a plea to President Xi Jinping that if they have the vaccine, can they allow us to be one of the first – or if it's needed that we will have to buy it – that we will be granted credit so we can normalize as fast as possible," Duterte said in his speech.
Coronavirus cases have continued to increase in the Philippines with over 82,000 infected as of Monday. At the start of his speech, Duterte agonized over the "troubled times" the Philippines was experiencing due to the pandemic, pinning his hopes on a vaccine would be "around the corner."
Duterte had earlier spoken with Xi in a 20-minute phone call last June 11 where the Chinese President assured Duterte of China's assistance in the coronavirus pandemic.
The Philippines is looking to start Phase 3 clinical trials for 5 vaccines in October 2020. Of the 5, 3 are candidate vaccines being developed in China.
The global race for a vaccine was recently hit by controversy after the United State Justice Department accused a pair of Chinese hackers of attempting to steal vaccine research and hacking hundreds of companies in the US.
The fallout has so far seen Washington order Beijing to close its consulate in Houston, escalating tensions between the two powers.
Intelligence agencies in the US, United Kingdom, and Canada also warned hackers believed to be part of Russian intelligence were trying to steal information about a coronavirus vaccine, as reported by the Associated Press.
Meanwhile, the Department of Foreign Affairs earlier said its foreign posts have begun coordination and exchange of information with different countries for vaccine developments. – Rappler.com