'He is trying to redeem himself. Let's give him a chance. If he's guilty, let us take proper steps to ensure he's punished,' Santiago says of her running mate Bongbong Marcos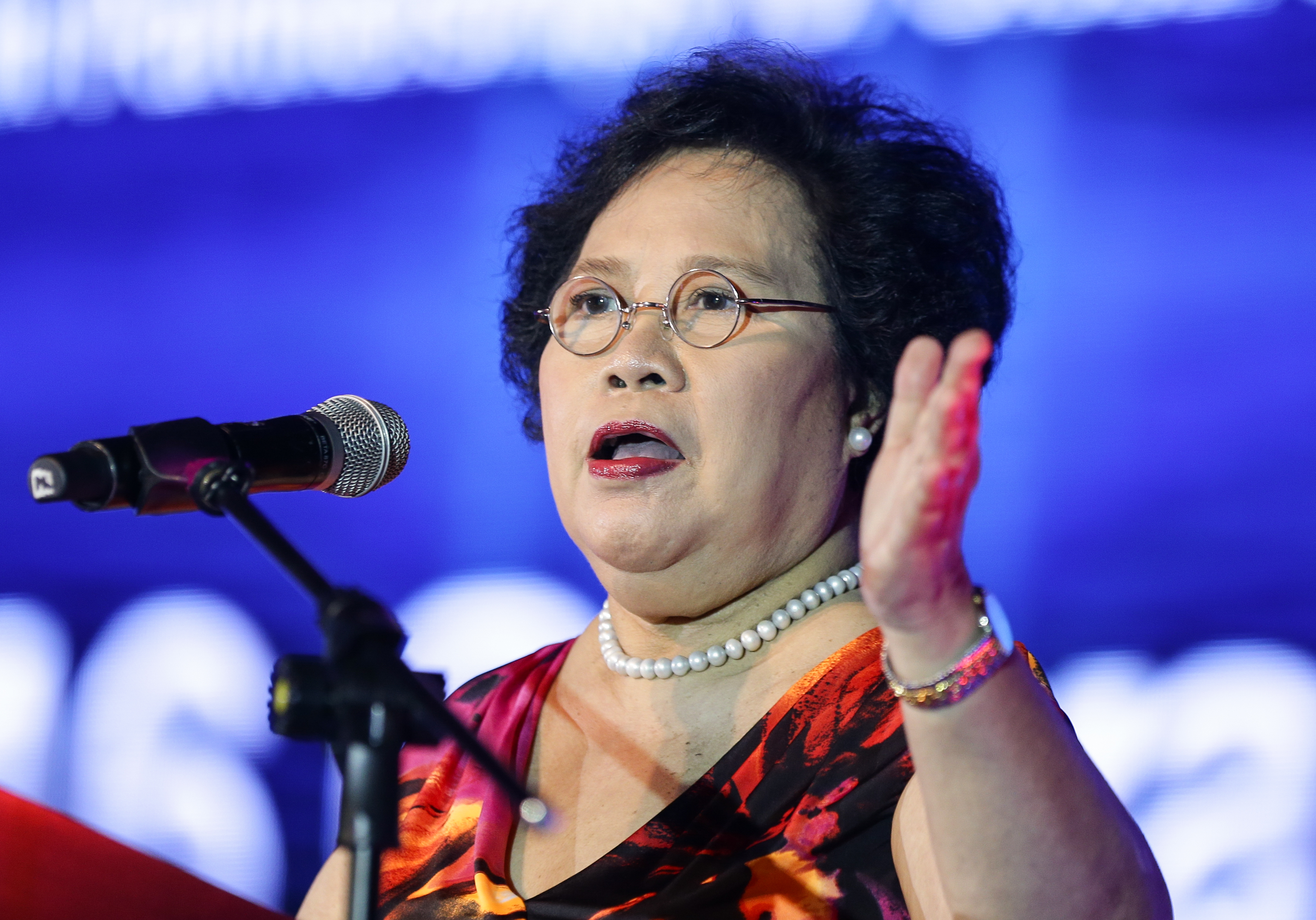 MANILA, Philippines – "It's not my function to defend [Bongbong Marcos]. He should defend himself." 
After two weeks of answering questions on her running mate, Senator Miriam Defensor Santiago said Senator Ferdinand "Bongbong" Marcos Jr should respond to criticism about the legacy of his father, the late dictator Ferdinand Marcos. 
Santiago said she was a professor of the younger Marcos at the University of the Philippines College of Law, and she knows he can answer the questions. 
"I think he is capable of defending himself. He is perfectly capable of intellectualizing the situation he is in. I saw Mr Marcos in class as more than an average student. As his former professor, I just think he does not devote enough time to his homework. He dropped out of class," she said. 
Santiago spoke at the presidential forum of the 41st Philippine Business Conference and Expo on Tuesday, October 27. Presidential bets Vice President Jejomar Binay and former interior secretary Manuel "Mar" Roxas II also addressed the gathering. 
The senator's choice of Marcos as running mate for the May 2016 polls is controversial. In the forum, moderator and journalist Coco Alcuaz asked Santiago how she reconciles the decision with her anti-corruption stance. Alcuaz cited long-running allegations of corruption and ill-gotten wealth against the Marcoses. 
Santiago responded by using both legal and religious arguments. 
A lawyer, law professor, and former regional trial court judge, the presidential bet said those with allegations against the young Marcos should just file cases in court. 
"I have not seen prima facie (on its face) evidence that he killed someone, raped someone, or burned a house, that he violated the Penal Code. I don't know of any crime he did. Martial law photos show him as a child," Santiago said. 
She added: "We cannot punish someone on the basis of suspicion. I can't support that as a lawyer." 
Santiago took religious studies at the Maryhill School of Theology in Quezon City. She said that even on moral grounds, she cannot fault her running mate. 
"There is no allegation he himself sinned against his neighbor. We are going against what the Bible said: 'The sins of the father are not the sins of the child.' I weighed these matters very carefully. I wrote an entire book on theology and religion, and that's my humble conclusion," she said. 
Marcos' bid for the vice presidency is the biggest step the Marcos family is taking to reclaim Malacañang. 
Human rights groups are campaigning against the senator, criticizing him for his refusal to apologize or even acknowledge the corruption and human rights abuses that occurred under his father's watch. 
'Give Marcos a chance' 
Santiago cited Marcos' 2010 election victory as a sign that Filipinos want him for a high national post. 
"He won as senator, meaning majority of the people do not see an objection in putting him into public office," she said. 
Alcuaz asked Santiago about concerns that Marcos will order a cover-up into his family's crimes if he is elected vice president. 
Santiago responded: "That's possible. But unless I see prima facie evidence, I cannot be guided by thoughts that are negative against a fellow man." 
Echoing Marcos supporters and opposition vice presidential bet Senator Gregorio Honasan II, Santiago said Filipinos should simply determine Marcos' fate through the ballot. 
"He is trying to redeem himself. Let's give him a chance. If he's guilty, let us take proper steps to ensure he's punished." – Rappler.com