This is AI generated summarization, which may have errors. For context, always refer to the full article.
Commissioner Christian Lim is the lone voice of dissent in the Comelec First Division, which cancelled Senator Grace Poe's certificate of candidacy for president in the 2016 elections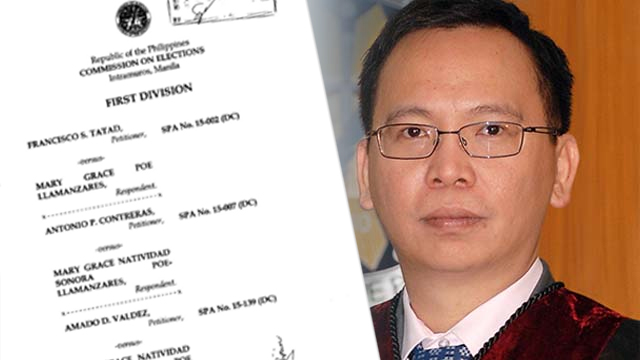 MANILA, Philippines – The presiding commissioner of the poll body's first division is the lone dissenter in the December 11 decision cancelling Senator Grace Poe's certificate of candidacy (COC) for president in the 2016 elections.
Comelec Commissioner Christian Robert Lim was appointed commissioner by President Benigno Aquino III in 2011. He was, in fact, a former election lawyer to the President, as well as one of Poe's rivals in the 2016 elections, Liberal Party standard-bearer Manuel "Mar" Roxas II. Lim had also worked with the so-called The Firm, the former Carpio Villaraza & Cruz law offices.
Ironically, Poe recently identified Roxas' camp as among those behind moves to disqualify her from the 2016 polls. Her camp is also accusing former members of The Firm as the brains behind legal moves to bar her from running.
In his 81-page dissenting opinion released Friday, Lim voted in favor of Poe and rejected all the 3 petitions filed by the following:
Lim said there was no material misrepresentation in Poe's COC as far as her residency is concerned. (READ: FULL TEXT: Comelec First Division ruling vs Grace Poe)
As for her citizenship, the commissioner said the poll body cannot rule on whether Poe misrepresented her claim that she is a natural-born Filipino. (READ: Poe 'deliberately attempted to deceive' voters – Poll execs)
Intent and physical presence
"I find that the respondent did not commit material misrepresentation when she declared in her certificate of candidacy that she has been a resident of the Philippines for 10 years and 11 months immediately preceding the elections on 09 May 2016," Lim said in his opinion.
He agreed with Poe when the senator claimed she established her new domicile in the Philippines as early as May 24, 2005 – the day she returned to the Philippines after she and her family decided to stay here. (READ: Grace Poe's residency in PH: When do we start counting?)
Citing e-mail correspondence as evidence, Lim said in the early part of 2005, Poe and Victory Van Corporation exchanged e-mails with the subject line "Relocation to Manila Estimate," where the senator inquired on shipment of goods to Manila (household goods, furniture, vehicles) and discussed import fees, freight charges, and documentation requirements.
"From this point on, respondent had effectively manifested her intent to abandon her residence in the United States and established a new one in the Philippines. Had respondent intended her relocation to be temporary, then she would not have gone to the full extent of relocating most of her household goods and furniture to Manila considering the cost and burden it demanded."
In addition, Poe on May 24, 2005 "decided to enroll her children" in Philippine schools. This, according to Lim, is a "strong indication" that Poe intended to stay "for an indefinite period of time."
Lim also cited the Bureau of Internal Revenue's issuance of a Taxpayer Identification Number (TIN) to Poe in July 22, 2005, and her acquisition of properties in February 2006.
"The totality of circumstances shows that respondent has been actually and physically residing in the Philippines as of 24 May 2005. Respondent had both intent and actual presence in the country for a period of 10 years and 11 months preceding the 09 May 2016 National Elections."
Poe's COC for senator
He disagreed with petitioner Contreras, who believes the residency count should start from July 7, 2006, when Poe took an Oath of Allegiance to the Republic of the Philippines.
Lim said the professor's claim is "misplaced and goes against jurisprudencial pronouncements treating citizenship and residency differently."
As for Poe's COC for senator in the 2013 midterm elections, Lim sided with the camp of Poe in saying the division should treat other pieces of evidence with equal importance.
Poe wrote in her 2012 COC she was at the time a resident of the Philippines for 6 years and 6 months. If one computes using this "judicial admission," then Poe would still be short of the 10-year residency requirement in the Constitution.
But Lim argued other pieces of evidence presented by Poe's camp suggest that she has, in fact, fulfilled the residency requirement.
He, however, maintained that Poe "made an untruthful sworn statement" in her COC for senator, "opening herself for investigation for possible commission of perjury, a matter vested with the Department of Justice."
Citizenship
On the issue of Poe's citizenship, Lim said the basis of Valdez' petition was that Republic Act 9225 or the Citizenship Retention and Re-acquisition Act of 2003 did not confer on Poe the status of a natural-born Filipino citizen.
The commissioner countered this. After citing a few jurisprudence, he said under RA 9225, "despite performing an overt act to acquire Philippine citizenship, those who were originally natural-born citizens before they lost their citizenship will be restored to such status."
However, Lim believes that since Poe admitted she is a foundling, her claim of being a natural-born Filipino citizen is "untenable."
"The declaration may therefore amount to a false representation of a material fact which can cause the cancellation of her certificate of candidacy. This is because I believe that foundlings may be considered Philippine citizens, but they can never be considered natural-born Filipino unless the Constitution itself so provides," he said in his opinion.
But he reiterated that the basis of Valdez' petition was on Poe's reacquisition of citizenship under RA 9225, and not because she is a foundling with unknown parentage, or that she was unable to prove she is a natural-born citizen.
"The Commission [First Division] cannot, in the guise of performing its solemn duty to enforce election laws, rules and regulations, or to decide all questions affecting elections, rule squarely on whether in truth and in fact the respondent is a natural-born citizen of the Philippines," Lim reiterated.
He added: "The Commission [First Division] cannot render a judgment based on an issue that has not been raised and is not before it." (READ: Lawyer asks Comelec: Why prioritize disqualification cases vs Grace Poe?)
Lim, who heads the First Division, was outnumbered by his fellow commissioners Tito Luie Guia and Rowena Guanzon who both voted to cancel Poe's COC.
Poe's camp will file a motion for reconsideration before the Comelec en banc on December 15 or 16. They will wait for the en banc's final decision before bringing the legal battle to the Supreme Court. (READ: Grace Poe on COC battle: I haven't been knocked out)
Read Lim's dissenting opinion below:
Dissenting opinion by Commissioner Christian Lim (Grace Poe, Comelec 1st division – December 11, 2015)
– Rappler.com