This is AI generated summarization, which may have errors. For context, always refer to the full article.
The Comelec allows 185 party-list groups to join the electronic raffle in the poll body's headquarters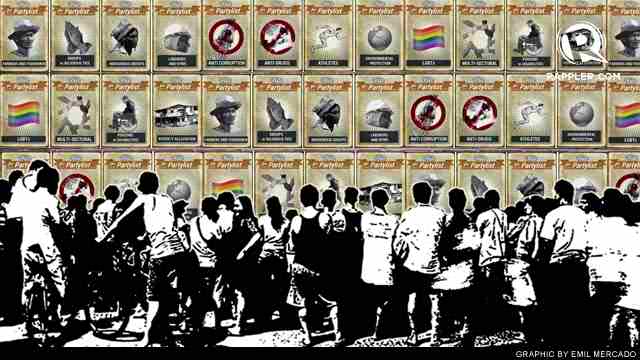 MANILA, Philippines – The Commission on Elections (Comelec) on Monday, December 14, raffled off the slots for party-list groups in the ballot for the 2016 elections.
The raffle, which was done electronically, involved 185 party-list groups.
The 185 groups included 84 whose petitions for registration have been denied by Comelec divisions.
The 84 party-list groups have pending motions for reconsideration before the Comelec en banc, or the commission sitting as a whole
Comelec Commissioner Christian Lim on Monday said the Comelec is set to decide the fate of the 84 groups before Christmas, December 25.
The raffle on Monday was based on Comelec Resolution No. 10025 that was issued December 3. Resolution No. 10025 included the names of the party-list groups allowed to join the raffle.
(Read the full resolution below)
The party list is a system of proportional representation meant to better represent marginalized sectors, as well as groups lacking "well-defined constituencies," among others.
In the May 2013 elections, the Comelec included 123 party-list groups in the ballot.
Days before the May 2013 elections, however, the poll body disqualified 10 of these.
For the May 2016 elections, the Comelec allowed more party-list groups to run after the Supreme Court (SC) loosened the requirement for party-list groups.
The SC earlier ruled that that the party-list system is not solely for marginalized sectors, reversing a decade-old interpretation by the high court. – Rappler.com