This is AI generated summarization, which may have errors. For context, always refer to the full article.
The Office of the Solicitor General asks the Supreme Court to dismiss Rizalito David's petition for the justices to review the Senate Electoral Tribunal verdict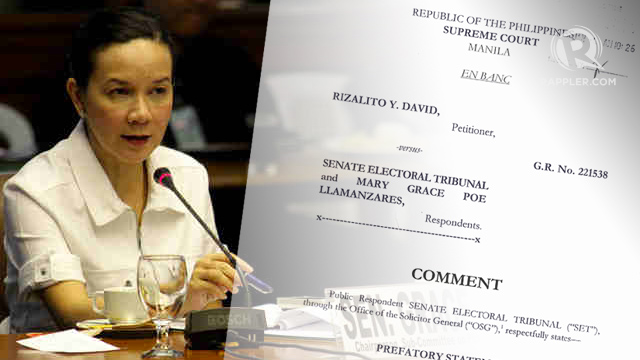 MANILA, Philippines – The Office of the Solicitor General (OSG) recently released its comment defending the Senate Electoral Tribunal (SET), which denied the petition to disqualify Grace Poe as an incumbent senator of the Philippines based on claims that she is not a natural-born Filipino.
The disqualification case against Poe has reached the Supreme Court (SC) after losing senatorial candidate Rizalito David filed a petition for certiorari in which he asked the High Court to review the SET decision. 
The OSG, headed by Florin Hilbay, will represent the SET before the SC, which will hear oral arguments on the case on January 19.
In a 27-page comment filed on December 30, 2015, the OSG asked the SC to dismiss David's petition for lack of merit. The OSG said the tribunal did not commit grave abuse of discretion in ruling that:
Poe is a natural-born citizen

Poe validly reacquired her natural-born citizenship under Republic Act 9225
Poe validly renounced her foreign citizenship
Poe's use of her US passport cannot be considered a recantation of her renunciation of US citizenship
Citing deliberations during the 1934 Constitutional Convention, the OSG stated: 
"The understanding that foundlings are citizens of the Philippines rests on the rational and practical assumption that a child of unknown parentage is the son of a Filipino. This assumption makes foundlings in the Philippines natural-born citizens."
It also agreed with the SET decision that David's camp has the burden to prove that Poe is not a natural-born citizen.
"Even on the assumption that the 1935 Constitution does not recognize foundlings as natural born Filipinos en masse, private respondent should nonetheless be considered a natural born citizen given the facts of her case," the OSG said.
Majority of the SET voted in favor of Poe and ruled that she is a natural-born citizen under the 1935 and 1987 Constitutions.
However, all 3 SC justices in the tribunal voted to disqualify Poe: Senior Associate Justice Antonio Carpio, and associate justices Teresita Leonardo-de Castro and Arturo Brion.
Carpio earlier said all 3 of them will inhibit from the case. – Rappler.com