This is AI generated summarization, which may have errors. For context, always refer to the full article.
Despite his tiring campaign schedule, Duterte sends some love to his ex-wife diagnosed with Stage 3 cancer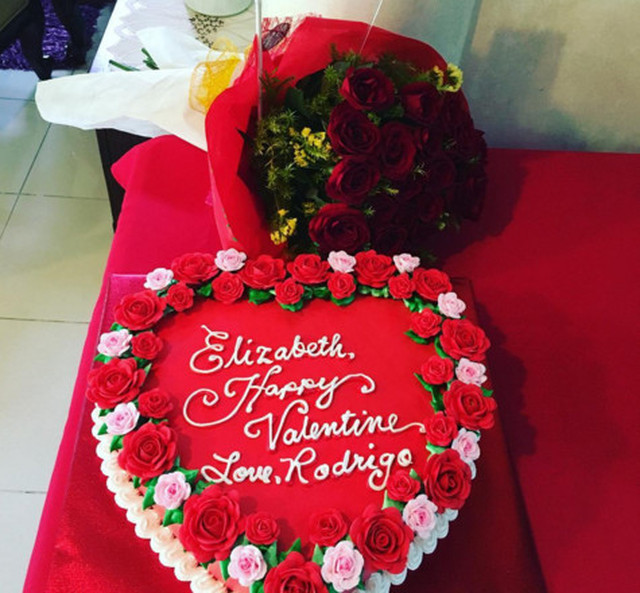 MANILA, Philippines – A campaign schedule that is taking its toll on Rodrigo Duterte apparently did not stop him from sending his love to his ex-wife on Valentine's Day. 
The presidential candidate sent a heart-shaped cake and flowers to his ex-wife Elizabeth Zimmerman, as shown in an Instagram photo posted by their daughter Sara "Inday" Duterte.
The cake, decorated with red and pink roses, reads "Elizabeth, Happy Valentine, Love, Rodrigo."
Sara's caption for the photo was "Rodrigo <3 Elizabeth Hahahaha #goodvibes." 
Zimmerman and Duterte were married for 27 years before a court decided in 2000 to grant Zimmerman's petition for their marriage to be nullified.
In her petition, Zimmerman accused Duterte of "emotional abuse" and of being a "womanizer" who had frequent "outbursts of temper."
Enemies of the popular Davao City mayor have used his failed marriage against him. Even today, in the midst of the 2016 campaign season, Duterte has been criticized for his self-confessed womanizing and flirting.
But insiders say Duterte and Zimmerman, despite it all, have remained good friends.
When Zimmerman had to go through an operation because of her Stage 3 throat cancer, Duterte rushed to her side. His campaign team, quoting their son Paolo, said Duterte spends Christmas and New Year with Zimmerman and their children.
Today, Duterte lives with his common-law wife, Honeylet Avanceña, and their young daughter, Veronica.
But his 3 children with Zimmerman – Sara, Paolo, and Baste – are helping him with his presidential campaign. – Pia Ranada/Rappler.com