This is AI generated summarization, which may have errors. For context, always refer to the full article.
The Supreme Court declares Senator Grace Poe qualified to run for president in the 2016 elections, but not a few justices disagree with this decision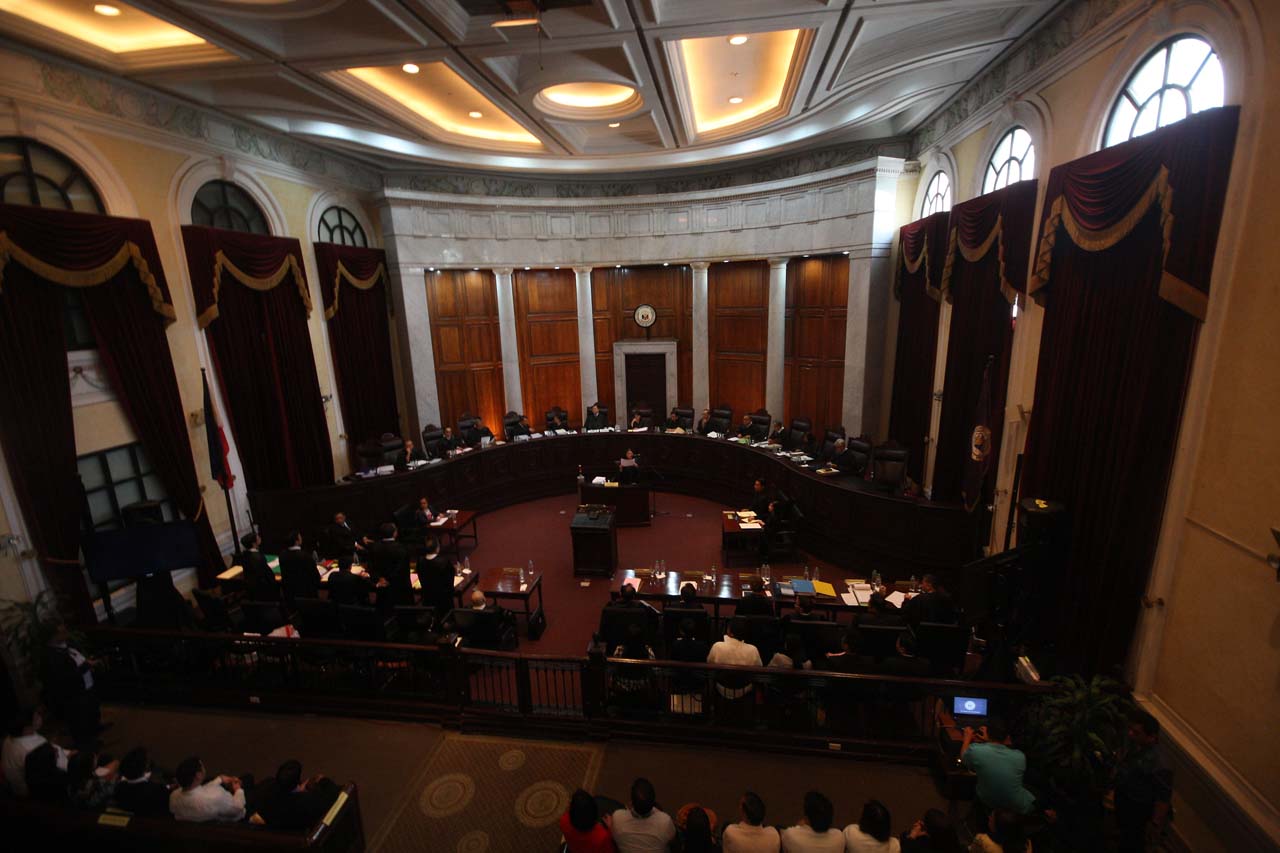 MANILA, Philippines – Presidential candidate Grace Poe may have won in the disqualification case against her at the Supreme Court (SC), but not a few justices disagreed with this decision. 
The 6 justices who voted against Poe are Antonio Carpio, Teresita Leonardo-de Castro, Mariano del Castillo, Arturo Brion, Estela Perlas-Bernabe, and Bienvenido Reyes. (READ: Supreme Court allows Grace Poe to run for president)
Among the dissenters are 3 members of the Senate Electoral Tribunal who also voted against the senator in a separate disqualification case – Carpio, Brion, and De Castro.
The majority who voted in favor of Poe, meanwhile, includes 9 SC justices: Chief Justice Maria Lourdes Sereno, newly-appointed Associate Justice Benjamin Caguioa, Presbitero Velasco Jr, Diosdado Peralta, Lucas Bersamin, Jose Perez, Jose Mendoza, Marvic Leonen, and Francis Jardeleza.
The SC in its 47-page main decision said there is "more than sufficient evidence" that Poe is a natural-born Filipino. In addition, foundlings enjoy the presumption of being natural-born under domestic and international laws – laws that do not permit discrimination against foundlings. 
The SC also agreed with the senator's claim that she has met the 10-year residency requirement for presidential candidates. 
Perez is the ponente of the case; Peralta concurred with Caguioa's separate concurring opinion, while Reyes concurred with Perlas-Bernabe's dissenting opinion.
Justices Bersamin and Mendoza, who both voted against Poe, likewise did not give their dissenting opinions.
Below are the concurring and dissenting opinions of 10 SC justices. 
Concurring opinions
Sereno
Concurring Opinion of Chief Justice Maria Lourdes P. A. Sereno
Velasco
Concurring Opinion of Justice Presbitero J. Velasco, Jr.
Leonen
Concurring Opinion of Justice Marvic Mario Victor F. Leonen
Jardeleza
Concurring Opinion of Justice Francis H. Jardeleza
Separate concurring opinion
Caguioa
Separate Concurring Opinion of Justice Alfredo Benjamin S. Caguioa
Dissenting opinions
Carpio
Dissenting Opinion of Justice Antonio T. Carpio
Brion
Dissenting Opinion of Justice Arturo D. Brion
Del Castillo
Dissenting Opinion of Justice Mariano C. Del Castillo
Perlas-Bernabe
Dissenting Opinion of Justice Estela M. Perlas-Bernabe
Separate dissenting opinion
De Castro
Separate Dissenting Opinion of Justice Teresita J. Leonardo-De Castro
– Rappler.com