Jejomar Binay's accounts have been examined by the AMLC, says his campaign spokesman, so he should be kept out of the 'cheap gimmick' of calling on candidates to sign a bank secrecy waiver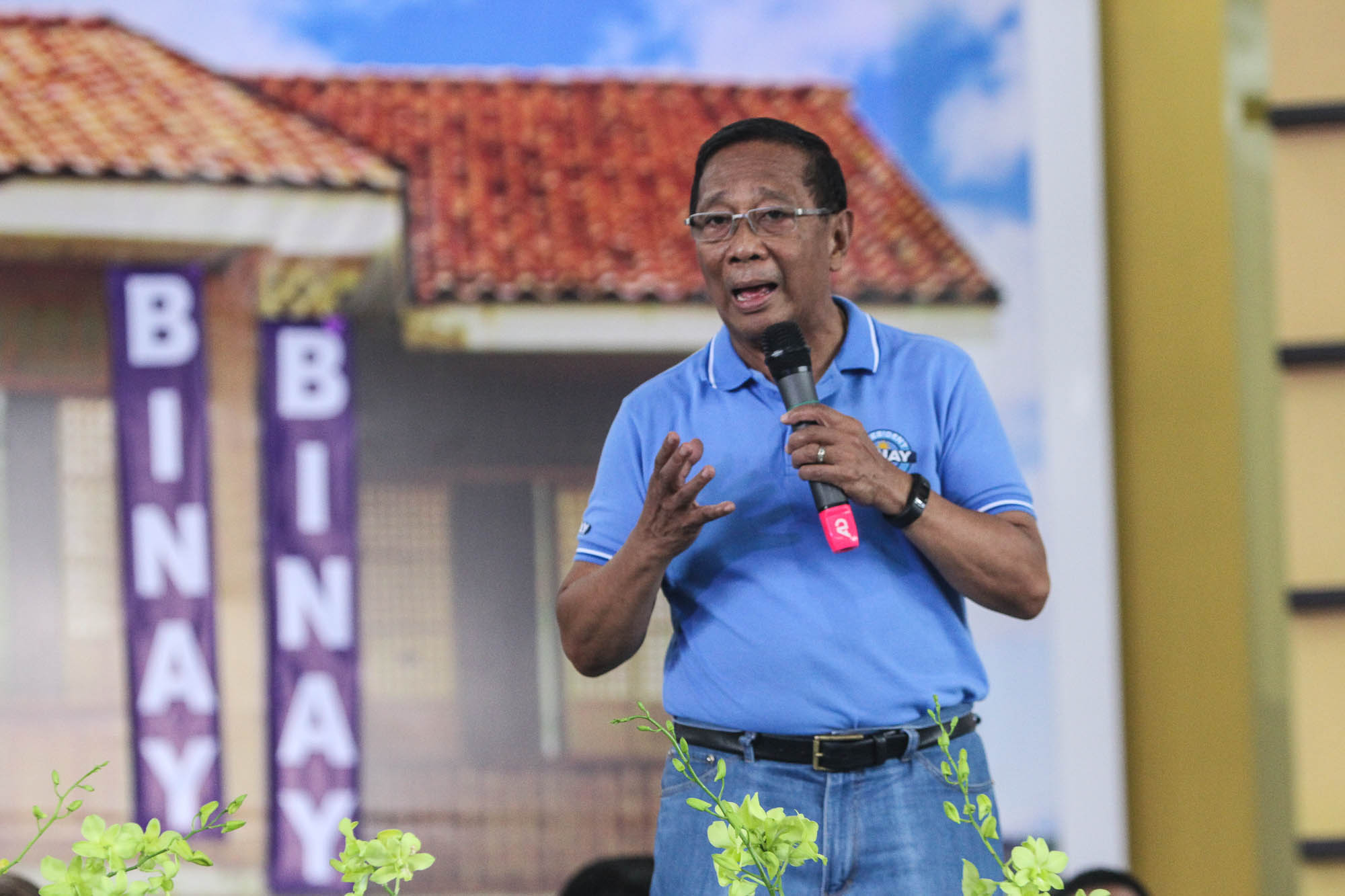 MANILA, Philippines – The camp of Vice President Jejomar Binay challenged his opponents for the presidency to allow the Anti-Money Laundering Council (AMLC) to examine their bank accounts, including those of their relatives and close associates.
"Perhaps, at this point, the other candidates should seriously consider allowing AMLC to look into their accounts – and those of their spouses, family, friends, and associates – both here in the Philippines and in other countries," Binay's campaign spokesperson Rico Quicho said on Monday, March 14.
"They should consider allowing AMLC to examine as well the bank accounts here and in other countries of businesses, corporations, and foundations identified with them or their spouses, family, friends, and associates, which were all scrutinized by AMLC in the Vice President's case," the lawyer added.
Quicho also dared the other presidential bets to publicize their Income Tax Returns (ITRs) and Statements of Assets, Liabilities, and Net Worth (SALNs) for the past 30 years.
"This will allow the voters to see if the candidates' professed net worth is truly justified and if the proper taxes were paid to the government," he said.
Binay is facing multiple allegations of corruption and unexplained wealth, including colluding with several "dummies" to receive kickbacks from allegedly anomalous deals in Makati, where Binay was mayor for 21 years.
The AMLC had already filed a civil forfeiture case before the Manila Regional Trial Court against Binay, his family, and alleged accomplices in public fund laundering. 
The AMLC is seeking for a freeze order that covers 139 bank accounts and 19 real properties under the name of the Vice President and his co-accused. (READ: AMLC reveals more names of alleged Binay 'dummies')
Binay's camp has repeatedly denied charges, claiming that the AMLC petition is baseless and unathorized by law. 
Despite the accusations against him, the United Nationalist Alliance standard-bearer continues to perform well in the latest election surveys.
The Social Weather Stations survey released on Monday showed voter preference for Binay at 24%, closely following survey front runner Senator Grace Poe's 27%.
Leave Binay 'out of this drama'
According to Quicho, Binay no longer needs to sign a bank secrecy waiver because the AMLC had already examined his bank accounts as well as those under the names of his family, friends, and associates.
"There have been calls for candidates to sign a waiver to open bank accounts. Leave the Vice President out of this drama," said the lawyer.
Quicho was referring to the challenge of Senator Francis "Chiz" Escudero, Poe's running mate, for all candidates to waive their bank secrecy rights. 
Binay's spokesman said it is merely a "cheap gimmick" to divert voters' attention from "real" issues, including poverty, unemployment, and the government's incompetence. (READ: Cinderella Man)
Binay's platform is hinged not only on uplifting Filipinos out of poverty but of also putting an end to the failures of the Aquino administration. (READ: Analysts to Binay: Widen scope of message)
Meanwhile, Quicho once again scored the AMLC for previously reporting that Binay allegedly deposited billions of pesos in 242 bank accounts. He said only one bank account under Binay's name is on record in the AMLC's report to the court. 
"The total deposit of this account, according to AMLC, is in the amount of P1.7 million and not billions as wrongly and maliciously reported earlier," Quicho said.
He added that the Vice President's account has been "duly accounted for," adding that the account had been duly accounted for and reported in Binay's 2010 Statement of Contributions & Expense, ITR, and SALN.
"As a sign of good faith, the Vice President voluntarily manifested before the court that he will not touch the said account for the duration of the case, which I am confident will eventually be dismissed," said Quicho. – Rappler.com