Vice President Jejomar Binay, Senator Grace Poe, Davao City Mayor Rodrigo Duterte, and Mar Roxas are all against divorce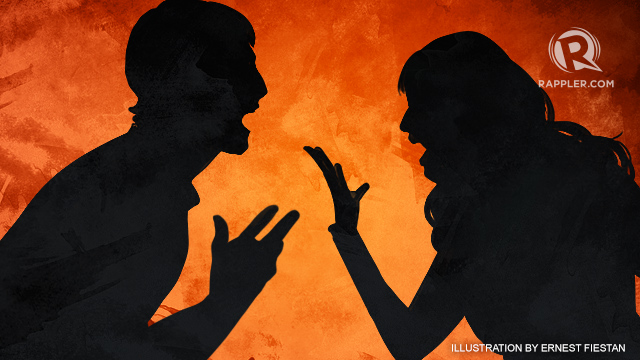 MANILA, Philippines – None of the 2016 presidential candidates present during the second presidential debate in Cebu City on Sunday, March 20, are in favor of divorce.
Vice President Jejomar Binay, Senator Grace Poe, Davao City Mayor Rodrigo Duterte, and former Interior Secretary Manuel Roxas II were all against divorce. None of them raised their hands when moderator Luchi Cruz Valdes asked who is in favor of divorce in the "Yes or No" portion of the first round.
Among all presidential bets, only Senator Miriam Defensor Santiago – who was absent during the debate – actively supports the divorce law. She said this is as long as divorce is being sought on either of two grounds:
An attempt on the life of the spouse by the other
When one spouse is already living with another person (adultery or concubinage)
"On other grounds, I don't advise it, I will not support it, because it might trivialize the institution of marriage – young people might rush into marriage, particularly when they are young, and then change their minds and get a divorce," Santiago said in an earlier statement. (READ: Presidential bets on divorce)
Before the debate, Binay had ben silent on the issue, while Duterte, Poe, and Roxas have been consistent on their opposition to divorcee.
Meanwhile, a "clear majority" of Filipinos are in favor of legalizing divorce, according to a 2015 Social Weather Stations survey.
The survey found that 60% of adult Filipinos support divorce for "married couples who have already separated and cannot reconcile anymore, so that they can get legally married again." (READ: No divorce in PH)
The country's divorce bill was filed in 2010 and has been pending in Congress since.
The Philippines is the only country in the world without a divorce law. – Rappler.com