This is AI generated summarization, which may have errors. For context, always refer to the full article.
Do you know how to vote come election day? Watch our step-by-step guide.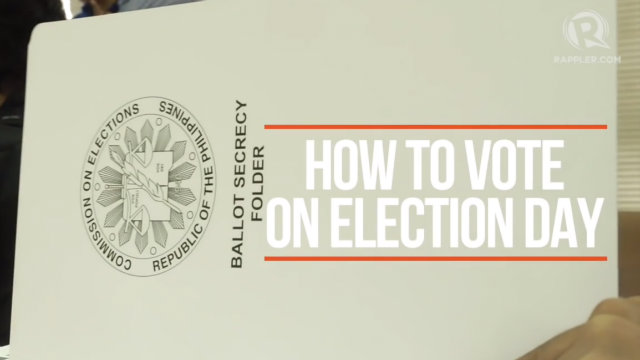 MANILA, Philippines –  Do you know how to vote? 
With only a few weeks left to election day, here are a few tips on how to have a hassle-free voting experience.
Rappler, in partnership with the Parish Pastoral Council for Responsible Voting (PPCRV), gives you a step-by-step guide on what to do inside the voting precinct.
This guide is based on the Commission on Elections' general instructions as stated in Resolution No. 10088 published on April 12, 2016.
Before the actual voting, here are a few reminders: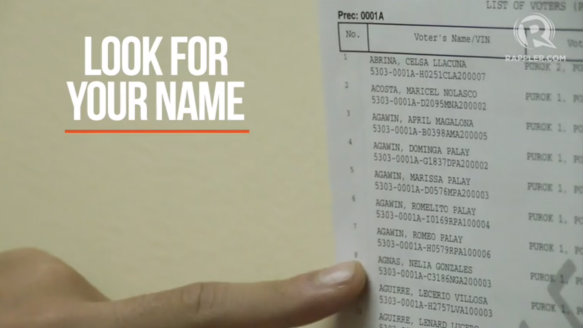 Come early. Voting is only from 6 am to 5 pm.
Make sure you are at the right place. Look for your name in the voters' list posted near the precinct. 
You can bring a list of your candidates for your personal guidance, however, you cannot bring campaign materials.
Feel free to ask questions or guidance from the assistance desk.
When you receive your ballot, make sure it is new and untampered.
On actual voting: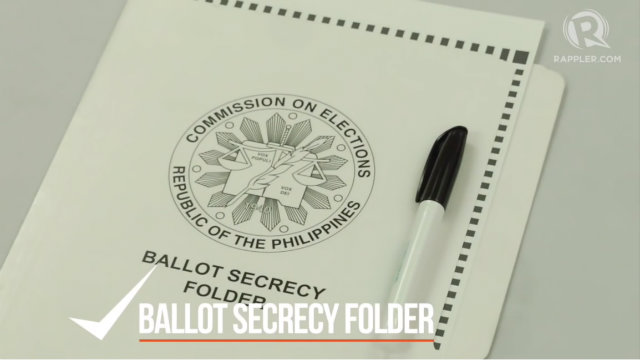 The Comelec will provide you with a ballot secrecy folder and a marking pen.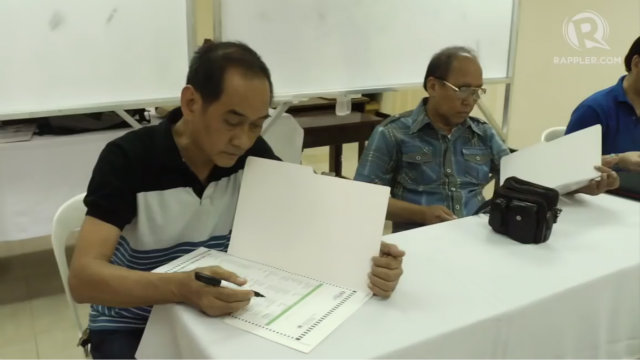 Cover your ballot using the secrecy folder. Nobody else can see your ballot, not even the poll clerks.
Shade the circles properly using the Comelec marker. Do not write anything else on the ballot. This is to ensure that the machine can properly read your votes.

Don't tear, smudge, or crumple your ballot.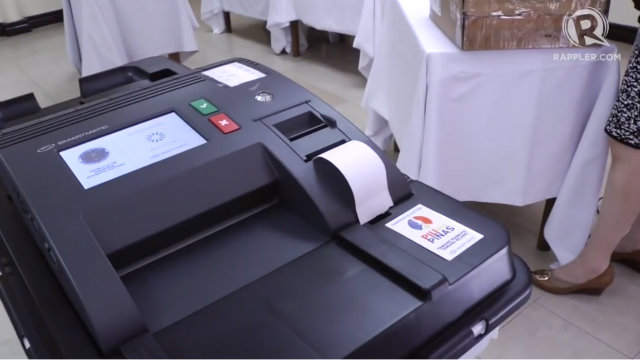 After filling out your ballot, approach the Vote Counting Machines or VCM.




Insert the ballot in the

VCM entry slot.

Return the ballot secrecy folder and marking pen to the poll clerk. Taking these materials out of the precinct is an election offense.





The VCM screen will flash names of the candidates you voted for.

Your voter's receipt will then be printed. Do not pull it, wait for the poll clerk to cut it for you.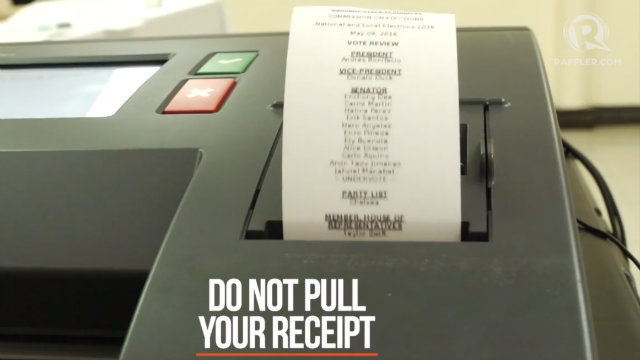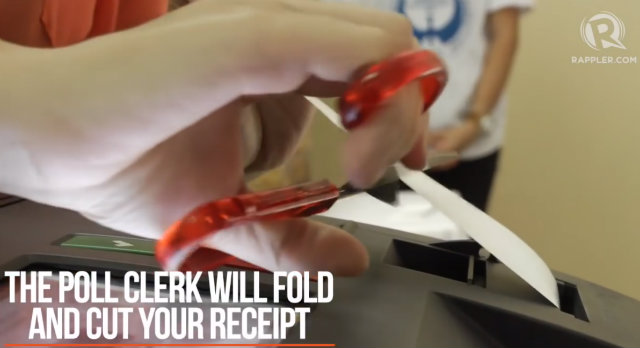 Indelible ink will be applied on your forefinger nail.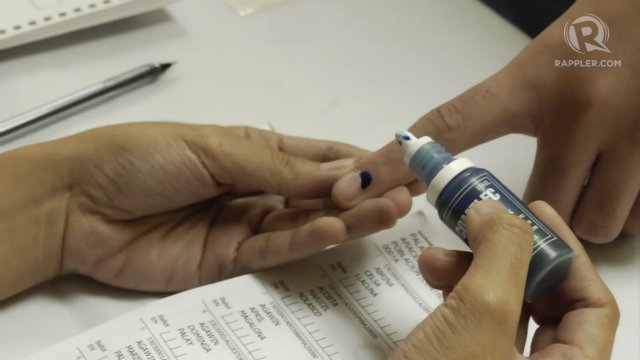 The poll clerk will then hand you your voter's receipt.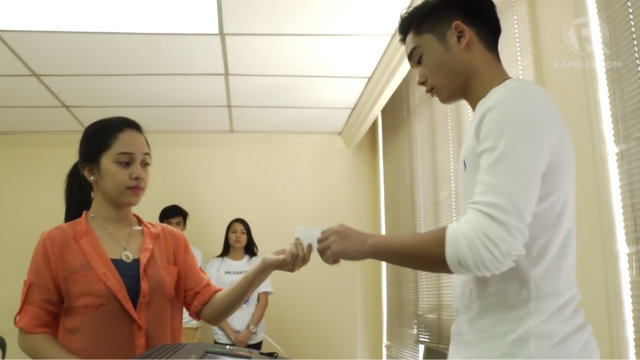 You will be instructed to go near the Voter's Receipt Receptacle located beside the VCM. There, you can check your receipt if it reflects your votes correctly.

If you have objections, inform the poll clerk. Make sure your concerns are noted in the minutes.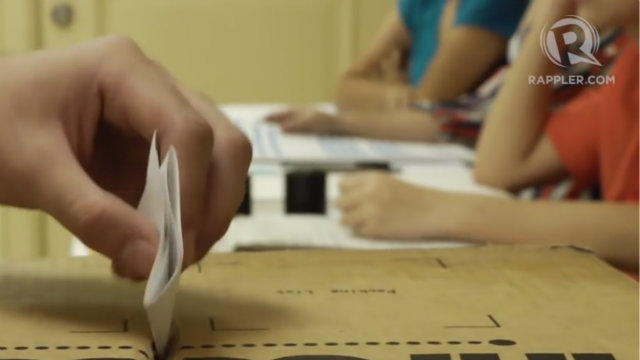 Drop your receipt on the

Voter's Receipt Receptacle.



Do not take your receipt with you when you leave the precinct. If you do, you can go to jail.

You are done voting. Leave the precinct.
PWDs, illiterate voters
Illiterate voters and persons with disabilities (PWDs) are only allowed to vote if their status is indicated on the Election Day Computerized Voters' List.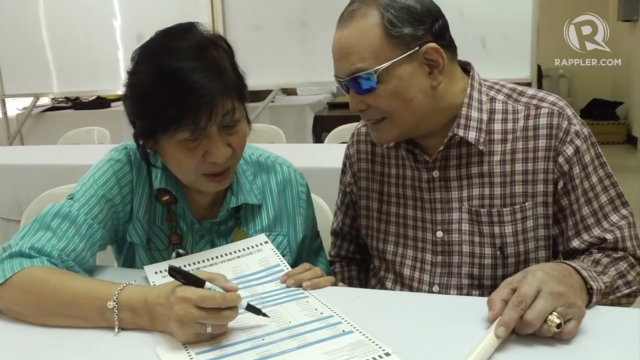 They will be assisted in the preparation of their ballots. Only the following can assist them:
– A relative within the 4th civil degree of consanguinity or affinity.
– A trusted person who belongs to the same household.
– Any member of the Board of Election Inspectors (BEI).

The poll clerk should verify if the person assisting the illiterate or PWD voter is authorized by the voters themselves.

The person assisting the illiterate or PWD voter should prepare the ballot using a ballot secrecy folder or voting booth.

Under oath, the person assisting the illiterate or PWD voter must promise that she or he will strictly follow the instructions of the voter. She or he will be asked to sign a document.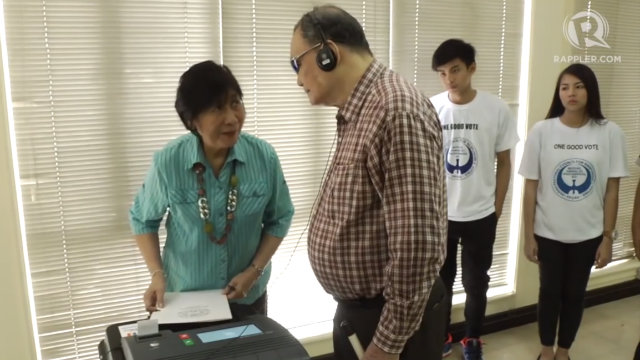 For persons with disabilities, senior citizens, and illiterate voters, headphones will be provided so they can follow instructions when inserting their ballots.

By law, all precincts should be located on the ground floor of the voting centers.
PWD-friendly precincts
To make precincts accessible and inclusive, they should be near the entrance of the building.

It should be free of physical barriers.

It should have all necessary services for PWDs and senior citizens.

The BEI should also set up a separate area in the precinct for the exclusive use of PWDs and senior citizens.

There should be an express lane for PWDs, senior citizens, heavily pregnant women, and detainee voters. 

They should be allowed to vote as soon as they arrive. 

Indigenous peoples from remote locations may also avail of the express lane.
Don'ts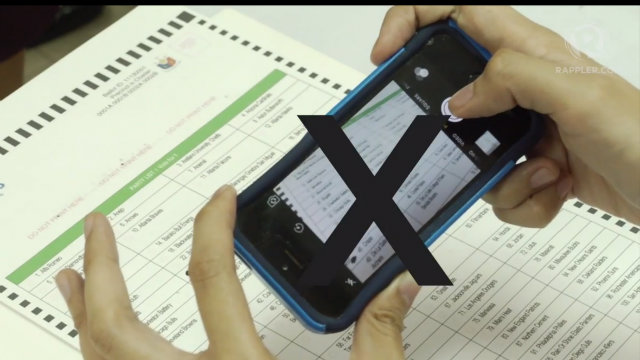 Do not use your cellphone while inside the precinct. Taking photos is an election offense. This is to prevent vote-buying and selling.
Do not take your voter's receipt outside the precinct. Doing so is an election offense. (READ: Take home voter's receipts and go to jail)
Be sure to return the Comelec ballot secrecy folder and marking pen. Bringing them outside the precinct is an election offense.
Do not delay the voting process, be mindful of other voters.
Are you ready to vote on election day? Spread our step-by-step guide and help other voters have a wonderful voting experience. – Rappler.com
Do you have any questions? Post them in the comments section.
Know of election-related wrongdoing? Use the #PHVoteWatch map to report vote-buying and vote selling, campaign finance anomalies, election-related violence, campaign violations, technical glitches, and other problems observed among communities.
Together, let's each find #TheLeaderIWant and agree on who we want. To volunteer for any of these efforts, email us through move.ph@rappler.com.