This is AI generated summarization, which may have errors. For context, always refer to the full article.
(UPDATED) Vice presidential candidate Alan Peter Cayetano, who sought the TRO, says the ad 'will undoubtedly cause irreparable damage and will work injustice' to him and presidential candidate Rodrigo Duterte and 'the voting public'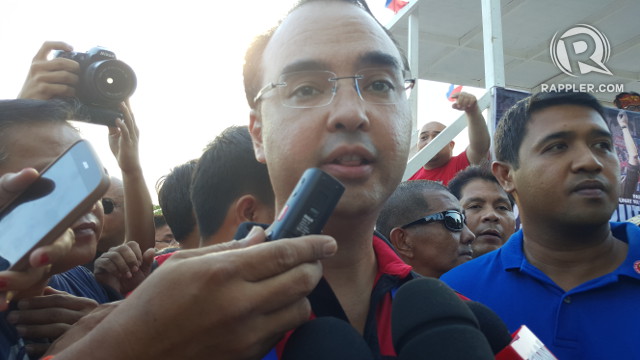 MANILA, Philippines (UPDATED) – Senator Alan Peter Cayetano on Friday, May 7, secured a temporary restraining order on the airing of political advertisements against presidential candidate Rodrigo Duterte and his running mate on ABS-CBN.
Cayetano filed a petition for preliminary injunction against ABS-CBN Corporation and its top executives before the Regional Trial Court of Taguig City. The respondents are ABS-CBN chairman Eugenio "Gabby" Lopez III, Augusto Almeda-Lopez, Carlo Katigbak, Socorro Vidanes, and August Benitez.
Cayetano sought the TRO a day after ABS-CBN began airing the anti-Duterte ad paid for by Senator Antonio Trillanes IV, which showed clips of Duterte cursing, uttering his controversial rape remark, and saying he is ready to kill. In between these clips, various children criticize Duterte for his behavior.
In his petition, which ultimately seeks a permanent injunction on the ad, Cayetano asked the court to issue a 72-hour TRO on the airing of the ad.
In the TRO, the court agreed with Cayetano that the ad "shows minors being used in black propaganda. Thus, it must be suppressed at once, as repeated broadcasting of the same will be irreparably inimical to the children's welfare and interest."
It also cited the Broadcast Code of 2007 which states that "[n]o program or sponsor shall be allowed to manifestly favor or oppose any candidate or political party."
A third reason for its decision was "the truth to the claim that petitioner's right to reply will be denied considering that the election day is so close now."
Once the initial TRO lapses, Cayetano wants a 20-day TRO "enjoining and restraining respondents and all persons acting on their behalf or under their direction from airing or continuing to air negative political advertisements aimed to discredit" him and Duterte.
The vice presidential candidate said the Duterte camp first learned about the  existence of the ad – initially uploaded on Youtube – on April 27, and the network's plan to air it.
He said that same day, Duterte through his lawyer, wrote ABS-CBN "a formal notice and demand to ban/or discontinue the broadcast of said negative advertisement on television and radio to prevent further abuse and exploitation of children and in the higher interest of preserving moral and ethical standards."
The senator said other media groups reportedly rejected the ad "for being contrary to the ethical code of the broadcasting industry."
He added that he and Duterte were "not given the right to reply to the negative ads," and that it would be impossible for the tandem to produce and air an ad to counter them as the last day to campaign is on Saturday, May 7.
Cayetano said the political advertisements "will undoubtedly cause irreparable damage and will work injustice" to their tandem and "the voting public."
He said that "even a cursory viewing of the subject advertisement would show the intention to injure the reputation, credit, and virtue" of their tandem "and expose them to public hatred, discredit, contempt, and ridicule without even giving them the right to reply."
In an interview with Rappler on Friday, Cayetano explained: "We want to do things legally. We want to take the legal course of action."
"It is most unfair to allow a negative ad two-3 days before the election and then to approve that ad and then not approve legitimate ads on our end. It will create irreparable damage to a candidate. If that is the case, if the networks and some political elites and economic elites can get together and destroy the candidacy of one candidate," he added. – with reports from Pia Ranada/Rappler.com