Despite controversy over the mismatched results file hash, real-time transmission of results for this year's elections is a relative success compared with the first 2 elections under the automated system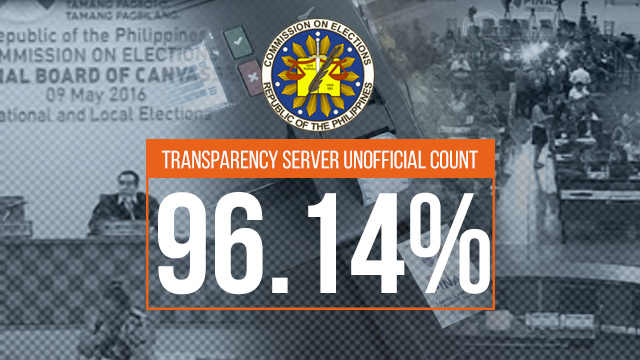 MANILA, Philippines – The Commission on Elections (Comelec) on Wednesday, May 18, advised observer groups with access to the real-time unofficial election results via the transparency and mirror servers that it will stop operations at the Pope Pius Catholic Center.
This was announced after the province of Lanao del Sur finished canvassing the last clustered precinct affected by the special elections in the area. The decision to close shop was reached because no clustered precinct is expected to transmit anymore. 
Despite controversy over the mismatched results file hash, the transmission of results for this year's elections was a relative success when compared to transmissions for the first two elections the Philippines had under the automated system.
Of 93,754 clustered precincts nationwide, 96.14% of precinct level results (representing roughly 90,650 clustered precincts) made it to the transparency server, while 96.69% (90,655) made it to the Comelec central server.
(Read: How does the PH automated election system work?)
In the  2010 elections, only roughly 92% of precinct-level results were received by the transparency server. Transmission got worse in 2013, with only around 76% of results received. (Check the final tally for the unofficial count on Rappler.com)
Rappler, one of the media groups accredited by the Commission to receive real-time election results via the mirror server, previously requested for information on what happened to the 3,000 precincts that did not make it to the system.
It is presumed that these precincts were unable to transmit results to the transparency server for one reason or the other. Rappler was advised that the Comelec IT Department and Smartmatic are looking into the matter.
On this note, Rappler also wraps up its real-time unofficial count which is based on data from the Comelec mirror server. 
The official canvass for the senatorial and party list race, which serves as the basis for the proclamations for these positions, also wrapped up today after the Comelec, acting as the National Board of Canvassers, announced that it has received and canvassed 100% of certificates of canvass from provinces and key cities and overseas absentee voter posts. 
On the other hand, Congress is expected to convene on May 25 to canvass the official results presidential and vice presidential races at the Batasang Pambansa. – Rappler.com