The Ecological Challenge for Change Coalition releases its matrix of the environmental track records of 24 senatorial aspirants from the administration and the opposition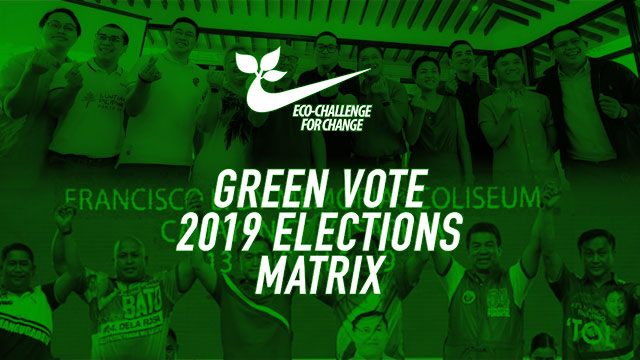 MANILA, Philippines – With over a week before the May 13 polls, an environmental group ranked 24 senatorial candidates according to their track records in protecting the environment to help voters make an informed choice on election day. 
In a statement on Friday, May 3, the Ecological Challenge for Change Coalition (Eco-Challenge) said it ranked former Bayan Muna congressman Neri Colmenares as the candidate with the best environmental track record, and former presidential aide Bong Go with the worst track record.
Eco-Challenge assessed the 24 candidates based on their "track records in policymaking or enforcement, policy pronouncements, direct or family interests in environmentally critical projects or programs, and campaign money trails."
The group checked the candidates' connections and positions on the following issues:
Big mining
Reclamation
Dams
Plantations
Dirty energy and climate
Environmental defenders rights
Charter change
 "Voters have faced these issues of displacement, loss of livelihood and basic needs, and chronic poverty stemming from the worsening degradation of our environment and natural resources. They are highly motivated to deliver a 'green vote,'" Eco-Challenge said.
Basis
In explaining why Colmenares topped its list of pro-environment candidates, Eco-Challenge cited his "significant policy advocacies" such as the people's mining bill and the coal power plant moratorium resolution; and his initiated investigations and legal actions on reclamation, and dam and water projects.
"The human rights lawyer also served as legal counsel to various environmental defenders such as indigenous Lumad activists from Mindanao," the group said.
In relation to Go, Eco-Challenge cited his track record that included "staying of closure and suspension order against large-scale mines, the centralization of reclamation approval powers to their office, and promoting the onerous dam deals with China, among others." 
Go, however, resigned as special assistant to the President in October 2018 to run for the Senate. President Rodrigo Duterte transfered the power to approve reclamation projects from the National Economic and Development Authority (NEDA) to the Philippine Reclamation Authority (PRA), which he placed under his office in Malacañang, in February 2019.
The shade of the Eco-Challenge matrix turns from green to black to depict the environmental bias of the candidate, based on the group's assessment. Each of the 7 issues is marked by either a tree, skull and bones, or a blank space to reflect the bets' positions as assessed by Eco-Challenge.
The candidates were ranked as follows: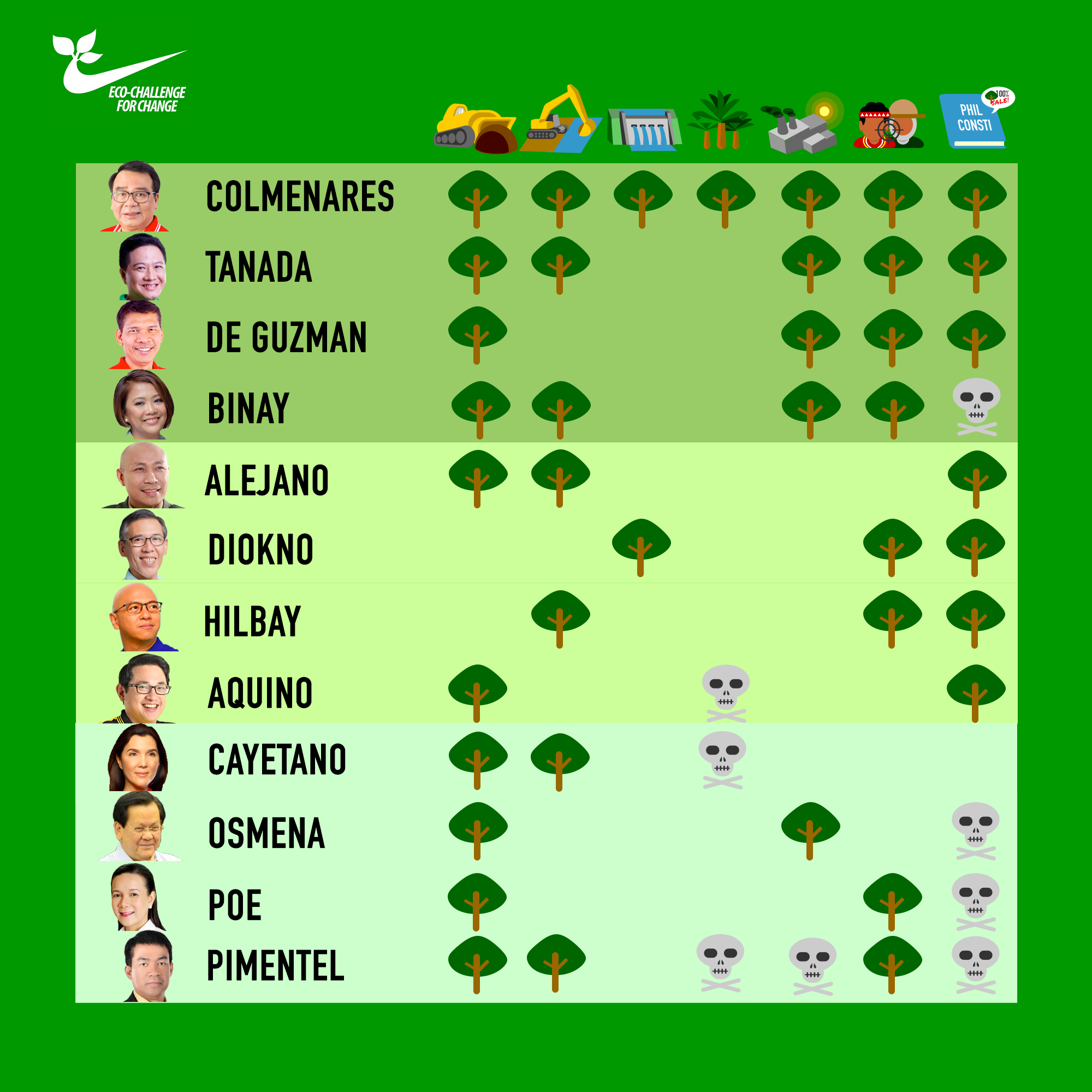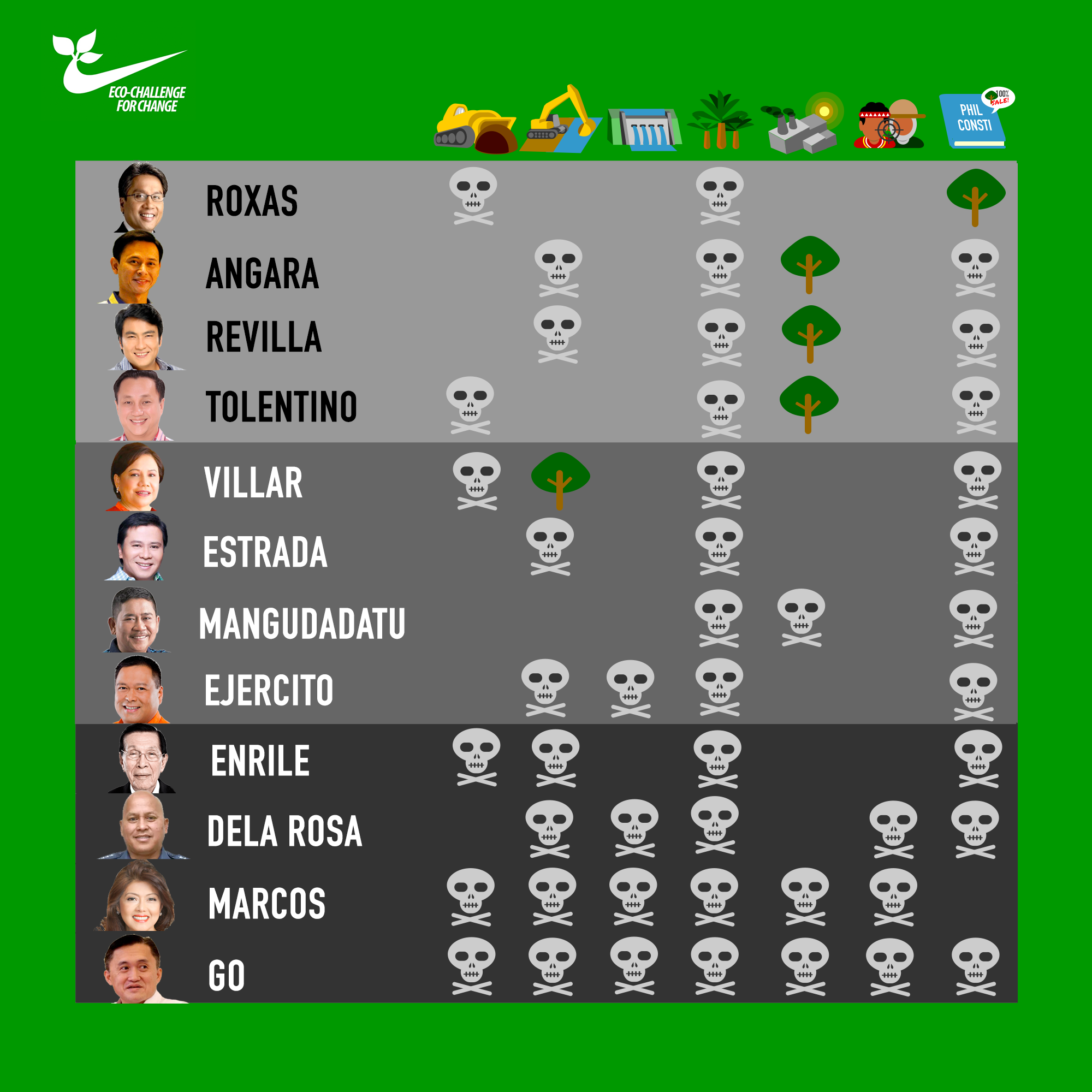 Family ties
The Eco-Challenge also said it matrix showed that 6 of the 13 Senate bets of Hugpong ng Pagbabago were "affiliated with destructive business interests" and had "personal or family stakes in reclamation, plantation, and mining interests, among others."
"Land reclamation was the biggest business interest among the Hugpong candidates," the group said, citing reclamation projects under the political clans of Jinggoy Estrada, JV Ejercito, and Bong Revilla.  
It also cited the Aurora Pacific Economic Zone (APECO) "brokered by the clan of Senator Sonny Angara" that "posed risks of land conversion including reclamation in its coastal areas."
Eco-Challenge said Villar's family is affiliated with mining companies TVI Resources and Development Philippines Incorporated and St Augustine Gold and Copper Limited "which has 5 large-scale mining exploration, development, and extraction operations covering 47,138 hectares in various locations in Mindanao."
The group said the clain of Maguindanao Representative Zajid Mangudadatu "is known to own hundreds if not thousands of hectares of palm oil plantations in their province."
"All Hugpong candidates also benefit from campaign contributions of the Floreindo clan, which have big plantation interests such as the Lapanday plantations," it added.
As for the Otso Diretso candidates, Eco-Challenge cited Mar Roxas and reelectionist Bam Aquino because of their ties to plantations, namely Hacienda Araneta and Hacienda Luisita. The Hacienda Luisita "connection" had been raised as an election issue against Aquino in the last senatorial elections, but he had already clarified that the Aquinos have no holdings in Luisita, which is owned by the Cojuangco family.
Eco-Challenge also cited Roxas' ties to mining based on his Statement of Assets, Liabilities, and Net Worth.  – Rappler.com