Senator Bam Aquino fails to secure a second term. What is next for him and the opposition?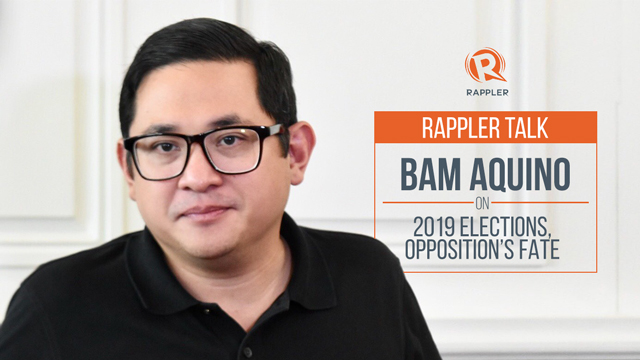 MANILA, Philippines – Senator Paolo Benigno "Bam" Aquino IV was the opposition's hope to enter the winning circle in the 2019 polls. But fate had other plans.
Based on the Commission on Elections' partial and official tally, Aquino is outside the so-called Magic 12, ranking 14th.
The odds have long been stacked against Aquino and the opposition bets, most of whom ran either under the Otso Diretso slate or the Labor Win coalition of workers' groups.
Most of them struggled with running a nationwide campaign, having no steady campaign funds, and few to zero politicians and donors willing to endorse them publicly. (READ: Will it be enough? Otso Diretso turns to volunteers to boost struggling campaign)
The last time that the opposition failed to win even a single seat in legislative elections was in 1938 during the time of then-president Manuel L. Quezon.
What went wrong? Where is the opposition headed? What are Aquino's plans now?
Rappler talks to Aquino on Wednesday, May 22, about the fate of the opposition, his experiences and lessons from the 2019 polls, and his future political plans. Tune in. – Rappler.com
Before this interview, our Rappler PLUS members will be able to have a quick chat with reporter Camille Elemia, sending questions and getting an idea of what will be discussed. You too can participate in our pre-airing chat sessions by joining Rappler PLUS today.