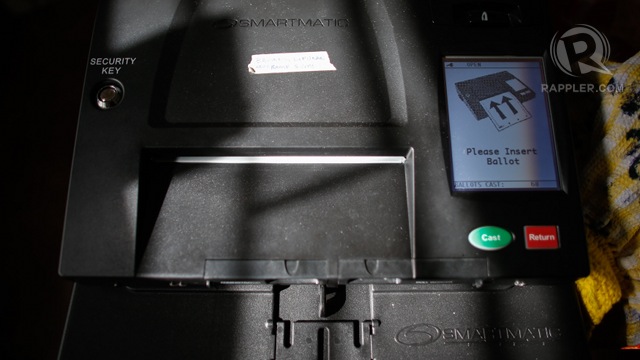 CALIFORNIA, USA – Due to budget constraints, only 9 precinct count optical machines (PCOS) will be allocated for Hong Kong-based voters, Commission on Elections spokesperson James Jimenez said.
The number is down from the 22 machines that were sent to Hong Kong during the 2010 elections.
"I dread how things will be in April," said Daphne Ceniza Kuok, an advocate of overseas voters' rights. 
Kuok said she is worried the Comelec will not be able to accommodate everyone. 
According to the Comelec, 122,820 Filipinos are eligible to vote in Hong Kong. In 2010, there were 95,000 registered overseas absentee voters (OAV) there, and about 35,000 voters — or about 37 percent — cast their votes.
"They increased the number of countries that will have automated voting, but did not buy more machines. Comelec's budget for OAVs was reduced, however," Kuok told Rappler.
Filipinos in Hong Kong and elsewhere outside the Philippines became legally eligible to vote when Republic Act 9189 or the Overseas Absentee Voting Act was enacted in 2003.
The bill amending it — removing the requirement for OAVs to execute an affidavit that they will come back within 3 years or face removal from the voters' list — is awaiting the President's signature.   
'Machines are enough'
Comelec gave assurances that OAVs in Hong Kong will be able to vote. "We think that [the number of PCOS machines] will be enough, under the circumstances," Jimenez told Rappler. 
"Keep in mind also that overseas voting lasts 30 days," said Jimenez.  "Thus giving more time to people to come in on different days." 
Earlier this year, Comelec delisted 240,000 OAVs globally, but later reinstated them after overseas Filipino groups lobbied. 
In Hong Kong, "over 6,000 voters turned up at its peak during the last election when it had 20 PCOSs in 2010," Kuok said.
"Comelec Commissioner [Lucenito] Tagle suggested that we improve the process like extending the voting hours but we are constrained as most of our voters are only free on Sundays, most often employers will let them cook breakfast before they are allowed to start their days off while some have curfews," Kuok lamented.
Although it might be too late to do anything now, Kuok said they will start lobbying for an "[increased] budget, resolution of issues on voter IDs, and for the DFA to be more 'forward looking.'"
Jimenez said changes for the next election will depend on turnout. 
"If a lot of voters vote, then the budget will definitely increase.  If turnout remains low, it'll be tough even getting the same allocation we have now." – Rappler.com