This is AI generated summarization, which may have errors. For context, always refer to the full article.
Villar says the formal announcement is expected on April 13. Three more candidates from the United Nationalist Alliance will also be endorsed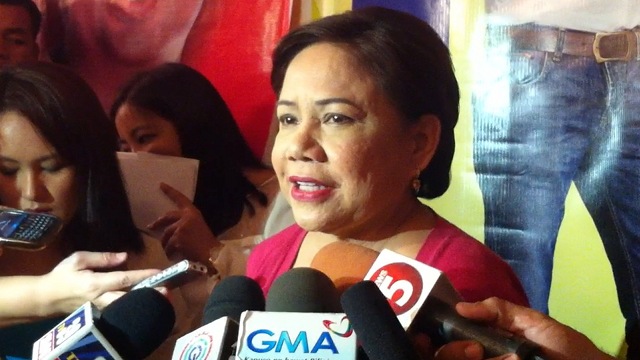 MANILA, Philippines – The Catholic charismatic El Shaddai Movement is expected to endorse 3 candidates each from the administration Team PNoy and the opposition United Nationalist Alliance (UNA).
This was revealed by Team PNoy bet, former Las Piñas Rep Cynthia Villar, on Wednesday, April 10. Villar said she's is one of the administration candidates who will be endorsed, along with re-electionist senators Aquilino "Koko" Pimentel III and Antonio "Sonny" Trillanes IV.
The formal announcement is expected on Saturday, April 13, exactly a month before the 2013 midterm elections, she said.
The group is expected to endorse 3 more candidates from the opposition United Nationalist Alliance (UNA).
El Shaddai is the biggest Catholic Charismatic movement in the country and claims to have a base of 6 million voters. It is making the endorsement through the White Vote Movement, a coalition of Catholic groups which attempts to influence votes of Catholic families.
The 3 administration candidates are against the controversial reproductive health (RH) bill, staunchly opposed by the Catholic church for allegedly being pro-choice rather than pro-life.
Villar welcomed the endorsement.
"If the Catholic [bloc] can deliver votes, you know we are a predominantly Catholic country, so hopefully it will be significant. As you know, for us candidates, any form of support, whether big or small, we welcome," she told reporters on the sidelines of a Team PNoy rally in Capiz on Wednesday, April 10.
In the 2010 presidential elections, Velarde was expected to endorse Villar's husband, Senator Manuel Villar Jr, but he withheld the announcement days before the polls.
Manuel Villar Jr was demonized in that campaign as having allegedly used his position as senator to divert the C-5 road so it would pass through his properties and thus increased their value. In fact, the road passed through Velarde's properties, but Villar did not point this out despite documents that could prove it, according to the book Ambition, Destiny, Victory: Stories From A Presidential Election.
Bets have traditionally looked to Brother Mike Velarde, the head of El Shaddai, for his endorsement. However, there has been no proof that his endorsements have translated to votes for candidates in the past. Velarde tends to pick candidates who are doing well in suveys to endorse in the first place.
Villar, Pimentel, and Trillanes have consistently been in the so-called winning circle or the Magic 12 in recent surveys.
Catholic dioceses of various provinces, including Cebu and Batangas, have also campaigned for certain candidates and encouraged their parishioners not to vote for specific bets  according to their stance on the RH bill. They have mounted posters outside their churches, listing names of candidates, according to their stance on the RH bill.
Those who are supportive of the bill have been tagged as "Team Patay" or "Team Death," while those who voted against it are called "Team Buhay" or "Team Life." – Rappler.com