He can be counted on to impeach a president, an Ombudsman, and a Chief Justice. He can be counted on to stand up to the Catholic Church. But don't count on him to issue the big sound bites and lead the battle in the media
MANILA, Philippines – Aurora Rep Juan Edgardo "Sonny" Angara earned a degree in economics and international relations at the London School of Economics and Political Science. He later got his law degree at the University of the Philippines College of Law and then a Masters of Law at Harvard Law School.
Before joining politics in 2001, Angara joined the Philippine Mission to the United Nations in New York and had a short-lived career at his father's firm ACCRA. Like his father, Sen Edgardo Angara, he would have preferred to first establish a successful career in law before entering politics.
But the opportunity came and he had to take it.
"It's earlier than I expected, but I think in politics timing is important. If you don't seize the opportunity, it might not be there later on. It's not a place where you go for the ideal, you go for the possible," Angara told Rappler in an interview in 2012.
Now on his third and last term in the House of Representatives, he is proud of his track record. He was principal author of 11 national laws and 12 local laws, making him one of the most prolific lawmakers in the lower chamber. Among them are the Kasambahay law, Magna Carta for Women, Personal Equity and Retirement Account (PERA) Act of 2008, Pre-need Code of the Philippines, and laws that established at least 4 national high schools in Aurora.
He said he enjoys lawmaking. "It was a conscious effort on my part to really build a legislative legacy, something that I can be proud of in 10, 20 years," he said.
In a chamber where absenteeism is a chronic problem, his attendance record cannot be questioned. Out of the total 120 session days in 2011 and 2012, he was only absent in 11.
So every time he is being attacked because of the political dynasty that his family built in Aurora, Angara always says: "Look at my track record. Don't give me a free ride."
When he and his father were attacked as "landgrabbers" because of the Aurora Special Economic Zone, he asked the public to study the project and what he said politicians in the family have done to improve Aurora and the lives of people there.
"The state college in Aurora was built by my father. The sports complex. The new hospital. The first rice mill in the province. The first coconut research center and nursery. The first marine research. They're all from laws we passed or from our pork barrel. We have built at least 400 classrooms. I built 300 classrooms myself."
When the Diocese of Bacolod City urged voters to junk Angara and other lawmakers on basis of their vote favoring the Reproductive Health (RH) law, he asked the Church to look at the other laws he pushed.
"The Church hierarchy said they will look at the track record of the politician. I believe there are other important issues. A candidate should be judged based on his track record and dedication to serve," Angara told reporters then.
"Look at my track record" is often Angara's closing argument to many of the issues raised against him by his critics.
Angara's academic and legislative track records would arguably stand out compared to other senatorial candidates. Yet it has not been enough to push his senatorial bid. In Pulse Asia's March survey, his best ranking is 8th and his worst is 14th.
He's in a dangerous position.
Too safe for primetime news
Senate has always been a game of name recall. In spite of his old political name, Angara is behind re-electionists and media-savvy colleagues in the House of Represetatives in terms of popularity. 
He knew he needed media attention to boost his senatorial bid. But he would discover it's not that easy to land in the early evening news programs, which all candidates have been targeting. 
"He's too clinical. He has no unpredictability factor when he answers questions. It's a shame because I think he has a lot to say," said a reporter covering Team PNoy.
If it has been difficult, it is because Angara – in spite of his 9 years in politics – has not really been comfortable facing the media. And until he joined the House impeachment team that prosecuted removed Chief Justice Renato Corona, he deliberately avoided attention.
He was not the type to take the rostrum during plenary sessions to make big speeches. And while media-savvy colleagues know when to approach the media to give their sound bite on big issues of the day, it was not uncommon for Angara to tell reporters, "Iba na lang interview-hin niyo (Interview somebody else)." 
He is approachable and friendly to journalists covering the House of Representatives. He opens up in off-the-record conversations, but walks away as soon as there's a camera or a recorder. He has always been very cautious.
"He is hardworking. But there's no conscious effort on his part to get media mileage," said House Majority Floor Leader Neptali "Boyet" Gonzales II. "Even during the impeachment, you could see that," he added.
Angara thinks media can be counter-productive. "It's easier to pass a bill if you don't give a sponsorship speech out loud. It's like calling everybody's attention. Sometimes it's better to make sure you do your work in committee and make sure you answer all questions. So when it reaches the floor, you've settled it," he said. 
So he quietly passed his bills. He preferred to approach critics of his measures on the sidelines, sit down, and talk. It's a strategy that worked in passing measures and winning the respect of people tired of media-hungry politicians who grab every opportunity to hog the limelight. 
But it did not work in preparing himself for a senatorial race. Now he is trying to catch up. 
"I've been advised that I should be hitting people, but I'm not like that. I was advised that I should find a hotter issue, sexier issue. Find controversy," Angara told Rappler in a recent interview.
"It's too bad that we sometimes have to be controversial to make the news. We should be trumpeting good achievements rather than controversy," he added.
There was this candid moment early in the campaign when Angara teased the media, "Kami naman, kami naman." Reporters couldn't get enough of the common candidates — Sen Loren Legarda, Sen Francis Escudero, and former censors chief Grace Poe — who were caught between rival slates Team PNoy and United Nationalist Alliance (UNA).
Angara got the attention he asked that night. It was not for his track record or positions on issues but for that request.
Afraid to be famous 
If Angara is very cautious of the media, he said it is because he 
wants to be like his father who he said looks at the long-term. 
"He's a marathon runner. He always thinks long distance. Don't be shackled by the 3-year term or the 2-week news cycle," he said. 
Father and son also share the same advocacies, especially education. 
He even checks out his father's bills in the Senate and files counterpart bills 
in the House of Representatives. 
But Sonny said he has his own mind. He recalled a time when his father advised him to think hard about voting to impeach former President Gloria Arroyo because his district could suffer if she decides to withhold his pork barrel. 
He voted to impeach her anyway.
Sonny can be counted on to have the courage to impeach a president, an Ombudsman, and a Chief Justice. He can be counted on to stand up to the Catholic Church and vote for the reproductive health law. But don't count on him to issue the big sound bites and lead the battle in the media.
His aunt, former Rep Bellaflor Angara Castillo, was the first to to file the "RH law" in 2001, but the senatorial candidate 
was quiet during the heated debates. Unlike others, 
he did not deliver a speech in plenary to explain his defiance of the Church. The sound bite came when he was attacked by the Catholic Church when the campaign started.
"
I voted for the RH law because I believe that we should improve the quality of people's lives. If we didn't pass the RH law, the women will suffer," Angara 
said at the height of the Team Patay campaign.
It would have been a nice sound bite during the plenary debates. But he couldn't risk to be controversial. He couldn't risk to be famous. 
Sonny's blackeye
Sonny started the campaign on the wrong foot. First, he became one of the faces of the high-profile "Anti-Epal" campaign, accused of premature campaigning. 
It was ironic. He finally threw himself out there and the first thing that confronted him was the accusation he was media hungry, a traditional politician who circumvents election laws to get ahead in the race. 
It was mid-2012 when President Aquino brought him and other senatorial wannabes around the country and paraded them as potential candidates for the administration. 
Angara chose to keep quiet when he was attacked in the media. He would defend himself later on to say that politicians also need to tell people what they have achieved. 
And then Dumagat farmers of his province Aurora marched to Manila to get President Aquino's attention regarding the alleged landgrabbing and harassment by the Angaras to implement the controversial Aurora Pacific Ecozone (APECO).
APECO is a 12,000-hectare project advertised as the key to social and economic development in Aurora and nearby provinces. Nestled between the provinces of Isabela, Quirino, and Nueva Ecija, APECO positions itself as a "transshipment hub of the Pacific."
APECO was created through Republic Act 9490, a measure co-authored by the Angara father and son. Angara guaranteed that the Dumagats living in Casiguran, Aurora would be given livelihood.
But the community is split. There are those who don't want jobs in APECO. They want to keep their ancestral lands and their lifestyle. "Dapat niyong malaman na ang kaunlaran ng katutubo ay iba sa kaunlaran ng Tagalog. Ang kaunlaran sa amin ay ang pagyamanin ang kabundukan dahil diyan nagmumula ang kabuhayan namin. Pati na rin sa dagat," Dumagat Chief Victor Abajon was earlier quoted as saying.
APECO is the big blackeye that Angara can't hide. He recognized that "some people may be raising it as a valid issue." But he also lamented how "others are using it as a way of destroying a good reputation."
If 2009 government data is to be believed, Aurora is not doing so bad. The poverty incidence of families was 19.5%, better than the national average of 20.9. Its Human Development Index (HDI) is 0.655, making the province one of the best performers in terms of qualify of life.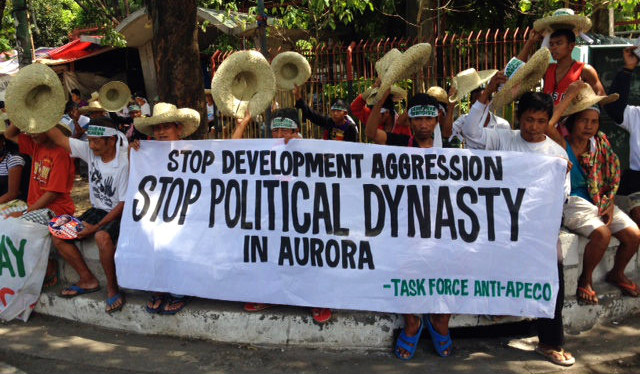 Again, Angara preferred to let APECO officials respond to media questions regarding the controversy. 
But he is very candid on Twitter, engaging students disappointed with the young politician for pushing the project. On Twitter, he is comfortable sharing his thoughts on politics, his obsession with basketball, and other matters.
"Social media is unique because it provides greater depth than other forms of mass media. Because of the limited time and expense of radio and TV, it's more an awareness game than getting to know candidates on deeper level," he said in a video posted on his Facebook page.
An analyst told Rappler that APECO had all the elements to pull Angara down. But luckily for him it did not get as much attention on TV as other controversies have. 
Close to Election Day, fellow congressman Toby Tiangco — campaign manager of the rival slate United Nationalist Alliance (UNA) — attempted to revive the anti-APECO sentiment. He called on the Supreme Court "to stop the Angaras from milking the government dry." But it turned out, UNA senatorial bets were among those who voted to approve the APECO law.
Hovering in the danger zone, pulling Angara down could benefit UNA candidates trailing behind the Magic 12.  
The Campaign


last minute speech writing 🙂

— Edgardo Sonny Angara (@sonnyangara) February 12, 2013
"Sabi nila artistahin daw po ako, taob sa akin sina Coco Martin at John Lloyd Cruz, totoo po ba? (Wait for crowd to react.) Pero hindi ko po pinangarap maging artista. Ako po ay isang abogado, nag-aral sa UP at nagpakadalubhasa sa batas sa Harvard sa Amerika." 
This is what his speech writer wanted him to say at the February 12 Team PNoy proclamation rally in Plaza Miranda. But Angara didn't follow the script. He tweeted shortly before the event: "Last minute speech writing."
The speech writer may have gone too far, but it's consistent with the campaign strategy to pursue the showbiz track. If it was hard for Angara to get the attention of political reporters, it seemed pretty easy for the young politician to land guestings in entertainment shows.
Before the official campaign period, when random TV guestings were still allowed, Angara made the rounds in ABS-CBN high-rating shows like Gandang Gabi Vice, The Bottomline, and even became a judge at the station's noontime show It's Showtime.
TV viewers saw a relaxed side of the politician, even showing a contestant how to dance at one point. 
He has also been going around the country with popular TV personality Coco Martin and got young stars Sarah Geronimo and Julia Montes to endorse him in TV and radio ads. 
His media team would push it further to introduce Angara as the "new heartthrob." 
In between press releases on Angara's advocacies — jobs, education — his media staff churned out in February pitches with the titles "A new Pinoy heartthrob" and "A new Pinoy idol."
"
He is an epitome of a
Pinoy
hearthrob whose good looks, brains and guts can easily captivate the imagination of voters in the May 13 senatorial elections," begins one PR. It would include gushing quotes from female voters. At least one tabloid published it.
Is he comfortable packaged like a celebrity? He told Rappler: 
"We're trying to attract different segments. Those who are not really interested in politics. We're finding a way to reach them, too. We try to get their attention and we tell them about our accomplishments. We hope that what's important comes across to the voters," he added.
It's the Catch-22 of candidates. When what the voters need to know is not what they want to see or hear in the campaign, what should be expected of the candidates? 
Politics, Angara said, is 
"not a place where you go for the ideal, you go for the possible." 
– Rappler.com
---