The barangay chairman, an ally of Pacquiao's political rival Darlene Antonino-Custodia, accused the boxing champion of vote-buying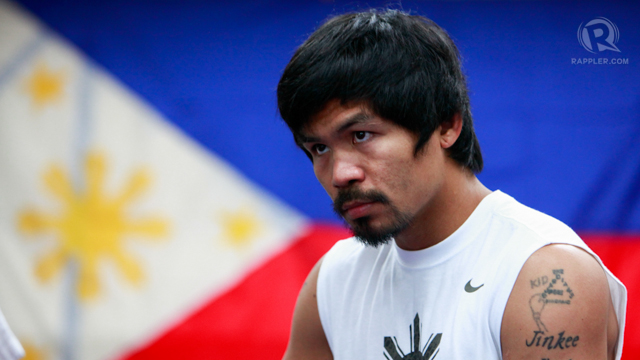 GENERAL SANTOS CITY, Philippines – Lawyers of Rep Manny Pacquiao filed a case against a barangay chairman who reportedly harassed the boxing champion and fired his gun against his supporters in General Santos, police confirmed on Sunday, May 12. 
Municipal police director Senior Supt. Froilan Quidilla confirmed that Pacquiao went to the police station in barangay Fatima police station on May 11 to file a complaint against San Jose barangay chair Alfredo Belgica, a known ally of General Santos Mayor Darlene Antonino-Custodio.
Pacquiao's brother Rogelio is running for congressman in the 1st district of South Cotabato, which includes the city.
Rogelio Pacquiao, also the barangay chair of Apopong, is up against re-electionist Rep Pedro Acharon Jr., a political ally of Antonino-Custodio.
General Santos police operations chief Rolly Octavio said Belgica reportedly told the police that Pacquiao's supporters brought with them 7 bags of rice and were allegedly engaged in vote-buying.
Belgica also claimed he reportedly found envelopes in their possession, but Octavio however said only 4 bags of rice were recovered from the van.
Pacquiao's men were reportedly on board a Starex van — the windshield of which was shattered — escorted by 3 motorcycles.
Octavio also said Belgica was subjected to paraffin tests on May 12 to determine if the village chair fired a gun.
Calls made by Rappler to Mayor Antonino-Custodio were unanswered. – Rappler.com