Like Senator Manny Pacquiao, Senator Aquilino 'Koko' Pimentel III loses his post in ruling party PDP-Laban
The administration-backed faction of PDP-Laban ousted Senator Aquilino "Koko" Pimentel III, son of a party cofounder, as executive vice chairman.
During the national assembly held on Saturday, July 17, the faction stopped recognizing the position of Pimentel as they said it was not in the party constitution. (Editor's Note: An earlier version of this story stated that the Cusi-led faction chose Cabinet Secretary Karlo Nograles to replace Pimentel. Nograles was chosen as executive vice president, not executive vice chairman.)
Pimentel was unseated alongside Senator Manny Pacquiao, who was replaced as party president by Energy Secretary Alfonso Cusi.
Pimentel is a founding member of the party that was established by his father, the late Senate president Aquilino Pimentel III, in 1982 to fight the Marcos dictatorship.
Pimentel refused to recognize the "illegal" assembly led by newly elected party president Cusi and party chairman President Rodrigo Duterte himself. The senator also maintains his support for Pacquiao as party president.
"The gathering hosted by Secretary Cusi is not recognized by the existing PDP-Laban leadership. As far as the present PDP-Laban leadership is concerned we will continue to function as the party," Pimentel said in a statement.
In his speech, Duterte belittled Pimentel and blamed the senator for the party "ruckus." Duterte also reminded Pimentel that PDP-Laban would not be as big as it is now, if it weren't for him.
"May I just remind Koko that this party, PDP, was asleep for a hundred years. It only woke up during the election when I ran for the presidency under the ticket," said Duterte.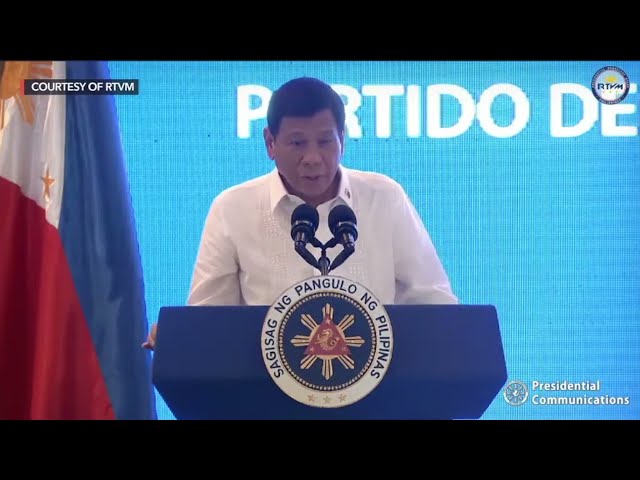 Duterte ran and won in 2016 under PDP-Laban, prompting the expected influx of politicians to the party. Pimentel served as Senate president from June 2016 to May 2018.
This internal struggle is not entirely new to PDP-Laban. The party broke up into two groups in 1988 during the Corazon Aquino administration. The first group was led by the Pimentel patriarch and former vice president Jejomar Binay, while the second one was led by presidential brother Jose "Peping" Cojuangco.
The second faction later merged with Lakas ng Bayan to form the Laban ng Demokratikong Pilipino in 1989.
In 2014, Binay left PDP-Laban and launched a new party, the United Nationalist Alliance or UNA, following disagreements with Koko Pimentel over the inclusion of Migz Zubiri in the 2013 senatorial slate. – Rappler.com