(2nd UPDATE) 'I think it's rather obvious that the relationship between the President and Senator Pacquiao is not as cordial as it was,' says Presidential Spokesperson Harry Roque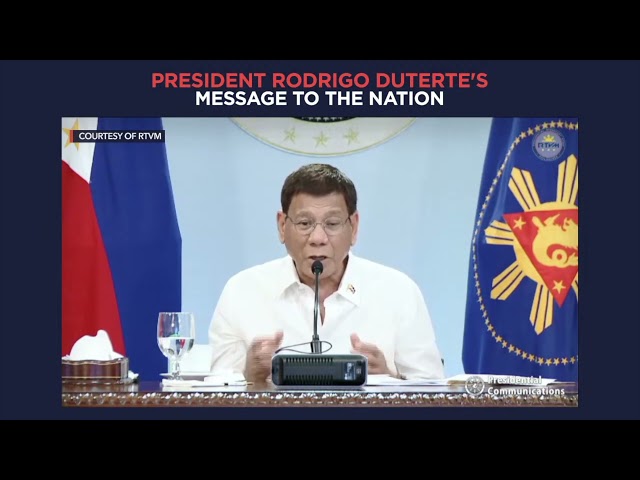 Battle lines have been drawn between warring factions in the ruling PDP-Laban and no less than President Rodrigo Duterte has made it clear that Senator Manny Pacquiao, ironically the acting party president, is no longer his ally.
Pacquiao had apparently pissed off Duterte when the senator made comments about corruption under the present government in a recent interview with Radyo 5. Pacquiao said on June 22 that should he ultimately decide to run for president in 2022, he would declare a "war against corruption."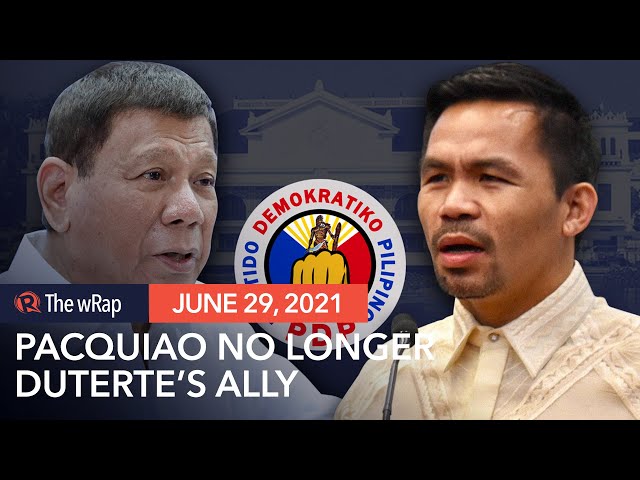 An irked Duterte dared Pacquiao on Monday, June 28, to name these corrupt officials, or else he would campaign against the boxing champ.
"Go to Congress and start talking," Duterte told Pacquiao in his weekly public address. "If you will fail to do that, I will campaign against you, because you are not doing your duty. Do it, because if you will not, I will just tell the people, 'Do not vote for Pacquiao because he is a liar.'"
In a press conference on Tuesday, June 29, Presidential Spokesperson Harry Roque said, "I think it's rather obvious that the relationship between the President and Senator Pacquiao is not as cordial as it was."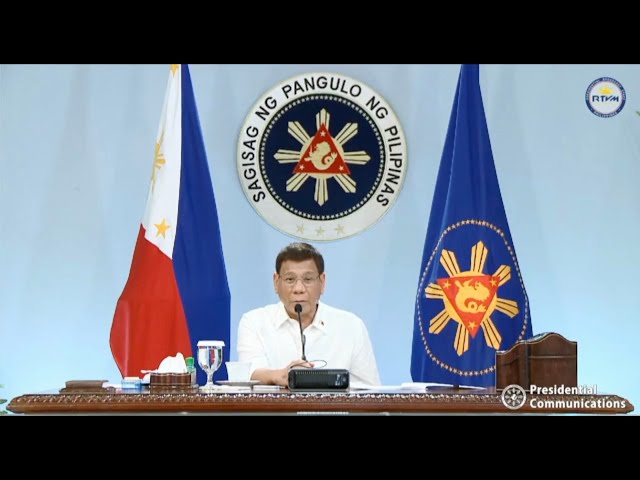 Duterte's scathing remarks were a huge blow to Pacquiao, whose authority as acting leader of the President's party is now being challenged by a faction led by vice chairman Alfonso Cusi, Duterte's energy secretary.
It also signals Duterte's abandonment of Pacquiao as a possible successor in 2022. The boxing icon turned senator is rumored to be gunning for the presidency. Among his potential opponents? Duterte's own daughter, the feisty Davao City Mayor Sara Duterte, and the President's longtime aide-turned-senator Bong Go.
Pacquiao's rags-to-riches story as a world-famous athlete and senator makes him a potent contender for the highest post in the land. By attacking Pacquiao for the second time in a month, Duterte seems to be eliminating obstacles to Malacañang in favor of the person he would endorse in 2022.
This is a strategic move for Duterte, who floated his own vice presidential bid just before lambasting Pacquiao on Monday. Political experts have called Duterte seeking the vice presidency as a "bastardization of the electoral process."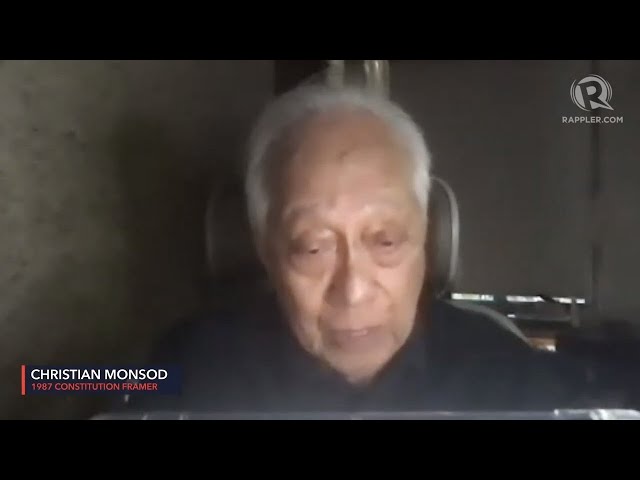 This was the second time in recent weeks that Duterte has attacked Pacquiao. On June 28, Duterte also told Pacquiao to study foreign policy first before criticizing the government's "lacking" response to Chinese militarization in the West Philippine Sea.
Pacquiao has long been requesting to sit down with Duterte to help resolve the rift within PDP-Laban. But Roque said he has not seen any appointments with Pacquiao in the President's schedule.
After hours of silence, Pacquiao threw his counterpunch at Duterte on Tuesday afternoon. I am not a liar, Pacquiao told the President. As is expected of a fighter, Pacquiao then accepted Duterte's challenge.
"Magsimula tayo sa DOH. Silipin at busisiin natin lahat ng mga binili mula sa rapid test kits, PPE, masks at iba pa. Handa ka ba Secretary Francisco Duque na ipakita ang kabuuan ng iyong ginagastos? Saan napunta ang pera na inutang natin para sa pandemya?" Pacquiao asked in his statement.
(Let's start with the DOH. Let's look into the rapid test kits, PPE, masks, and other supplies it procured. Are you ready, Secretary Francisco Duque, to show the entirety of your spending? Where did the money that we loaned for the pandemic go?)
Pacquiao was not done. He also retaliated against Duterte by recalling the President's speech on October 27, 2020. That day, Duterte himself admitted "corruption is not weakening, it's getting stronger" under his administration.
"Mawalang-galang po mahal na Pangulo, ngunit hindi ako sinungaling. May mga naging pagkakamali ako sa buhay na aking itinuwid at itinama, ngunit dalawang bagay ang kaya kong panghawakan: Hindi ako tiwali, at hindi ako sinungaling," said Pacquiao.
(With all due respect, dear President, but I am not a liar. I have made mistakes in my life, and I learned from them, but there are two things I stand by: I am not corrupt, and I am not a liar.)
Battle of factions
The Philippines' ruling party, PDP-Laban, was Duterte's political vehicle in the 2016 elections. What was once a small party rapidly expanded to a 100,000-strong membership as the former Davao City mayor rose to the presidency.
But cracks in PDP-Laban started brewing over a year before the 2019 midterm elections, when the party first struggled for stability and survival following infighting among factions and the external threat from presidential daughter Sara Duterte's Hugpong ng Pagbabago.
The battle went all the way to the Supreme Court, which ultimately decided that the faction led at the time by Senator Aquilino "Koko" Pimentel III was the legitimate representation of PDP-Laban.
Koko is the son of the late senator Aquilino "Nene" Pimentel Jr., the man who founded PDP-Laban in 1982 to help fight the dictatorship of Ferdinand Marcos. The younger Pimentel is now on the side of Pacquiao, whom he allowed to replace him as PDP-Laban president in December 2020. Before this, Pimentel had appointed Pacquiao as campaign manager for PDP-Laban's senatorial slate in the 2019 midterm elections.
Now, not only is Duterte abandoning his former ally Pacquiao. The President is also making it clear that he is siding with the Cusi faction in PDP-Laban instead of the side led by Pimentel and Pacquiao.
There are now rumblings that some members of the party are planning to oust Pacquiao as acting president. There will be a PDP-Laban national assembly on July 17, which many suspect would be the day Pacquiao's enemies within the party would boot him out.
Pimentel has so far remained on Pacquiao's side, telling Cusi is better off doing his job as a Cabinet official instead of being preoccupied with party politics.
He also slammed party members in the Cusi faction, questioning their loyalty to PDP-Laban.
"Secretary Cusi should not rush 'party meetings' and should instead focus on and make sure the attendees are people who are 'real/authentic/genuine' party members and not those who simply had themselves identified with PDP Laban, but whose 'heart/loyalty' belongs to some other existing political party. [They are] just waiting for and wanting PDP-Laban to implode and after the 2022 elections, will just wave 'bye bye' to the party," Pimentel said in a message shared to reporters.
Meanwhile, the Cusi faction seems to be doing everything it can to curry Duterte's favor. During the national council meeting in Cebu City that Pacquiao had tried but failed to stop in May, PDP-Laban members adopted a resolution pushing Duterte to seek the vice presidency in 2022.
The party members even said they would give Duterte a free hand in choosing the presidential candidate he would run alongside, even if the candidate was not a party member.
Duterte's VP run?
This was in sync with Duterte's remarks on Monday night, when he said he is mulling to run for vice president because there were "things" he would like to continue when his term as chief executive ends in 2022.
The continuity of these plans rests on whoever would become his successor.
"Meron ako ditong dinagdag: running for vice president, ako. Sabihin ko, it's not at all a bad idea and if there's a space for me there, siguro," said Duterte. (I added one more thing in our agenda here: me running for vice president. I'd say it's not at all a bad idea and if there's space for me there, then maybe I would run.)
"Pero kung wala akong space – everybody is crowding up, wanting to be one, vice president – sila na lang muna kasi tapos na ko. But there are things that I'd like to continue and that would be dependent on the president that I would support," Duterte said.
(If there's no space for me – everybody is crowding up, wanting to be one, vice president – then they can have it since I'm done anyway. But there are things that I'd like to continue and that would be dependent on the president that I would support.)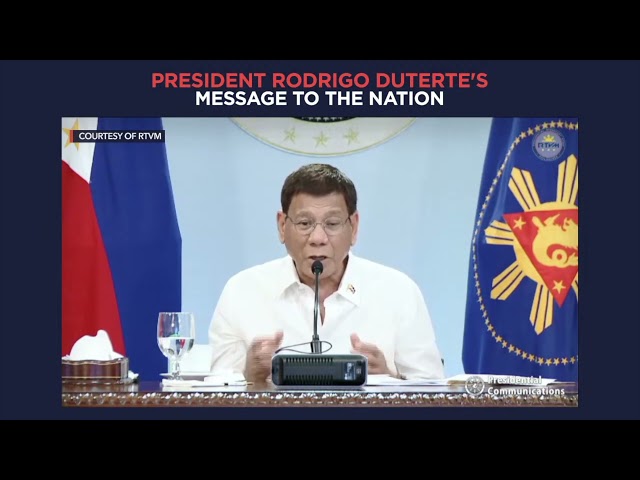 Cusi told ANC's Headstart on Tuesday that should Duterte end up choosing his longtime aide Go as presidential bet, then 90% of PDP-Laban would supposedly back this tandem.
This is not the first time that factions within Duterte's party have clashed in recent months.
In March, Pacquiao warned PDP-Laban members to stop their "unauthorized" political moves after several party officers and members – Cusi included – signed a resolution calling on Duterte to run for vice president in 2022.
PDP-Laban's Bulacan chapter also issued a statement in early May slamming Pacquiao when the latter said in a media interview that he found Duterte's response to the Chinese militarization in the West Philippine Sea "lacking."
These developments are reminiscent of the party dynamics in 2018 to 2019, when cracks within PDP-Laban were first made known to the public. All eyes are on PDP-Laban when it holds its national assembly on July 17. – Rappler.com