The presidential aspirant takes notes during the meeting that included former executive secretary Ruben Torres and former agriculture officials
Presidential aspirant and Manila Mayor Isko Moreno met with former Cabinet members and government officials on Wednesday, November 3, to discuss his agricultural and economic platform.
The meeting took place at around 1 pm at Manila City Hall. It lasted roughly an hour and a half, according to persons present.
Hernani Braganza, an agrarian reform secretary under the Arroyo administration who was among the guests, described the meeting as a "roundtable discussion" about Moreno and his running mate Willie Ong's plans for the country should they be elected.
Those physically present were Ramos-time executive secretary Ruben Torres and Braganza. Torres was also labor secretary under Cory Aquino.
Joining via teleconference were Arroyo-time agriculture secretary Leonardo Montemayor and Arroyo-time agriculture undersecretary Ernesto Ordoñez.
Representatives of the private sector were also physically present: Philippine Chamber of Agriculture and Food chairperson Danny Fausto and United Broilers Raisers Association president Elias Inchong.
The talks centered on Moreno and Ong's plan to usher in economic recovery while responding to the COVID-19 pandemic.
"Very substantial kung mag-discuss (He elicited very substantial discussions)," said Braganza about Moreno.
"He had the numbers, the statistics. Kumpleto eh (It was complete). He has been meeting twice with the agricultural sector. He had no kodigo (code). He was the one taking notes," added Braganza.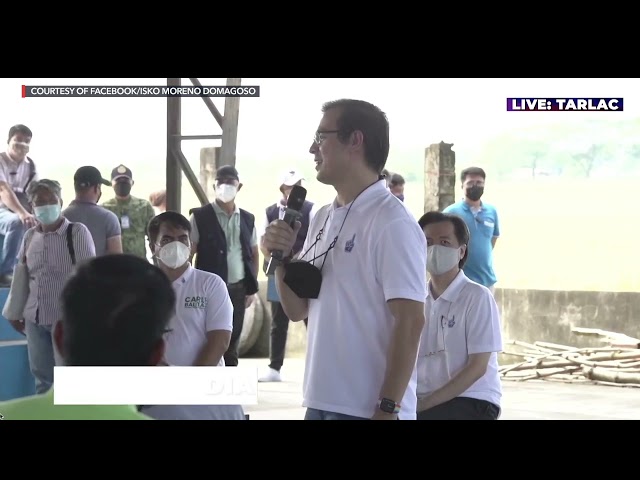 The former officials were invited by former road board executive director Adolfo Escalona and Moreno's campaign manager Lito Banayo, himself a former National Food Authority chief. Banayo said Escalona, who served under the administration of Benigno Aquino III, is helping Moreno's campaign team.
Braganza said he got invited roughly two weeks ago and that the meeting was supposed to take place sooner were it not for repeated postponements.
'I like what I heard'
No statement of support was issued by the group of former officials, who were all present on a personal capacity.
But Braganza said he has "no problem" supporting Moreno and Ong based on their agriculture and economic platforms.
"He (Moreno) has big plans but he has practical, sound policies to curbing smuggling, irrigation, how to cut costs of agricultural products, and tax cuts," said Braganza, who added that he liked what he heard.
Among Moreno's ideas discussed were his plans to halve oil and electricity prices while the country is recovering from the pandemic, and creating a Department of Fisheries.
However, Moreno's controversial remark that ending contractualization is the "least of his problems" was not taken up.
But Braganza said his understanding of Moreno's statement is that the mayor, if elected president, would focus on bringing back jobs taken away by the pandemic and turn to the issue of contractualization at a later time.
Moreno has only had experience leading an urban city, the capital Manila. For five months during the Duterte presidency, he was an official under the social welfare department.
The 47-year-old presidential bet has also held briefings with retired Supreme Court associate justice Antonio Carpio about West Philippine Sea issues. – Rappler.com