The Manila mayor's running mate is former senatorial candidate Dr. Willie Ong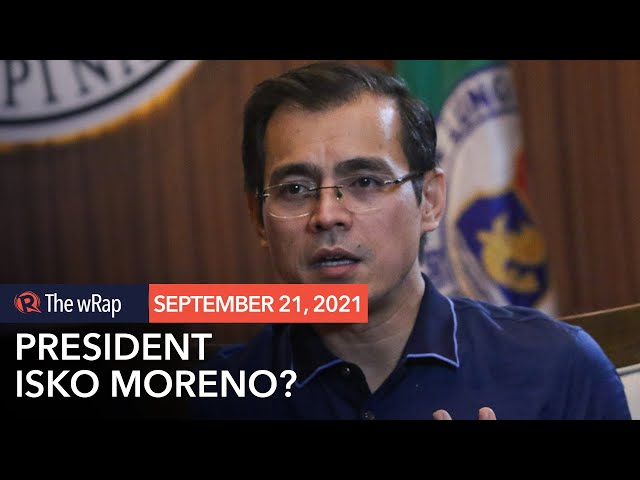 Isko Moreno, mayor of the Philippines' capital, has decided to gun for the presidency in 2022, his campaign manager Lito Banayo confirmed to Rappler.
Moreno will declare his presidential bid on Wednesday, September 22, from the BASECO Compound in Tondo, Manila.
Banayo said his running mate would be Willie Ong, a doctor and public health advocate who ran for senator in 2019, lost, but managed to get the second highest number of votes from overseas absentee voters.
Moreno's campaign manager had also been a key figure in Rodrigo Duterte's successful presidential campaign in 2016.
Moreno has made waves as Manila mayor with his aggressive clean-up campaign, in-city housing projects, and promises to revitalize the congested and deteriorating capital.
Because of this visibility, he started appearing among preferred presidential candidates, finally placing second to Davao City mayor and presidential daughter Sara Duterte in the June survey of Pulse Asia.
During the COVID-19 pandemic, Moreno stood out even more as local government executives became the main on-the-ground implementors of vaccination drives, lockdowns, testing and contact-tracing efforts.
Manila City Hall's initiative of giving COVID-19 medicines like remdesivir and Tocilizumab for free to those who need it has also been popular.
It was during the health crisis when Moreno began more openly criticizing the national government, first by calling for an end to face shield requirements and then by bemoaning the slow distribution of vaccines.
In late July, Duterte had criticized Moreno for long lines at vaccination sites during floods and inclement weather. Weeks later, the Chief Executive went so far as to belittle the mayor for sexy photos from his past as a showbiz star. All these jabs were directed at an anonymous politician but Duterte's description leaves little doubt that he was referring to Moreno.
From garbage collector to Manila mayor
Though a relatively young presidential candidate at 46 years old, Moreno has spent 23 years in government, almost the same number of years as Duterte himself.
Moreno's political career began in 1998, when, at just 23 years old, he was elected Manila councilor. After serving three terms in this position, he was elected vice mayor in 2007. He was re-elected in 2010 and 2013. In 2016, despite many thinking it would finally be his turn to run for Manila mayor, Moreno decided to run for senator, a bid he lost.
He was taken in by Duterte. The controversial and populist President appointed Moreno chairman of the North Luzon Railways Corporation in 2017. The next year, Moreno became social welfare undersecretary. But in October 2018, he resigned to run for Manila mayor.
Moreno won that election, stunning everyone by beating ex-mayors to whom he had previously played second fiddle – Alfredo Lim and Joseph Estrada.
As Manila city chief, Moreno championed in-city housing, starting five house projects – BaseCommunity, Tondominium 1 and 2, Binondominium, San Lazaro Residences, and Pedro Gil Residences.
The first has been turned over to beneficiaries while the rest are undergoing construction.
He has portrayed himself as a hands-on, man-of-action, often going live on his Facebook account to show him leading street clean-ups or responding to emergencies in the city.
Moreno's life before politics was also colorful, some would even say made for the silverscreen. As a boy growing up in the slums of Tondo, Moreno says he had to scavenge for food to help his family survive.
His father was a stevedore while his mother was a laundrywoman and garlic peeler.
Moreno, then known as Scott, eventually began collecting garbage for a living until at the age of 19, he was picked for a small part in a teen drama on RPN9 and then as a host for the popular variety show, That's Entertainment. He went on to star in numerous movies.
Political analysts have said Moreno's brand of populism and "from the poor" narrative could attract Filipinos who support or used to support Duterte.
"I think it only makes sense that Isko is second choice for many Filipinos after Sara and Digong. And this means that Isko's brand of populism can claim some support from existing Duterte constituency," said De La Salle University political science lecturer Cleve Arguelles in a July interview with Rappler. – Rappler.com