Unlike the October 30 extension for voters in the Philippines, the Commission on Elections gives overseas Filipino voters only until October 14 to register
Overseas Filipino worker (OFW) groups are calling on the Commission on Elections (Comelec) to extend the overseas voting registration period to October 30, just like the deadline for local voters. Currently, the deadline for OFWs is on Thursday, October 14.
The United States Filipinos for Good Governance (USFGG) wrote to Senate President Vicente Sotto III and House Speaker Lord Allan Velasco on October 6 to request Congress to compel the Comelec to "correct their registration and reactivation deadline to October 30, 2021 for overseas Filipino voters to meet the requirements of the law."
Republic Act 11591, the law providing legal basis for the extension from the original September 30 deadline, says, "The last day of registration of voters for the 2022 National and Local Elections shall be thirty (30) days after the effectivity of this Act."
President Rodrigo Duterte signed the law on September 30. It makes no distinction between local and overseas voting registration.
The USFGG called the decision to set the October 14 deadline "arbitrary, unreasonable, and illegal."
"[The decision] deprives hundreds of thousands of eligible global Filipino voters of two weeks of opportunity to participate in the crucial May 2022 elections," they said in their letter to the two congressional leaders. USFGG forwarded the letter to Rappler on Wednesday, October 13.
On Tuesday, October 12, Velasco copied USFGG to his email to the House committee on suffrage and electoral reforms for their "information and appropriate action" on the group's request.
The Comelec, as well as House committee chair Negros Occidental Representative Juliet Ferrer, have yet to respond.
Lines in Hong Kong
The same call is echoed on the other side of the world. In Hong Kong, the lines to register are almost unending, as the only registration site is at the Philippine consulate.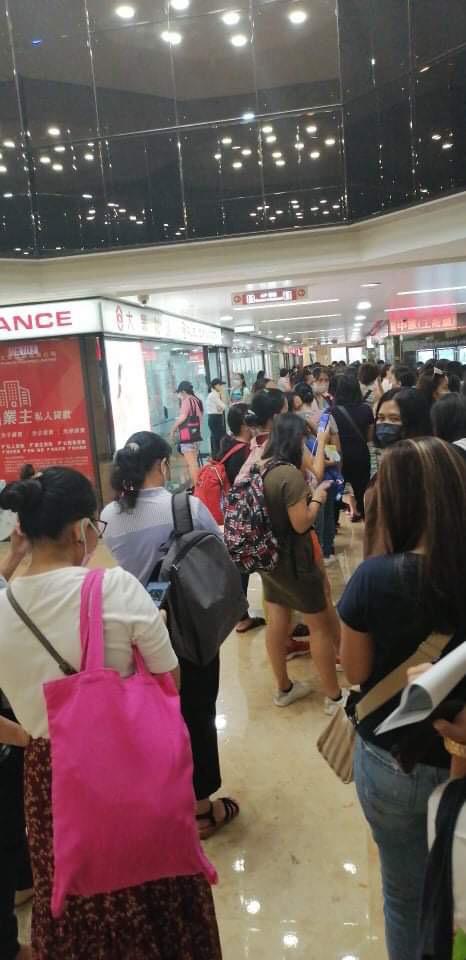 According to Che Catah of Migrante Hong Kong, there are only two counters designated for overseas voting. Hong Kong is host to tens of thousands of Filipino workers.
Catah said Filipino groups and churches, led by Migrante, were requesting the Philippine consulate to hold community meetings, which would include the suggestion to extend the registration deadline.
On Tuesday, the consulate announced on Facebook that it would be open on October 14 exclusively for overseas registration.
On the Facebook post, Filipinos can be seen complaining about the consulate's services or also asking for an extension.
The Department of Foreign Affairs said in December 2019 that some 578,185 overseas voters' registrations were deactivated for failure to participate in the 2016 and 2019 elections. – Rappler.com