This is AI generated summarization, which may have errors. For context, always refer to the full article.
Vice President Leni Robredo's principles make her a good public servant, but her refusal to play the dirty game of politics could kill her potential bid for Malacañang
Vice President Leni Robredo has a problem.
It should have been a no-brainer for her to gun for the presidency in the high-stakes polls that would elect President Rodrigo Duterte's successor. She is, after all, the de facto leader of the Philippine opposition. Robredo, a widow and mother of three, once slayed an entrenched dynasty in her home province of Camarines Sur to become a congresswoman, then defeated the vaunted money and machinery of the Marcoses to become the vice president.
As a human rights lawyer, Robredo is the complete opposite of the foul-mouthed Duterte, who has no qualms issuing shoot-to-kill orders. In the past pandemic year, Robredo was efficient and quick-thinking, while the President unravelled in the face of the crisis.
Robredo's clean track record as vice president shows she has the skills, the political know-how, and the heart for public service that would be perfect for any presidential hopeful.
But here's the rub: A good chunk of Filipinos don't know what she is capable of; worse, they believe the Duterte propaganda that she has done nothing at all. Robredo's stellar performance in office isn't translating into potential votes.
A Pulse Asia survey released in October 2020 showed all respondents were "aware" of Robredo, but only 57% were satisfied with her performance. Presidential surveys done by the same pollster in the succeeding months have been even more worrisome, because only 6% to 8% of Filipinos say they want Robredo to become president.
In the arena where it matters the most in 2022 – the perception of Filipino voters – the Vice President is painfully lackluster.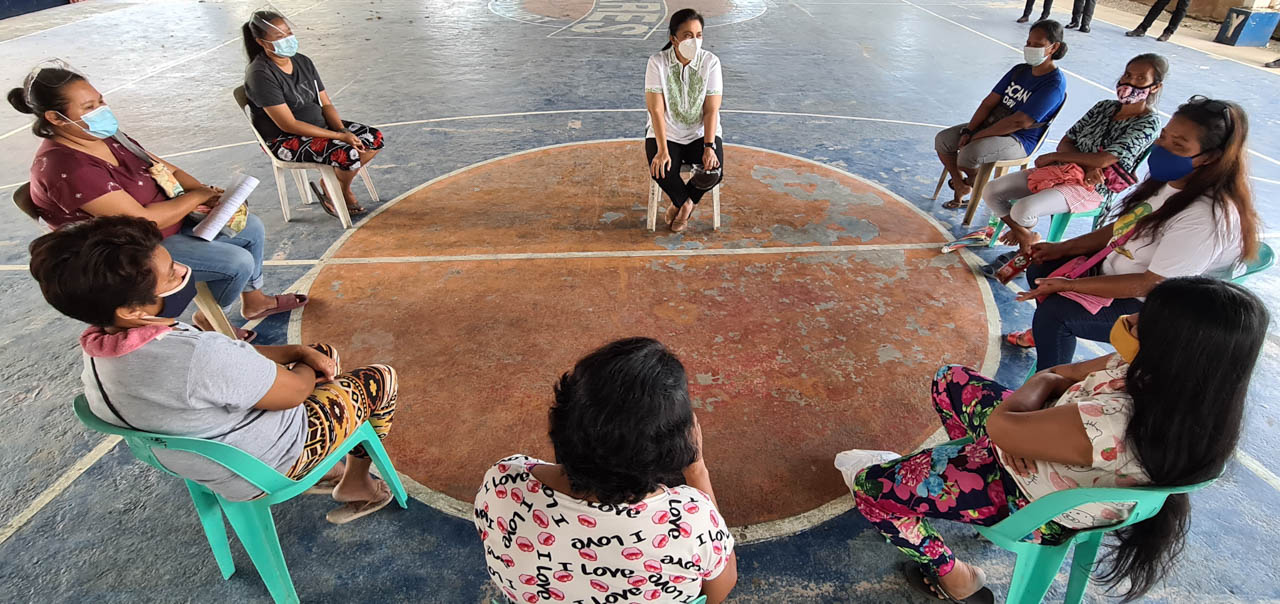 "They don't know what she's doing. For example, if you run the social media reach of the Vice President's official page versus the disinformation against her, it's really 1:10," a source close to Robredo told Rappler. "They say that when it comes to branding, authenticity is the best way to go. VP Leni has not changed from 2015 until now, yet her authenticity is not penetrating the target audience. It's a problem of distribution."
It's because when Robredo says she would rather focus on the pandemic than the 2022 campaign, she really does mean it.
It's a non-negotiable for her not to use her highly praised anti-poverty and pandemic response programs as a means to campaign. She could have been more strategic by choosing vote-rich areas as primary beneficiaries. It wouldn't be unusual to do so in the crazy world of Philippine politics, where potential candidates have gone on "consultative tours" and have plastered their faces on the streets in the guise of public service programs.
But that's not the Leni Robredo way.
She also carries an unspoken burden: The Vice President is the chair of the once-ruling Liberal Party (LP) at a time when Filipinos are turning their back on its "disente" brand of politics.
Robredo has a knack for touching base with the masses, owing to her vast experiences working with communities long before she was thrust into politics when her husband, interior and local government secretary Jesse Robredo, died in 2012. But she leads a party that's perceived to be elitist – and scoffs at being told so – making her a victim of guilt-by-association and giving more ammunition to the anti-Robredo propagandists and trolls.
Internal focus group discussions indicate Robredo is weighed down by the "dilawan" tag, which refers to the yellow political color of LP and has since been turned into a derogatory term for Duterte's critics.
"She is burdened by the basic attack that she is dilawan. And if you ask people what dilawan means, it doesn't really mean much to them, only that the connotation of dilawan is that it's a bad brand, it's a negative brand," said the Robredo insider.
Decency has become a boon and bane of Robredo's political career. Her principles make her a good public servant – perhaps even the most qualified person to be president – but her refusal to play the dirty game of politics could be fatal to her potential bid for Malacañang.
Not a trapo
These are among the reasons why the Vice President still can't decide if she's the right person to become the opposition standard-bearer, Robredo's spokesperson Barry Gutierrez told Rappler. Her options are either the presidency, the gubernatorial post in Camarines Sur, or a break from politics in 2022.
The stakes are so high in 2022 that Robredo is willing to entertain the possibility that the right presidential candidate may not be her. That's almost an unthinkable position to take for anyone with lofty Malacañang aspirations, but Robredo isn't your traditional politician.
"People would say, 'You know, your decency would lead to your defeat in the end.' But that's how she is. That's why people like me, I suppose, support her and believe in her so much because she's not your typical politician. That's the whole point," said Gutierrez. "And if the characteristics which set her apart from every other trapo out there make it difficult for her to win a traditional campaign, I'd still rather support her."
If the call is for Robredo to run for president to topple the Duterte regime, then she needs to make sure she at least has a fighting chance. That entails an improvement in her poor survey numbers and the broad opposition fielding no other candidate for president but Robredo. Otherwise, the opposition, of every color and shade, would divide the vote and be wiped out for good.
For political science professor Jean Encinas-Franco of the University of the Philippines, Robredo comes off as too nice, and it doesn't stick with the public.
"It's not that she is unpopular or the people do not like her. In fact, she isn't doing anything wrong. It's just that she does not capture the country's imagination," said Franco. "The general public has no idea about her sincerity. They don't know what she's doing behind the scenes."
Robredo knows the political terrain before her is so much more different than her come-from-behind victory in 2016. Sure, she was the underdog then, but she had a tactical advantage as a candidate under the outgoing administration ticket. She no longer has that kind of political machinery now.
"A lot of people are rushing me to make a decision already, but it's not that easy, because the feasibility of a presidential run is one of the primary considerations," Robredo said on May 24. "As I have said, my run for the vice presidency was just like an accident. I was not prepared for a run in a national post. And, you know, it would require a lot of many different things because a run for presidency is very much different from my previous runs."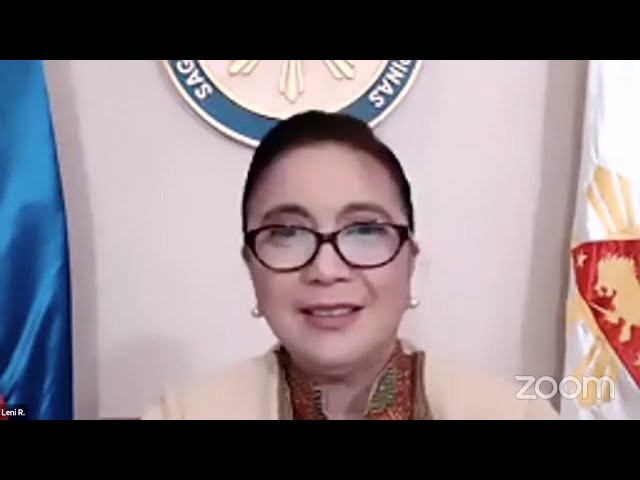 LP once dominated Philippine politics during the Aquino presidency. But as is the case in every election, politicians jumped ship to the new ruling party, PDP-Laban, when Duterte rose to power in 2016.
From a high of around 7,300 members in 2016, LP only has around 5,000 now, most of whom are non-politicians. The LP is dwarfed by Duterte's PDP-Laban that has about 100,000 members nationwide.
Hesitancy and doubts
With Robredo's indecision, there is growing anxiety and frustration among her supporters who have been forming loose groups in a bid to convince her to run.
"Of course there's an air of anxiety, because we believe in data," an organizer for the Robredo-for-president movement told Rappler. "The numbers give us a glimpse of where we are now, so we can calibrate strategies. But we're using it as a guide, not a final sentence."
Teddy Baguilat Jr., former Ifugao congressman and now head of LP's recruitment efforts for 2022, recalled that, for months, Robredo supposedly scolded supporters whenever some would print tarpaulins bearing her face for their outreach activities to help frontliners.
"Before, whenever we'd organize activities and there would be a poster or tarpaulin of Leni, she'd get angry because she didn't want to be connected to electioneering. She would say, 'This is just part of our work as liberals, because we want to help frontliners,'" Baguilat said.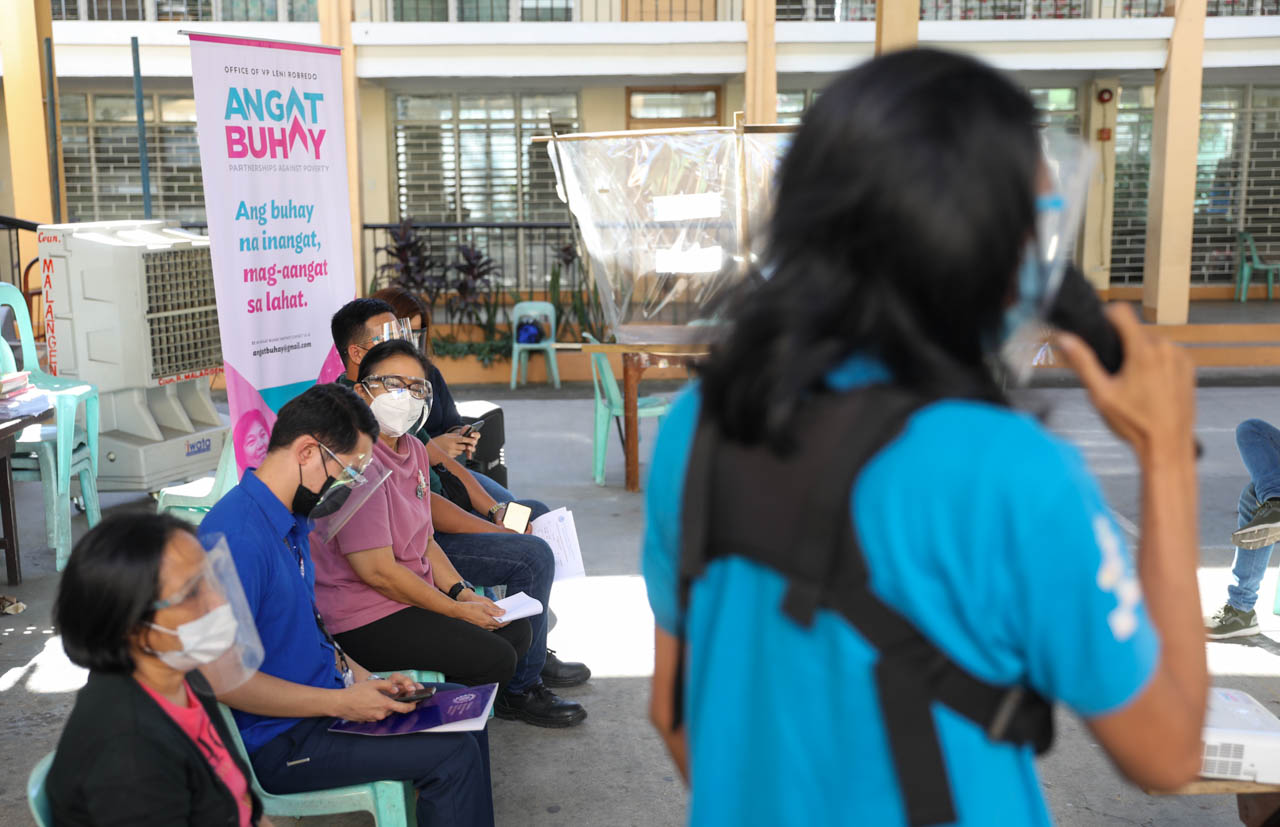 But by the second quarter of 2021, as the filing of candidacies loomed ahead, things changed: Robredo has become more open to the volunteer-driven efforts to help make her a more palatable choice for president.
"She's briefed about it. The difference now, that's why she's saying she's open to running for president, is because she has given the consent to help this project, to raise her profile as a presidential candidate," Baguilat said.
Gutierrez said volunteers undertake these efforts independent from any formal approval or oversight from Robredo or the Office of the Vice President (OVP).
"She obviously knows there are movements. She's not stopping them. Her only appeal is that they focus on her advocacies more than an actual campaign," said Robredo's spokesman.
With Noynoy gone, all eyes on Leni
Robredo's allies and supporters are certainly gearing up for the unforgiving battle ahead.
The central messaging of LP stalwarts like Senator Kiko Pangilinan and Senate Minority Leader Franklin Drilon is that Robredo is the most qualified person to lead the post-pandemic Philippines, recalling how the OVP is able to fill in the gaps in the government's pandemic response despite a measly budget.
They echo the call that only a united opposition can defeat the candidate endorsed by Duterte in 2022.
"The VP does not get tired and she does not stop looking for solutions to problems as they arise since the start of COVID-19. Vice President Leni Robredo is our best bet," Pangilinan, LP president, said on July 8.
Drilon also hopes that the death of the late former president Benigno "Noynoy" Aquino III would help inspire Filipinos to back the opposition in the 2022 campaign. He recalled how the passing of Noynoy's parents, democracy icons Ninoy and Cory Aquino, in 1983 and 2009, respectively, proved consequential in the succeeding elections. A dictator was ousted in 1986, Noynoy became president in 2010.
"Well, we hope so. The two elections that followed the deaths of senator Benigno Aquino Jr. helped shape the political history, and so was the death of president Corazon Aquino. We are hoping that with the death of PNoy, the Filipinos will start again looking inward and see that, 'I must do my share and restore decency in our governance, to restore our pride as a people," LP's vice chairman told Rappler.
LP leaders have so far shied away from discussing how Aquino's death would shape their campaign narrative for 2022. They said they would rather focus on sharing to the public snippets of their fondest memories of Aquino for now.
But the party is hitting two birds with one stone: By posting about the kind of boss, colleague, and friend that Aquino was to them, Aquino's allies are able to draw comparisons between the late president and his polar opposite, Duterte.
And who else from LP is capable of bringing back that kind of governance to the country? Whether she likes it or not, all eyes are now on Robredo in the wake of Aquino's death.
Giving the VP a fighting chance
Just this June, sectoral representatives and artists came together to form Team Leni Robredo (TLR) to further convince the Vice President to run in 2022. A TLR insider said there's no order from Robredo on how the group should be strategizing; they just take "cues" from the Vice President.
"We're just taking her cue. Her statement was, 'Let's help in the pandemic and in September, I will decide.' So that's why we have feeding programs, we hold online concerts, and do fundraising for various activities. We're just taking the cue from her," said the TLR member.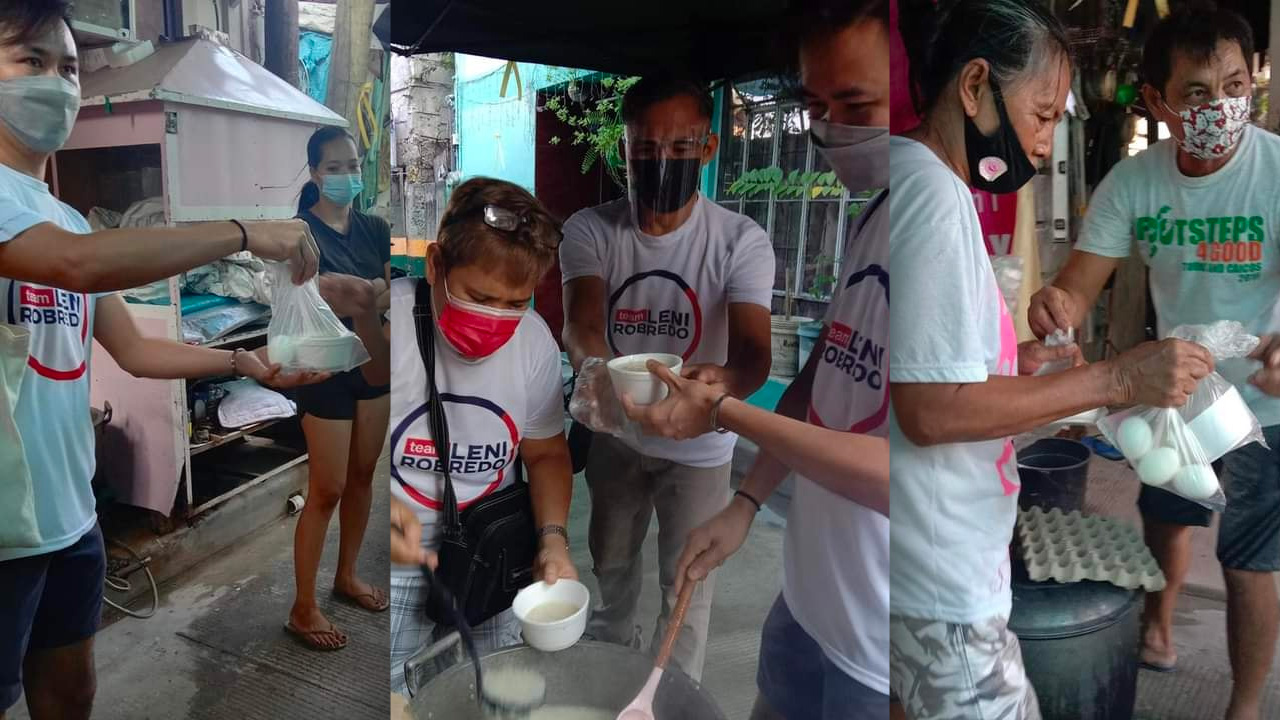 If anything, Robredo's low survey performance is also a motivation for her volunteers to work harder.
"Even without a declaration, even with her being massively maligned on all fronts, even without in-your-face campaigning across the country, VP Leni remains to be a trustworthy candidate," said lawyer Clyde Gregorio, convenor of the newly formed #DapatSiLeni Network. "We will amplify her advocacies and talk to as many people as we can. We are with VP Leni until the end, from the fringes to end of the battle, and no survey can ever change that."
Robredo's most dedicated party mates and supporters are on a mission to prove that she would not be alone in the fight for the presidency.
There can only be one
Robredo herself is taking pains to reach out to sectors who do not necessarily support her nor the Liberal Party's brand of politics. The Vice President is dead serious when she reminded purists in the opposition that they are not the only smart and competent ones in the country.
Sources said Robredo herself has been in talks with possible presidential contenders in a bid to unite them under just one coalition in 2022. They include Manila Mayor Isko Moreno, who is performing very well in pre-election surveys, and even Senator Manny Pacquiao, a former Duterte ally but who is now being eased out of the ruling PDP-Laban by the President himself.
The LP has its own efforts to talk to Moreno as well as senators Panfilo Lacson, Nancy Binay, and Joel Villanueva to build the "broadest unity possible" in 2022. The Magdalo group of ex-senator Antonio Trillanes IV, who is eyeing to run for president if Robredo does not, has long been allied with the liberals.
But discussions are informal, with each possible contender just sending feelers to the other. Coalition talks can only go so far when the main principal is still unsure if she would run or not.
Robredo's spokesperson Gutierrez also said the OVP's partnerships with local government units during the pandemic are an "opportunity" for Robredo to show that she can work with politicians regardless of their beliefs. They don't even have to talk about 2022 – for now.
Case in point: The OVP's mobile COVID-19 vaccination project in Manila tested the waters for a possible team-up in 2022 between Robredo and Moreno, who's faring way better than her in the pre-election surveys.
"That means they don't necessarily have to talk politics and about 2022 right now. But the very fact that they can come together and help each other on this particular issue, I think, is the first step towards having these essential conversations," Gutierrez said.
Outside of political circles, Robredo records an average of 50 to 60 speeches a week for speaking engagements she has been invited to. Many of the groups behind these events are not always sold to the idea of a "President Robredo," but the the Vice President's interactions with them allow her to listen to voices outside the "dilawan" echo chamber.
"She's taking advantage of the opportunity afforded by the venues to talk to different people, not for the elections, but to simply level off as fellow Filipinos and fellow citizens. She wants to show that she's not the evil caricature of a boogeyman that the trolls on social media desperately try to paint her," Gutierrez said.
2022 is bigger than Robredo
All these efforts, of course, could be for nothing if Robredo ultimately decides to opt out of the 2022 presidential race. It's going to hurt her loyal allies and supporters, many of whom have a "Leni or bust" mindset – to the detriment of the cause to unite.
The elections, however, isn't just about one personality or one party. Robredo is deeply discerning about running for president because 2022 means so much more than winning the most coveted post in the land. The victor of the race would have to confront the problems worsened by the pandemic, in a country where democratic norms have eroded and institutions have been corrupted by Duterte.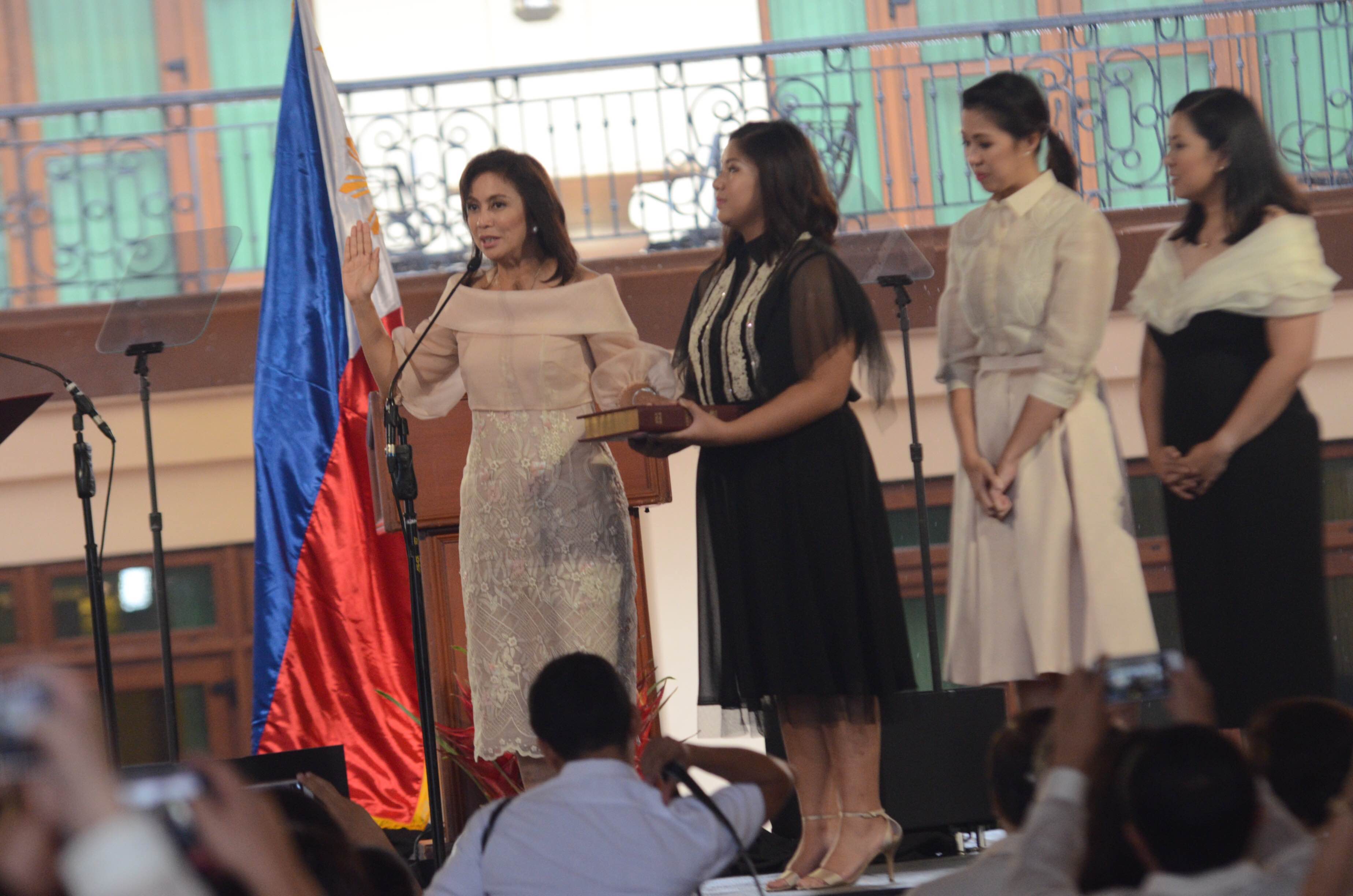 And if Robredo does run, that means further exposing herself and her daughters Aika, Tricia, and Jillian to the most vicious attacks from the state's machinery.
It's not an easy decision to make.
But the Vice President has proved one thing since that fateful day a tragic plane crash took away her husband: Leni is tough, Leni will fight back, and Leni will step up when duty calls. – Rappler.com