(2nd UPDATE) The nominees are a mix of President Rodrigo Duterte's staunchest critics and moderates who are ranking members of Congress
The 1Sambayan coalition has named six nominees who will go through its selection process to become the opposition's candidates for president and vice president in the 2022 elections.
The nominees are a mix of President Rodrigo Duterte's staunchest critics and moderates who are ranking members of Congress.
Former foreign secretary Albert del Rosario, 1Sambayan co-convenor, said "there may be additions" to this list.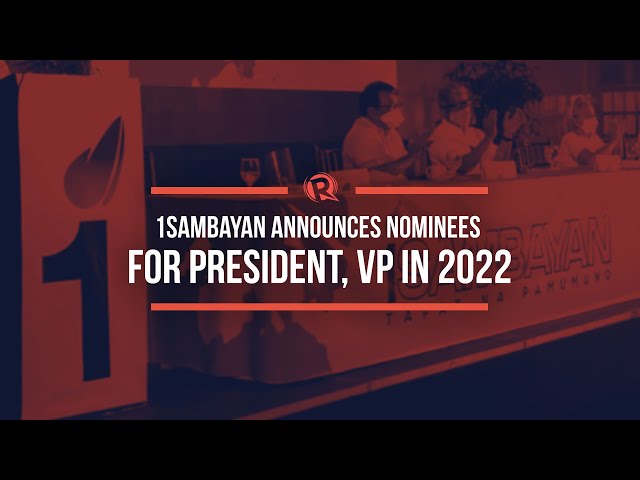 The opposition coalition out to defeat Duterte's chosen successor announced their nominees on Saturday, June 12, as the Philippines commemorated Independence Day.
The nominees of 1Sambayan for president and vice president are:
Chel Diokno, lawyer (Liberal Party)
Grace Poe, senator (Independent)
Vilma Santos-Recto, Batangas 6th District Representative and Deputy Speaker (Nacionalista Party)
Leni Robredo, Vice President of the Philippines (LP)
Antonio Trillanes IV, former senator (Magdalo)
Eddie Villanueva, CIBAC Representative and Deputy Speaker (Bangon Pilipinas)
Of the six, only Trillanes have so far announced his presidential bid, but he said he would give way should Robredo decide to run for the post.
The rest of the nominees are yet to officially announce their 2022 electoral bids, but have supposedly committed to be a part of 1Sambayan's selection process to choose a single slate of national candidates who would defeat the administration bets in 2022.
Poe, Robredo, and Trillanes were already part of the coalition's initial choices for its nominees when it launched in March.
Robredo, as the highest ranking official from the once-ruling LP, is the leader of the Philippine opposition, while Trillanes has long been a fierce critic of the President.
Poe, an independent senator who was reelected in 2019, is no stranger to running a presidential campaign. She once gunned for the highest post in 2016, but she finished third after the victor Duterte and former interior secretary Mar Roxas, then the standard-bearer of LP.
Minutes after 1Sambayan's announcement, however, Poe said she is not running for president in 2022. 
Recto and Villanueva are both deputy speakers, which means they are part of the Duterte-allied supermajority bloc in the House of Representatives.
Still, there were instances when the two lawmakers went against the decision of the House supermajority. Recto had voted to renew the franchise of the now-shutdown ABS-CBN, while Villanueva thumbed down the economic charter change resolution that Duterte wanted Congress to pass.
Recto thanked 1Sambayan for nominating her, but the congresswoman told Rappler she has "no plans in 2022."
Villanueva's son, Senator Joel Villanueva, was also against his father's participation in 1Sambayan, saying "obviously we are not interested to embark on a journey to the presidency."  The elder Villanueva ran for president in 2004 and 2010 but lost to Gloria Arroyo and Benigno Aquino III, respectively.
Diokno, a respected human rights lawyer, is a neophyte in politics. He ran for senator but lost in 2019 under the LP-led Otso Diretso slate.  He said he was "honored" to be considered by 1Sambayan, but said in a text message that he is not aspiring to become the next president or vice president of the country. 
No Isko, Nancy
But two politicians who were initially part of 1Sambayan's possible nominees for president and vice president – Senator Nancy Binay and Manila Mayor Isko Moreno – were not included in the coalition's list on Saturday.
This is not surprising, given the past statements Binay and Moreno have made regarding their possible nomination by 1Sambayan. Both politicians wrote letters to 1Sambayan asking that their names be removed from the coalition's nominees list. 
Moreno earlier thanked 1Sambayan for considering him, but said he would rather focus on responding to the coronavirus pandemic for now.
The Manila mayor already said he would run in 2022, though he has so far been coy about the exact position he would be seeking.
Binay agreed that only a united opposition could win in 2022, but said she was not planning to seek higher office.
She earlier pointed out the difficulty of having to work with certain personalities in 1Sambayan whom she believes were responsible for the attacks against her family when she ran for senator in 2013 and 2019, and when her father, former vice president Jejomar Binay, sought the presidency in 2016.
Senator Panfilo Lacson was also among the politicians 1Sambayan wanted to include in its presidential nominees, but he declined since several convenors are against the controversial anti-terror law that Lacson had co-authored in the Senate.
– Rappler.com