Acting Presidential Spokesperson Karlo Nograles says the government will take it 'step by step' and later see if they can extend the travel period
Foreigners fully vaccinated against the coronavirus and who will be coming from the so-called "green" countries where a Philippine visa is not required will be allowed to enter the country from December 1 to 15. 
Acting Presidential Spokesperson Karlos Nograles said in a press briefing on Friday, November 26, that Executive Order No. 408, Series of 1960 was amended to allow qualified foreigners from "green" countries, territories, and jurisdictions to enter the Philippines for two weeks in December.
Nograles said foreigners who wish to avail of the travel period from December 1 to 15 must meet these other conditions set by the Inter-Agency Task Force on the Management of Emerging Infectious Diseases (IATF): 
Holder of passport valid for at least six months at the time of arrival
With a return or outbound ticket to the country of origin or next country of destination
Should have exclusively stayed in a green list country, territory, or jurisdiction for 14 days prior to arrival to the Philippines
Must present proof of COVID-19 vaccination from either the World Health Organization, VaxCertPH, or a national state digital certificate of the foreign government that has accepted VaxCertPH under a reciprocal arrangement unless otherwise permitted by the IATF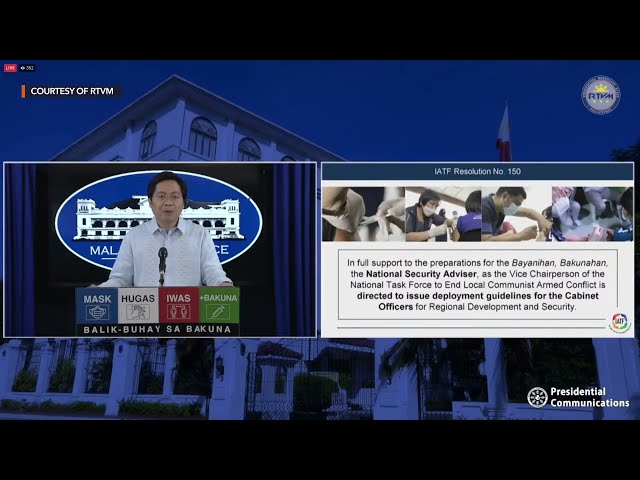 Nograles said the foreigners will be required to present negative RT-PCR test results taken within 72 hours before their departure from country of origin.
They will no longer be required to undergo quarantine nor an on-arrival RT-PCR test, but the foreigners are "enjoined" to self-monitor for any symptoms for 14 days. 
The same testing and quarantine protocols will apply to minors traveling with their parents, regardless of the minors' vaccination status and country of origin.
Meanwhile, foreigners who have been vaccinated but failed to comply with the testing requirement will be governed by protocols for unvaccinated individuals coming from green list countries.
This means they will still be required to undergo facility-based quarantine until the release of a negative RT-PCR test taken on the fifth day. They will also be required to self-monitor for 14 days. 
But why only until December 15? Nograles said the Philippine government is taking this "step by step."
"We will make proper adjustments kung kinakailangan (if needed) while we are monitoring its implementation on the ground, and if we will extend it, we will extend it," said Nograles.
There are currently 44 countries, territories, and jurisdictions in the Philippines' "green" list. They are as follows:
American Samoa
Bhutan
Chad
China (Mainland)
Comoros
Cote d'Ivoire (Ivory Coast)
Falkland Islands (Malvinas)
Federated States of Micronesia
Guinea
Guinea-Bissau
Hong Kong (Special Administrative Region of China)
India
Indonesia
Japan
Kosovo
Kuwait
Kyrgyzstan
Malawi
Mali
Marshall Islands
Montserrat
Morocco
Namibia
Niger
Northern Mariana Islands
Oman
Pakistan
Palau
Paraguay
Rwanda
Saint Barthelemy
Saint Pierre and Miquelon
Saudi Arabia
Senegal
Sierra Leone
Sint Eustatius
South Africa
Sudan
Taiwan
Togo
Uganda
United Arab Emirates
Zambia
Zimbabwe
– Rappler.com