Initial doses of Pfizer and Sinovac vaccines may arrive as early as February, when the Duterte government plans to start its mass immunization campaign against COVID-19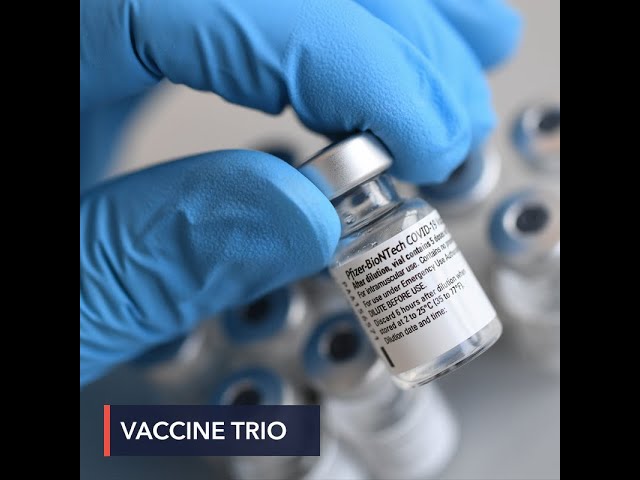 Philippine vaccine czar Carlito Galvez Jr said COVID-19 vaccines developed by United States drugmaker Pfizer, China's Sinovac, and the United Kingdom's AstraZeneca may be among the first to arrive in the Philippines.
Galvez identified the 3 vaccines based on the current status of negotiations that the government is holding with pharmaceutical companies and multilateral initiatives, including international group GAVI's COVAX facility.
The COVAX facility guarantees access to a portfolio of vaccines and doses for at least 20% of the population of participating countries. It is run by GAVI, The Vaccine Alliance; the Coalition for Epidemic Preparedness Innovations; and the World Health Organization (WHO).
"The 3 vaccines that will arrive first either way – if we can negotiate an early rollout – first, Pfizer, second, Sinovac, and then AstraZeneca," Galvez said in a virtual briefing on Wednesday, January 13.
He earlier announced that the Duterte government could begin distributing COVID-19 vaccines to the public as soon as February, when the first doses of either Sinovac or Pfizer's vaccine arrive.
Pfizer and BioNTech's vaccine would come from GAVI's COVAX facility as its officials are finalizing deals to distribute around 30 billion doses of the vaccine to developing countries for an "early rollout." If the Philippines is among the countries where doses would be delivered, supplies may come as soon as February, WHO Country Representative Rabindra Abeyasinghe said.
In the Philippines, Pfizer has applied for emergency use authorization (EUA) with the Philippines' Food and Drug Administration (FDA), which is expected to announce its decision this week.
Sinovac earlier told Philippine officials that an initial delivery of at least 50,000 doses could be delivered in February, though this would still depend on whether the company secures emergency approval from the FDA.
Galvez said the company is expected to submit an application for EUA within the next few days after it consolidates findings from Phase 3 clinical trials in Turkey and Brazil.
Best price for Filipinos?
During the briefing, Galvez also defended the government's negotiations after lawmakers questioned why Sinovac is among the vaccine brands favored for procurement despite its reportedly higher price compared to other brands.
Galvez said that during negotiations, price points being offered were much lower than market prices which are publicly available. He declined to divulge Sinovac's exact price as talks with the company are bound by confidentiality agreements until a deal is finalized.
Instead, Galvez described Sinovac's price to be midrange, supposedly cheaper than those being offered by American pharmaceutical firms.
Health Undersecretary Maria Rosario Vergeire also sought to assure the public that the government would not enter into deals disadvantageous to Filipinos.
"We won't enter into negotiations where the government will be shortchanged. As we've said, we have a portfolio of vaccines we are looking at and we're not considering just one vaccine," she said in Filipino.
The Philippines has so far signed deals to purchase at least 30 to 40 million doses of Novavax's vaccine, which are expected to arrive in the 3rd quarter of 2021.
Local government units, private groups, and the national government have also secured at least 15 million doses of AstraZeneca's vaccine through tripartite agreements. – Rappler.com