This is AI generated summarization, which may have errors. For context, always refer to the full article.
(5th UPDATE) Pfizer is the first company to secure emergency use authorization in the Philippines. Get up to speed on everything you need to know here.
(This tracker has been updated as of January 18, 2021.)
Nearly a year since the novel coronavirus gripped the world, what may be the start of a loosening hold is beginning to be felt.
A worldwide effort to find a viable vaccine has resulted in a number of candidates showing promising results in the fight against COVID-19, with experts saying more will follow.
Philippine officials earlier said the country had no capacity yet to locally produce a COVID-19 vaccine of its own. Instead, officials are banking on a combined effort of procuring doses, hosting phase 3 trials, and joining multilateral initiatives like the COVAX facility to ensure supplies of a vaccine will reach Filipinos.
Through negotiations with vaccine development and pharmaceutical companies, government officials have mentioned at least 24 specific COVID-19 vaccines being eyed for use in the Philippines.
Negotiations for most are ongoing, while vaccine czar Carlito Galvez Jr earlier said the soonest a vaccine could arrive in the Philippines would be sometime between May to June 2021 at best, if not late 2021 to early 2022.
Health officials and national scientists, meanwhile, have repeatedly emphasized that any COVID-19 vaccine that will be used in the country will still need to be approved by the Food and Drug Administration (FDA).
On Wednesday, December 2, President Rodrigo Duterte issued an executive order allowing the FDA to grant emergency use authorization for vaccines. This makes granting that necessary FDA approval quicker as it can be issued 21 days after a government agency or company asks it to evaluate a particular vaccine.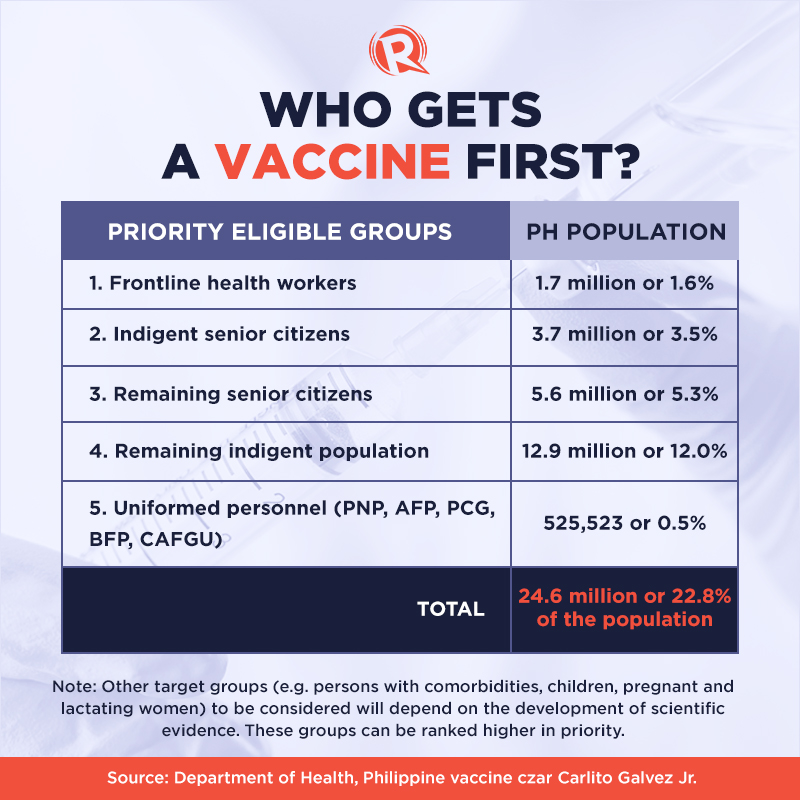 1. AstraZeneca, University of Oxford
Status: Separate tripartite agreements with AstraZeneca, the Philippine government, and private sector or local government units have secured an initial 17 million doses for about 8.5 million Filipinos.
Doses secured with the help of the private sector will be split between government and companies that chipped in to secure supplies. Aside from this, several LGUs signed deals securing doses for their communities, on top of allocations to be provided by the national government.
Last January 6, AstraZeneca submitted an application for emergency approval of its COVID-19 vaccine in the Philippines.
What it is: British-Swedish company AstraZeneca and the University of Oxford developed a vaccine using an adenovirus, which usually causes colds in chimpanzees. The virus was altered so it produces coronavirus proteins that will generate an immune response in humans.
Doses: Two doses, given 28 days apart
Latest news: Early analysis of clinical trial results showed an average efficacy of about 70%. On the higher end, the vaccine was seen to be 90% effective in participants who were given a half dose, followed by a full dose. This was compared to 62% efficacy seen in participants who were given two full doses.
While initial results were promising, experts raised questions over the confusing data. Findings from the two different doses had been the result of an error on the part of researchers, who accidentally miscalculated and gave some 2,800 out of over 23,000 participants half doses for the first shot.
AstraZeneca and Oxford said the vaccine will need an additional study following this. Among volunteers who received the vaccine, no one was hospitalized and no serious safety issues were recorded.
Storage: This vaccine can be transported and handled "at normal refrigerated conditions" of between 2 to 8 degrees Celsius (36 to 46 degrees Fahrenheit) for at least 6 months, making it compatible with the Department of Health's (DOH) storage facilities.
2. Pfizer, BioNTech, Shanghai Fosun Pharmaceutical Group
Status: On January 14, Pfizer became the first company to secure FDA emergency use authorization of its COVID-19 vaccine, clearing the way for its use in the country.
In a best-case scenario, pandemic officials said doses of the Pfizer vaccine may arrive in February through the GAVI Covax facility. The Covax facility is eyeing to distribute supplies of the vaccine to low-income countries for an early rollout pegged for February.
Apart from this, Galvez said the company committed to deliver 25 to 40 million doses to the Philippines if there was excess supply from the United States and other countries which had secured orders earlier.
What it is: The vaccine uses a genetic molecule called messenger RNA (mRNA) to generate coronavirus spike protein in our cells, that would prompt an immune response when released into the body.
Doses: Two doses, given 28 days apart
Latest news: Preliminary results from trials suggested the vaccine was about 95% effective in preventing COVID-19. This places it at par with other highly effective vaccines such as those for measles. It is also above the average efficacy of 60% to 70% for annual flu vaccines.
Efficacy was also found to be consistent across all age groups, as well as gender and ethnicities.
On December 2, the United Kingdom gave Pfizer emergency approval for limited use. The US FDA gave it emergency approval on December 11, 2020.
The vaccine developer said they should be able to produce around 1.3 billion doses by the end of 2021.
Storage: Since the vaccine uses an mRNA platform, it will need to be kept in deep freeze conditions at -70 degrees Celsius (- 94 degrees Fahrenheit). This poses a challenge for storage and distribution to countries like the Philippines, where these specific facilities are limited.
3. Moderna, US National Institutes of Health
Status: Galvez said the government was in talks to secure some 20 million doses of Moderna's vaccine, to be split in half between the government and private sector.
What it is: Moderna's vaccine also uses mRNA. When injected into our cells, it produces spike proteins, which when released into the body provokes an immune response.
Doses: Two doses, given 28 days apart
Latest news: Like Pfizer, Moderna announced promising results for its vaccine, saying it was almost 95% effective. The company has deals to supply doses to the US, Europe, Canada, Japan, and Qatar. Meanwhile, it has applied for emergency authorization with the US FDA.
Storage: Moderna said its vaccine can remain stable at standard refrigerator temperatures of 2 to 8 degrees Celsius (36 to 46 degrees Fahrenheit) for 30 days and up to 6 months at standard freezer temperatures of -20 degrees Celsius (-4 degrees Fahrenheit).
4. Sinovac
Status: The company is currently applying for an EUA in the Philippines. FDA Director General Eric Domingo said the agency was still waiting for Phase 3 trial data from the company before moving on to a full review of Sinovac's vaccine.
Galvez, meanwhile, said the government signed a term sheet which sees Sinovac commit to supplying 25 million doses of its vaccine for the Philippines. Lawmakers, however, have scrutinized the government's deal with Sinovac, raising concern over its price and confusing trial data presented from different countries.
Health experts sought to reassure the public that only vaccines that secure the FDA's nod can be used in the Philippines. Further recommendation from the Health Technology Assessment Council (HTAC) will be carried out as well to assess its cost-efficiency and possible conflicts of interest – commercial or political – before including it in a public health program.
What it is: Called CoronaVac, Sinovac uses an inactivated virus which uses a form of the virus that has been weakened so it won't cause disease, but will still generate an immune response.
Doses: Two doses, given 14 or 28 days apart
Latest news: Phase 3 trial results have yet to be announced but initial data showed Sinovac's vaccine triggered a quick immune response by giving two doses at 14-day intervals.
When the doses were given in a 28-day interval (the first on day 0 and second on day 28), "a more robust antibody response was generated and longer persistence could be expected," Sinovac said in a study published in The Lancet.
Last July, China gave SinoVac emergency approval for limited use.
Storage: The vaccine can be stored at normal fridge temperatures of 2 to 8 degrees Celsius (36 to 46 degrees Fahrenheit), and may remain stable for up to 3 months.
5. Gamaleya Research Institute
Status: The Gamaleya Research Institute was the 3rd company to apply for emergency approval in the Philippines. Domingo said the FDA was waiting for lacking documents before it moved on to a full review of the vaccine.
What it is: The Sputnik V is a viral vector vaccine based on two adenoviruses. The New York Times' COVID-19 vaccine tracker said that by combining two adenoviruses (Ad5 and Ad26) that have been tested as vaccines in the past, "Russian researchers hoped to avoid a situation in which the immune system could learn to recognize the vaccine as a foreign object that needed to be destroyed."
Doses: Two doses, given 21 days apart
Latest news: Preliminary results from Phase 3 trials showed the vaccine has a 92% efficacy rate. Scientists stressed the need for further follow-up as initial findings were based on an analysis of 20 COVID-19 cases found among trial patients. In contrast, results from Pfizer and Moderna were based on about 95 participants who got COVID-19.
Like AstraZeneca and Sinovac, Gamaleya still needs to publish its findings in a peer-reviewed scientific journal.
So far, there have been no reported safety issues. The vaccine has been approved for early use in Russia, while deals have been made to supply doses to Brazil, India, Argentina, and Mexico, among others.
Storage: The vaccine can be stored in standard 2 to 8 degree Celsius (36 to 46 degrees Fahrenheit) fridge temperatures.
6. Johnson & Johnson (Janssen Pharmaceuticals Inc)
Status: On December 28, 2020, the FDA approved the company's application to conduct Phase 3 clinical trials in the Philippines.
With the regulatory aspect of its application done, the DOH chief said Janssen's trials could begin in the "next few weeks" after the Department of Science and Technology (DOST) assigns areas to be included and recruits volunteers.
What it is: The vaccine uses a "non-replicating viral vector" called Adenovirus 26, which has been genetically engineered so it can still invade cells, but can't replicate and cause disease. The company used the same method to develop vaccines for Ebola and other diseases.
Dosage: Unlike most other vaccines, Johnson & Johnson's vaccine only needs one dose. The company, however, said it would launch second Phase 3 trials to study the effects of two doses given 56 days apart.
Latest news: No preliminary results from Phase 3 trials have been released. Last October 12, the company paused its trial to look into an adverse reaction in a participant. It has since resumed and announced plans to launch a second trial to observe the effects of giving volunteers two doses, instead of one.
The US said it would pay $1 billion for 100 million doses if the vaccine is approved, while the European Union said it would shell out the money for 200 million doses.
Storage: The company said its vaccine is expected to be stable for two years at -20 degrees Celsius (-4 degrees Fahrenheit) and for over 3 months in 2 to 8 degrees Celsius (36 to 46 degrees Fahrenheit) storage facilities.
7. Clover Biopharmaceuticals
Status: The company is applying for Phase 3 clinical trials in the county. The FDA is reviewing its application after the vaccine expert panel and ethics board endorsed it.
What it is: The vaccine contains coronavirus spike proteins that would safely generate an immune response when injected into muscle. The New York Times' vaccine tracker adds the company is also giving the vaccine with "adjuvants made by British drugmaker GlaxoSmithKline and American company Dynavax" to further stimulate the immune system.
Dosage: Two doses, given 21 days apart
Latest news: The company announced it wanted to start Phase 2 and 3 trials by end-2020. If proven to be safe and effective, the company agreed that its vaccine will also be made available for procurement and allocation through the COVAX facility.
Storage: To be updated when more details are available.
8. Sinopharm
Status: The company earlier expressed interest in conducting trials in the Philippines but said it would instead move straight to securing a deal to supply doses to the country.
The vaccine being developed by Sinopharm is among those Galvez said the government was interested in purchasing if it is approved by the FDA, especially since company officials said it may be available "60 to 90 days" after a deal is finalized.
What it is: Chinese state-owned Sinopharm is developing two vaccines based on inactivated versions of the coronavirus.
Dosage: Two doses, given 21 days apart.
Latest news: The company is conducting Phase 3 trials in several countries, including the United Arab Emirates (UAE), where Filipinos are among those participating. Findings from its Phase 1 and 2 trials showed the vaccine produced antibodies, while some volunteers experienced side effects like fever.
The company said no serious adverse events were reported.
Both the UAE and China have approved the vaccine for limited use. As of November, the company said almost a million people in China received the experimental vaccine. It is also seeking approval to market its vaccines in China, though it has yet to complete Phase 3 trials.
Storage: The vaccine can be stored in conventional 2 to 8 degree Celsius facilities (36 to 46 degrees Fahrenheit).
9. Novavax
Status: Galvez said the government managed to secure at least 30 to 40 million doses, with initial supplies expected to arrive in the country as early as the 3rd quarter of 2021.
Novavax still needs to apply for the FDA's emergency approval before it can be used in the country.
What it is: The company is developing a vaccine that contains synthetic spike proteins that mimic the virus to safely generate an immune response.
Dosage: Two doses, given 21 days apart
Latest news: Results from preliminary studies were promising as the vaccine was found to produce antibodies in monkeys and humans, without having any dangerous side effects.
Phase 3 trials are ongoing in the UK and are expected to start in the US by December 2020.
The company also finalized a deal with the Serum Institute of India that would allow it to produce up to two billion doses annually. If proven to be safe and effective, Novavax is expected to deliver 100 million doses to the US by 2021 and another 40 million to Australia.
Storage: The company said its vaccine can be stored at standard refrigerated temperatures of 2 to 8 degrees Celsius (36 to 46 degrees Fahrenheit).
Other options
While not as advanced in its development compared to those listed above, national scientists and health experts were interested in reviewing several other potential COVID-19 vaccines.
DOST Secretary Fortunato dela Peña said the Philippines had signed confidential data agreements (CDAs) covering vaccines being developed by the following:
Anhui Zhifei (China)
University of Queensland (Australia)
Addimune Corporation (Taiwan)
Tianyuan Biopharma (China)
Academia Sinica (Taiwan)
Bharat Biotech (India)
Arcturus Therapeutics (US)
Inovio Pharmaceuticals (US)
The CDAs will allow for the review of scientific data available so far.
Aside from these, DOST Undersecretary Rowena Guevara also identified the following potential vaccines being reviewed by national scientists:
AnGes/Takara Bio (Japan)
Chinese Academy of Sciences (China)
Medigen Vaccine Biologics (Taiwan)
Vacine Pty Ltd (Australia)
FBRI VEKTOR (Russia)
Texas Children's Hospital (US)
University of Saskatchewan (Canada)
No CDAs have been signed yet with the vaccine developers listed above.
Different kinds of vaccines, such those that use RNA, live attenuated, or vector vaccine platforms were needed to cater to different kinds of patients who would receive the anti-COVID shot, Guevara said.
Guevara added the government was also interested in multiple vaccines platforms to ensure adequate supply for the country.
"Right now we are more worried about the supply because if you look at the availability of these vaccines that are ready for 2021, it is not enough for the entire world population. We have to prioritize and to that effect, we need to make sure we can get as many vaccines as we can from all the types of platforms," she said in a recent press briefing.
Other access schemes the government is part of include solidarity trials conducted by the World Health Organization (WHO) which are set to start by late January 2021.
On top of this, the Philippines is part of the COVAX facility led by the Global Alliance for Vaccines and Immunization, Coalition for Epidemic Preparedness Innovations, and WHO.
COVAX is supposed to guarantee countries that participate access to a portfolio of vaccines and doses for at least 20% of its population. It also assures countries of delivery as soon as these vaccines are available. – Rappler.com