This is AI generated summarization, which may have errors. For context, always refer to the full article.
Experts in the pandemic task force say extending the ECQ will lead to a more sustained reduction of COVID-19 cases in Metro Manila
Health experts in the Philippines' pandemic task force are proposing an extension of enhanced community quarantine (ECQ) in Metro Manila and 4 nearby provinces until April 18.
Alethea de Guzman of the Department of Health's Epidemiology Bureau showed on Monday, March 29, that the extension would mean fewer COVID-19 cases by April 25, compared to the current scenario where ECQ in the "NCR Plus" bubble ends on Easter Sunday, April 4.
"The cases will go down slightly after ECQ but we are seeing that the cases could possibly rise again after ECQ is lifted. So one of the proposals of our experts is there may be a need to extend because that's when we will see a continued decrease in cases," said De Guzman in Filipino during a Malacañang press briefing.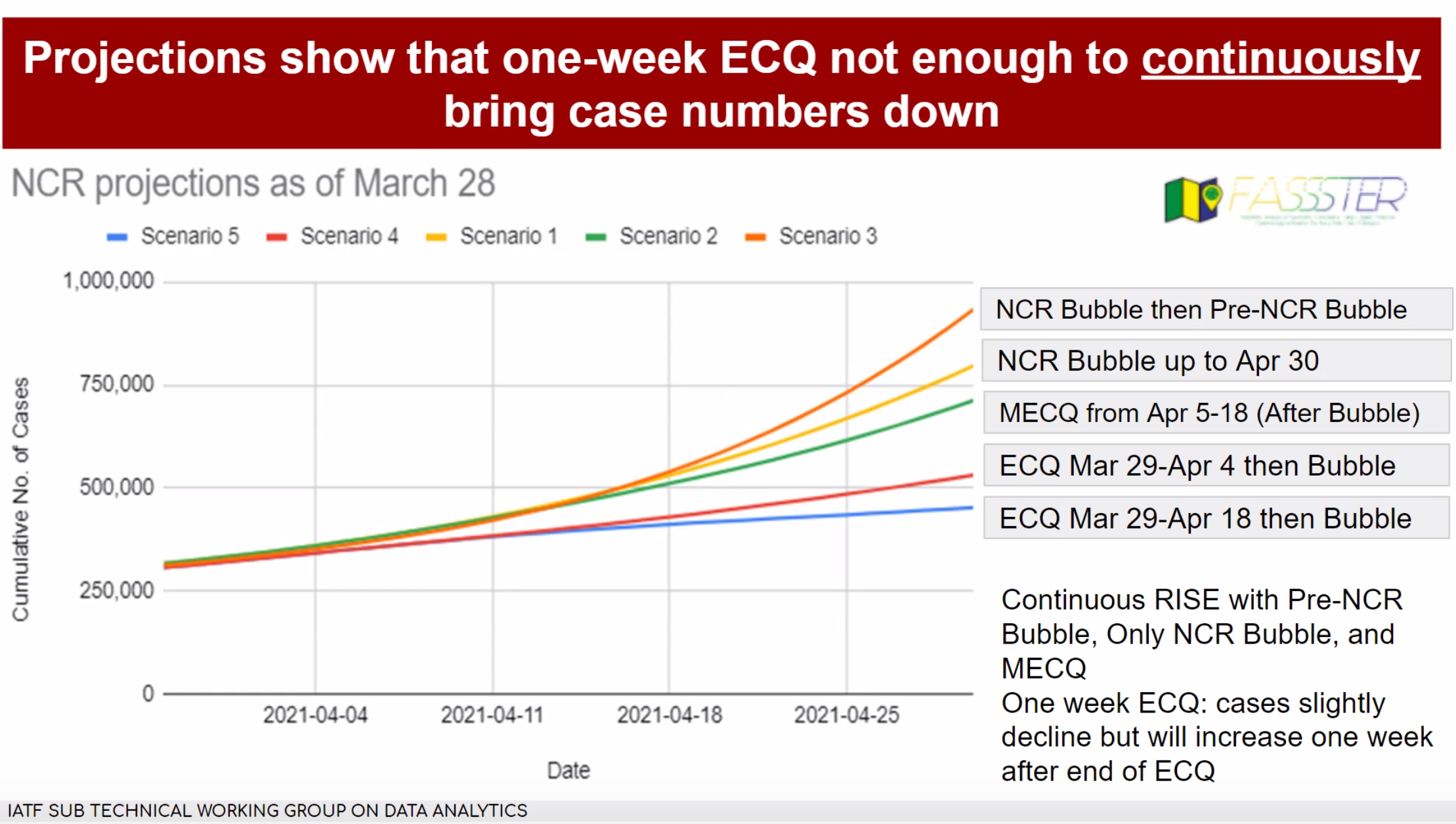 De Guzman showed a graphic that projected the rise in Metro Manila cases in 5 scenarios. In the scenario where ECQ would end on April 4 but be followed by continued implementation of the "NCR Plus" bubble, the cases shoot up to slightly above 500,000.
But in the scenario where ECQ lasts until April 18 and the areas remain within a bubble, the cases are below 500,000, roughly in the vicinity of 400,000.
Rappler asked De Guzman for the raw numbers in her graph in order to more accurately compare the scenarios.
However, De Guzman said she had to ask permission from other pandemic task force officials to give the figures.
"Pero siguro ganito po (Maybe like this), I don't know where the narrative is going…. I just want there to be caution in interpreting the draft," she said.
How will task force and Duterte decide?
The pandemic task force may recommend an extension of the ECQ to President Rodrigo Duterte and this might be taken up during his meeting with them on Monday night, said Presidential Spokesperson Harry Roque.
But the spokesman also said that the difference between the scenarios of extension and no extension appeared minimal.
"Kung makikita 'nyo po 'yung diperensiya ng red at tsaka blue, hindi po masyado siya nagkakalayo. Ibig sabihin hindi rin natin mapababa nang masyado ang numero ng mga kaso maski pa tayo mag-extend ng ECQ," said Roque.
(If we look at the difference between red and blue, they are not that far from each other. This means we won't significantly reduce cases even if we extend ECQ.)
The government is trying to strike a "balance," said Roque, between protecting people from COVID-19 and making sure people don't die of hunger from not having any income during ECQ.
"If we just consider one aspect, the lowering of cases of COVID-19, maybe more people will die from hunger," said the Duterte spokesman.
De Guzman herself acknowledged the economic consequences of a prolonged ECQ. The task force's sub-technical working group on data analytics would study the rise in cases in the first week of April to determine if a longer ECQ is necessary.
Meanwhile, Budget Secretary Wendel Avisado said his office has submitted a recommendation to Duterte to use P23 billion of unused Bayanihan to Recover as One or Bayanihan 2 funds as aid for an estimated 22.9 million beneficiaries affected by the ECQ in "NCR Plus."
Malacañang is expected to announce Duterte's decision on this soon. – Rappler.com