(4th UPDATE) The national government announces guidelines for the new Alert Level system that is being piloted in Metro Manila
The national government has approved the guidelines for a new Alert Level and Granular Lockdown System on Monday, September 13, Presidential Spokesman Harry Roque announced later that day.
The new system was piloted in Metro Manila starting September 16, with Alert Level 4 imposed over the region, and has been extended to last until October 15, according to Presidential Spokesman Harry Roque on Thursday, September 30.
The alert level scheme is designed to replace the current system of quarantine classification comprised of ECQ, MECQ, GCQ, and MGCQ. The new system is more relaxed with age mobility restrictions and provides some perks to fully-vaccinated people. 
Below is a guide to how the new system will work, based on explanations made by Roque and Interior Undersecretary Epimaco Densing on September 10 and the guidelines released by Roque on Monday.
How it will work
In the new scheme, there will only be two quarantine classifications to be declared over a region – enhanced community quarantine (ECQ) and a new version of GCQ.
Under this GCQ, there will be alert levels declared over each city or municipality – Alert Levels 1 to 5. These alert levels will determine which types of establishments can open and how much of their venue capacity will be allowed. The ECQ classification is also referred to as Alert Level 5.
Alert levels
It's only on Alert Levels 4 and 5 that high-risk establishments will be ordered totally closed. Under the lower levels, places like gyms, restaurants, meeting venues, and personal care services like spas and salons can remain open to a certain degree.
Also, on Alert Levels 1 to 3, there will no longer be age-based mobility restrictions, unless cities themselves impose them on certain age groups.
Alert Level 4 is when perks for vaccinated persons will kick in. Only fully-vaccinated people can dine in restaurants indoors, attend religious gatherings indoors, or have their hair and nails done inside salons.
These alert levels will be decided by the Department of Health (DOH) every week for every city or town, in close coordination with Metro Manila mayors.
It will be the national task force, however, that will have the power to impose ECQ, which Roque said, could be called "Alert Level 5."
'C' establishments
High-risk establishments have been categorized into three: Crowded (like venues for religious gatherings or meetings and conferences), Closed (like indoor gyms), and Close Contact (personal care services like salons, spas).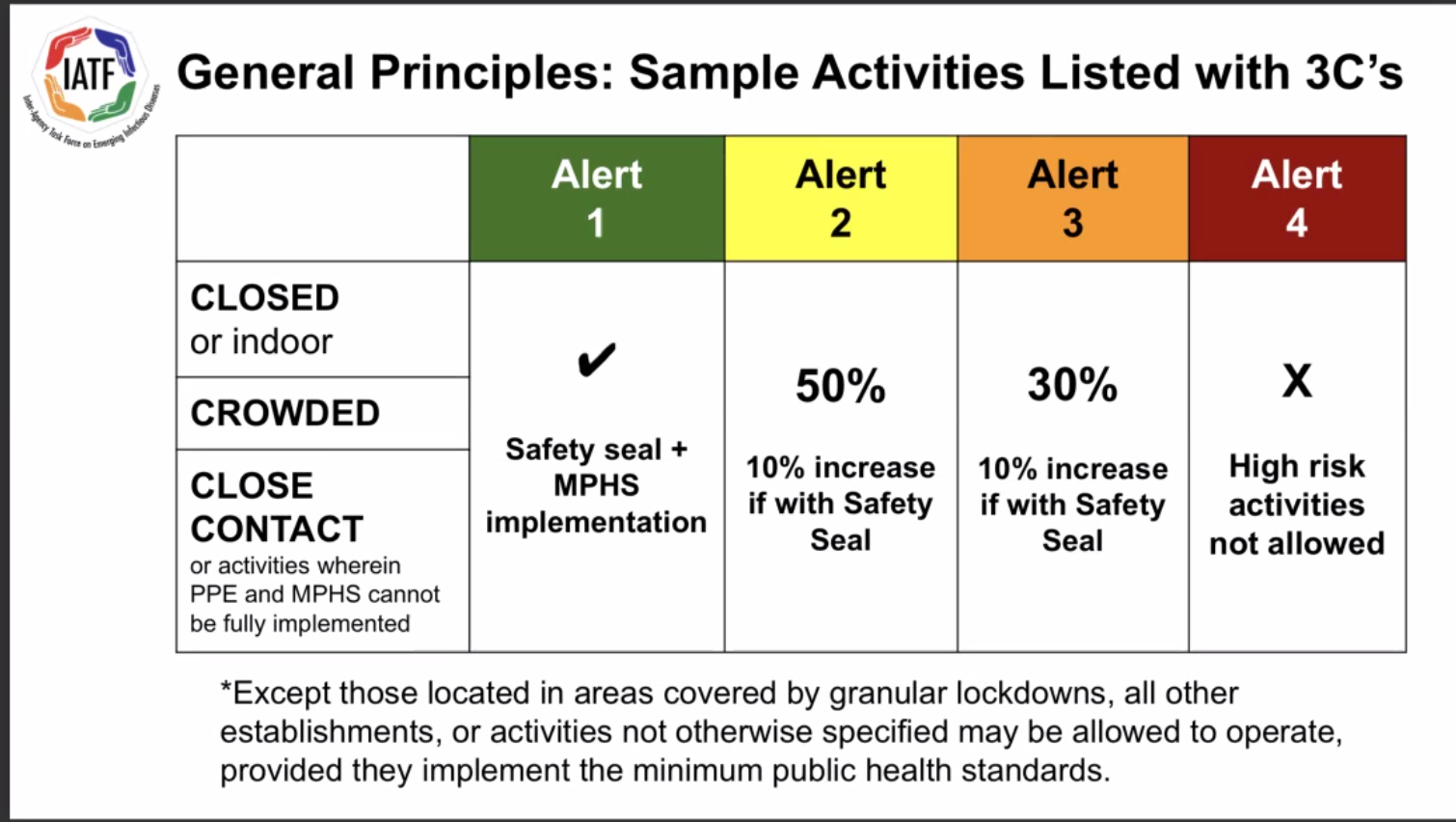 Establishments not included in these categories will be allowed to operate in full under all alert levels. They may only be closed when the government declares ECQ, which Densing said would be a "last resort."
What about public transportation?
Public transportation will be "normalized" and fully-operational under any of the alert levels, said Densing. It will only be heavily restricted under ECQ.
How is the Alert Level system different from ECQ-MGCQ?
The difference, said Densing, is that the alert levels restrict only high-risk activities and establishments while leaving alone all others.
"There is a semblance of normalcy. In fact, some non-essentials will be allowed. For instance, under MECQ, non-essential travel is disallowed but in this new system, even in Alert Level 4, non-essential travel will be allowed and the traveler will just be restricted based on the protocols of the LGU of destination," said the interior undersecretary.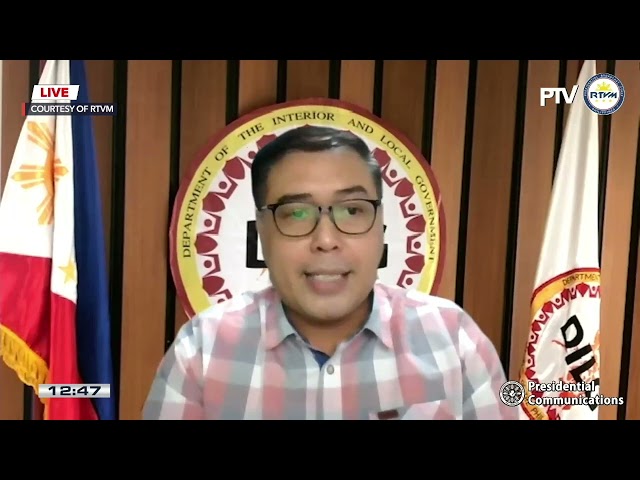 How will you know which alert levels are for which city? Who announces this?
It's the DOH that will announce the per-city alert levels. However, for the pilot period in Metro Manila, all cities and its lone municipality will be under just one alert level.
Stricter granular lockdowns
A critical aspect of the scheme is the imposition of stricter 14-day granular or localized lockdowns by local government units.
A granular lockdown can cover very specific parts of a city or town – like a street, barangay, or floor of a condominium where high COVID-19 transmissions were detected. Duration will be standardized – always 14 days long.
In this type of lockdown, no one will be allowed to go in or out, except for the following:
health and allied-health professionals – doctors, nurses, employees of laboratories, dialysis centers, and the like
overseas Filipino workers returning from abroad who have completed their quarantine in an accredited facility
people with a medical condition that needs urgent attention or in other emergencies
Because of these strict mobility restrictions, the local government and national government (Department of Social Welfare and Development) will provide meals for all persons under granular lockdown.
The government is encouraging private companies to allow their employees under lockdown to work from home, said Roque.
How will granular lockdowns be maximized?
When an area is under granular lockdown, the local government will do the following:
Strict enforcement of mobility restrictions and health protocols like mask and faceshield-wearing, social distancing
Active case-finding, including door-to-door visits to possible contacts of COVID-19 cases
Testing of contacts
What's the basis for the shift to the Alert Level system?
The government cites data showing that 80% of all COVID-19 cases in Metro Manila come from just 11% to 30% of its barangays.
This means, according to Densing, that if cases in those barangays can be isolated and treated properly through granular lockdowns, the rest of the region need not suffer from hard lockdowns.
– Rappler.com