The Healthcare Professionals Alliance Against COVID-19 warns that allowing for such a setup could severely impact public health safety and lead to the inequitable rollout of vaccines in the Philippines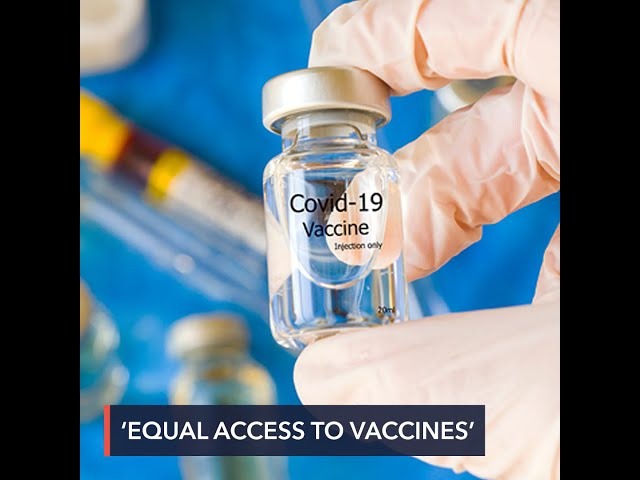 Several of the Philippines' top health experts on Thursday, February 11, opposed lawmakers' efforts to push for bills that would allow local government units (LGUs) to buy coronavirus vaccines directly from manufacturers.
The Healthcare Professionals Alliance Against COVID-19 (HPAAC) – the largest coalition of health groups in the country – warned that proposed measures seeking to grant LGUs this authority could severely impact the public health safety and rollout of vaccines in the country.
It could also create unequal access to limited shots throughout the country, with prioritization of the coveted good defined by access to funds and the capacity to pay, instead of need based on exposure and risk to COVID-19.
"This is not about money but justice – social justice," said Dr Aileen Espina, a public health and family medicine specialist, during a press conference on Thursday night.
Internal medicine specialist and epidemiologist Dr Antonio Dans, along with Dr Inday Dans, pediatrician and clinical epidemiologist, said the group was strongly opposed to the possible passage of Senate Bill No. 2042 filed by Senate Majority Leader Miguel Zubiri last February 8.
Dans appealed to lawmakers and Zubiri to reconsider the bill, saying it would impact the public's trust in the government's COVID-19 vaccination program.
"This will impact public trust greatly, not just when it comes to effectiveness of vaccines but in their trust that no one will be left behind, people will be treated equally, and the country will move forward together," Dans said in Filipino.
While the group focused on SB 2042, similar measures had been filed at the House of Representatives by Speaker Lord Allan Velasco, House Majority Leader Martin Romualdez, House Minority Leader Stephen Paduano, as well as Quirino Representative Junie Cua.
The bigger picture
Lawmakers in both the House and the Senate have been pushing for measures that would allow LGUs and the private sector to buy vaccines directly from manufacturers, without the oversight of national government.
They argued that allowing for such purchase schemes would speed up access to vaccines in the country. This comes after they criticized the national government's supposed "monopoly" over purchase deals that hampered Filipinos' access to COVID-19 shots.
But health experts opposed such measures for 3 main reasons:
First, that it would bypass the required recommendation of the Health Technology Assessment Council (HTAC), which is mandated to review medical technology eyed for use in a public health program. The HTAC, created by the Universal Health Care Law, reviews the feasibility and cost-efficiency of health technology like vaccines for public use, as well as potential commercial or political conflicts of interest.
Second, it would lead to "maldistribution" of vaccines, where richer LGUs with the capacity to pay would get priority access to already limited vaccines, leaving poorer communities further behind.
Third, patchwork purchasing of vaccines, as opposed to centralized purchase through the national government, would escalate vaccine prices "because the country will lose the scale or volume that one buyer has."
Dans said the HTAC's recommendation guaranteed public safety of vaccines as the group of independent scientists continuously reviewed vaccines to balance "benefit, harm, and cost" that may shift quickly, "even overnight," as more information on COVID-19 and vaccines were shared.
This recommendation is separate from the Food and Drug Administration's issuance of emergency approval, which focused only on the safety and efficacy of a vaccine.
"Bypassing recommendations of this council will expose the people to the dangers of inappropriate technology, and may make local policy makers liable for wrong decisions," he said.
Allowing LGUs to purchase vaccines on their own would also hamper goals of a vaccine program to reduce mortality and maintain healthcare capacity. They stressed that since supplies worldwide are limited, scarce shots should be given to those who need it most across the country: healthcare workers, elderly, and people with comorbidities.
Dans said: "If there was no lack of vaccines, it would be acceptable, but with limited supplies, the scarce vaccines should be give to those who need it the most…. One problem of the pandemic is the poor are always shortchanged."
Granting LGUs the authority to buy vaccines on their own could also threaten proper allocation of funds, as the HPAAC pointed out that nearly half of the cost of immunization programs is spent on actually implementing the rollout of vaccines.
With doses already severely limited worldwide and developed countries having access to majority of vaccines produced, the HPAAC said allowing LGUs to purchase vaccines directly from manufacturers may see the same scenario of unequal distribution take place locally.
"We aggravate this inequity by doing the same thing locally – distributing geographically according to capacity to pay. When this happens, we all suffer, not just those whom we push to the end of the queue," the group said.
Dans said the group had presented its position to lawmakers at the Senate, but that discussions indicated preference for the bill to be passed despite its possible negative impact on the country's COVID-19 vaccination program.
What works now
The HPAAC appealed to lawmakers to keep the current scheme where LGUs and the private sector buy vaccines along with the national government, since this would assure equal distribution and continuous safety.
This setup would also comply with the FDA's conditions for use under an emergency use authorization (EUA), which allows for its public use under strict conditions.
While the proposed bills in Congress mentioned LGUs could only buy vaccines that have been granted an EUA by the FDA, the HPAAC pointed out that an EUA was still different from securing full marketing authority necessary to commercialize the vaccine and allow its sale in the market.
Current purchase schemes involving LGUs and the private sector take the form of tripartite deals where the national government, through the National Task Force against COVID-19, signs deals with vaccine manufacturers and either LGUs or business groups.
Vaccine czar Carlito Galvez Jr had told lawmakers during previous congressional hearings that this allowed for LGUs and the private sector to take part in vaccine procurement – something unique to the Philippines, as vaccine manufacturers have so far preferred to deal directly with national governments only.
According to Galvez, tripartite deals allow the Philippines to meet this condition of vaccine companies which they observed with all countries, especially as supplies of vaccines remain severely limited.
Galvez had also earlier told senators that allowing LGUs and private groups to directly buy COVID-19 vaccines was not yet possible. This was because "no company" would engage in deals that did not involve national governments of other countries, which have only been granting emergency use approvals to COVID-19 vaccines. – Rappler.com