COA chair Michael Aguinaldo cites GPPB Circular No. 01-2020, which he says still imposed some rules on procurement. The fine print of the circular, signed by former budget secretary Wendel Avisado, can still protect the PS-DBM.
Although emergency procurements are bound by different rules, President Rodrigo Duterte's Bayanihan 1 and a circular subsequently passed by the Government Procurement Policy Board (GPPB), signed by then board chair and former budget secretary Wendel Avisado, seem to protect the now controversial Procurement Service of the Department of Budget and Management (PS-DBM).
Overall Deputy Ombudsman Warren Liong faced the House of Representatives on Wednesday, September 15, to repeat the blanket defense of the PS-DBM – that they are exempt from the rules of Procurement Law or Republic Act (RA) No. 9184 because of Duterte's Bayanihan 1.
Speaking for the first time in congressional hearings to defend the questioned procurements of the PS-DBM, of which he was a director under Lloyd Christopher Lao, Liong said, "The confusion is PS-DBM and the government used Bayanihan law to procure the COVID-19 response items, and yet the questions that are being propounded, or we are asked to comply with Republic Act 9184-related documentation and processes."
"Section 4(k) of Bayanihan 1 states that the President is authorized to procure in the most expeditious manner as exemptions from Republic Act 9184 or the government procurement law and other relevant laws," said Liong.
Questions hound the PS-DBM's award of so far P10 billion worth of contracts – the biggest winner so far in pandemic procurements – to Pharmally Pharmaceutical Corporation. The company turned out to have no sufficient finances even for its first small contract, because they only had a P625,000 capital.
Senate hearings further revealed that as Pharmally struggled to pay their Chinese suppliers, they resorted to borrowing from friends and were also financed by Michael Yang, the President's former economic adviser. They would deal with their suppliers without letters of credit from banks, just a guarantee from Yang, said Pharmally director Linconn Ong.
Did they need to require proof of financial capacity from Pharmally? No, said Liong.
"The only documents asked are the mayor's permit, income tax return, omnibus sworn statement, and then compliance to technical specifications, and I must add that even in regular competitive bidding, which can take as long as 136 days, the general information sheet is not required," Liong said.
Like Lao, Liong insisted through his presentation, "Ang kailangan lamang sa isang emergency procurement ay makapag-deliver agad ng kanilang supply. (The only thing needed in an emergency procurement is to promptly deliver supplies.)"
The procurement law's implementing rules and regulations say that when it comes to alternative method of procurements, which is where emergency procurements fall under, contractors may be required to submit performance security and warranty security "depending on the nature of procurements." Both entail bank guarantees.
"We were also exempted even from the rules of alternative mode of procurements, which is negotiated procurements under RA 9184," said Liong in a mix of English and Filipino.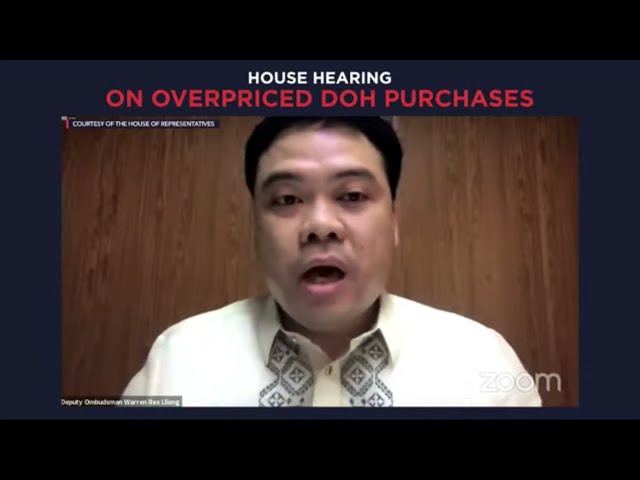 GPPB Circular No. 01-2020
Asked for his opinion, Commission on Audit (COA) chairperson Michael Aguinaldo cited GPPB Circular No. 01-2020, signed by Avisado on April 6, 2020, or days after Bayanihan 1 was enacted. It laid out some guidelines for Bayanihan procurements.
"This issuance shows that the DBM decided that we will still apply the rules on emergency procurements subject to the content of the circular, so that's what's being followed," said Aguinaldo.
Section 3.4 directed all procuring entities to award contracts to "the one that has the legal, technical, and financial capability to undertake the procurement at hand."
The required documents under that section were omnibus sworn statement, technical specifications, and other appropriate licenses and permits "required by laws or rules." Pharmally submitted those three documents, said Liong.
"In short, all the processes in the purchase of the face masks were legal considering all these provisions?" Surigao del Sur 2nd District Representative Johnny Pimentel asked Aguinaldo.
"As long as it was compliant with GPPB Circular 01-2020, then it would be considered compliant to the requirements of law," said Aguinaldo.
Avisado, who was Duterte's former city administrator, resigned as budget secretary in August, a month after Lao resigned from the DBM.
Issues that are yet to be addressed, as pointed out in Senate hearings, are:
Did Pharmally have the proper import licenses?
Why did PS-DBM ask its former inspection chief to prepare an inspection report if there was no delivery yet?
Were Pharmally's deliveries all of specified quality?
Emergency procurement powers before Bayanihan
All throughout the congressional hearings, PS-DBM officials have been highlighting that Bayanihan was enacted precisely to give government the power to procure expeditiously.
It bears noting that the government already had emergency procurement powers before Bayanihan 1.
GPPB Resolution No. 03-2020, signed by other members of the board on March 9, 2020, included pandemic purchases as allowed under negotiated procurements.
The difference? GPPB Resolution No. 03-2020 says these negotiated procurements must follow rules under RA 9184, while Bayanihan provided a blanket exemption.
"It would have been better though if these relevant laws were properly identified [in Bayanihan 1] to avoid any misinterpretation and to prevent anyone from abusing such exemption," former government corporate counsel Rudolf Jurado told Rappler in 2020 when Bayanihan 1 was passed.
Nevertheless, Aguinaldo had earlier told the House of Representatives that they would do a separate examination of Pharmally contracts.
Senator Franklin Drilon has called the PS-DBM controversy a "premeditated plunder."
Liong said that if the Ombudsman fact-finding inquiry into the PS-DBM contracts reach his desk, "I will voluntarily inhibit."
Liong, Duterte's former legal consultant in Davao City, was appointed by the President as Overall Deputy Ombudsman in November 2020 to replace Melchor Arthur Carandang, whom Duterte fired over the now-terminated investigation into the first family's wealth.
– Rappler.com